Tuesday
September 07, 2004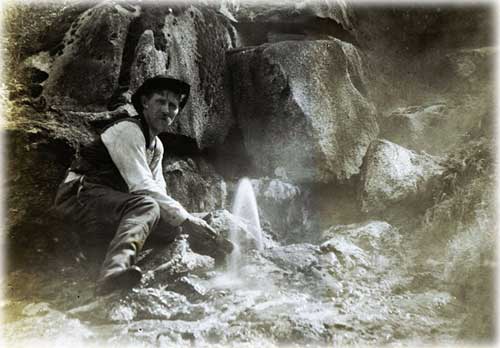 John Koel, Baker to Banker
An eccentric philanthropist
By June Allen
John Koel Photograph courtesy Tongass Historical Society
John Koel was a well-known figure in Ketchikan from the day he arrived in 1901 to the day he died in 1946. The eldest son of German immigrants who settled in the Midwest,
Viewpoints
Opinions/Letters


Happy 30th Birthday to Jimmy Greenlee! by the Greenlee Family - 09/07/04


Land Swap: Let me see if I have this right.... by Alan Bailey - 09/07/04


Presidential Election by Stephen Conn - 09/07/04


More Viewpoints/ Letters


Publish A Letter
September 2004
Click on the date to read the stories & to view photos published on that day...

| | | | | | | |
| --- | --- | --- | --- | --- | --- | --- |
| S | M | T | W | T | F | S |
| | 30 | 31 | 01 | 02 | 03 | 04 |
| 05 | 06 | 07 | 08 | 09 | 10 | 11 |
| 12 | 13 | 14 | 15 | 16 | 17 | 18 |
| 19 | 20 | 21 | 22 | 23 | 24 | 25 |
| 26 | 27 | 28 | 29 | 30 | | |
Koel was a 38-year-old confirmed bachelor, a slight man with high cheekbones, a small mustache and a tidy bankroll he had saved to finance his adventure in Alaska. A baker by trade and already a canny businessman when he alighted on the steamship dock, he quickly toured the new city of Ketchikan and almost immediately opened the OK Bakery on Dock Street, near the intersection with Main Street. - Read the rest of this story by June Allen...
Tuesday - September 07, 2004


Ketchikan: On Thursday, September 9th, the Tongass Coast Aquarium board of directors will make a public presentation unveiling their plans for a world-class aquarium and marine research center to be situated 10 miles south of Ketchikan. Initial designs have been finalized after an intensive year long process with a team headed by the renowned architectural firm of Esherick, Homsey, Dodge and Davis.

The architects, exhibit designers and board members will give an illustrated power point talk, present models of the building and proposed site, and answer questions.

The presentation will be held at the Southeast Alaska Discovery Center auditorium on Thursday and begins at 7 PM. The public is strongly encouraged to attend this exciting event! - Check the calendar more scheduled meetings...
Tuesday - September 07, 2004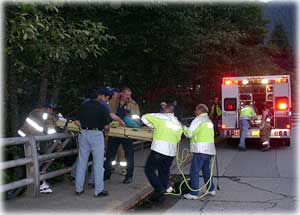 KFD rescue workers...
Photo by Rushcelle Hull ©2004
Ketchikan: Injured Man Rescued From Ketchikan Creek Bank - Forgetting the lesson 'look before you leap' - a man apparently jumped over the railing on Park Avenue near Harris Street Monday night. According to information provided by Ketchikan Fire Department personnel, the man fell approximately 12 feet from Park Avenue to the creek bank below injuring his leg.
The Ketchikan Fire Department responded to the rescue call. The injured man received treatment and his leg was stabilized by Richard Tombaugh and Candace Hatfield of the Ketchikan Fire Department while other KFD personnel on Park Avenue worked on figuring out the best method to safely lift the injured man to street level for transport to the hospital. - More...
Tuesday - September 07, 2004
Columnist

So It Goes by Jason Love: Kindergarten - They say that youth is wasted on the young. Likewise, I believe that kindergarten is wasted on kindergartners. Not that kindergartners aren't as cute as kittens, but we adults stand to gain more from the experience.
This past weekend, I was treated to a tour of a kindergarten classroom. The kids weren't there, but pixie dust still fluttered in the air. I had seen kindergarten classes before, but this visit was special. Maybe because it had been a hard week with too many grownup issues. - More...
Tuesday - September 07, 2004
Ketchikan Regular Election
Tuesday - Oct. 5th
Filing for local office began August 10th and ends Sept. 7th at 5:00 pm.
City Council
Two 3-year seats & One 1-year seat

Tom Coyne filed 08/10/04: Council 3-Year Term

Lew Williams filed 08/16/04: Council 3-Year Term

George Lybrand filed 08/17/04: Council 1-Year Term

Assembly
Two three-year terms

Mike Painter filed 08/10/04: Assembly 3-Year Term

John A. Harrington filed 08/30/04: Assembly 3-Year Term

Glen Thompson filed 08/31/04: Assembly 3-Year Term

Richard "Dick" Coose filed 09/07/04: Assembly 3-Year Term
School Board
Two three-year terms & One 1-year term
Joel W. Jackson filed 09/02/04: School Board - 3-Year Term
Dave Lieben filed 09/03/04: School Board - 3-Year Term
Keith Smith filed 09/07/04: School Board - 1 - year Term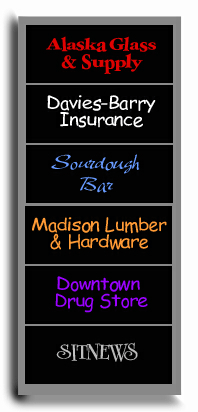 The June Allen Column
is made possible in part by these sponsors. Cick on each name to visit each web site.
June Allen Column

Harold Gillam: A Tragic Final Flight; Ketchikan remembers the search - Harold Gillam was among the boldest of those gutsy pioneer bush pilots who painted Alaska's early aviation history on an enormous canvas of rugged and unforgiving wilderness often cradled in the foulest, most extreme weather on the planet.
Oldtime pilots said that there were three kinds of Alaska weather: clear and unlimited, called Pan Am weather; then ordinary weather, and lastly, there was "Gillam weather." While more prudent pilots sat out the worst days, the quiet-loner Gillam would shake his head and say, "The weather's never as bad as it looks." - Read the rest of this story by June Allen...
Tuesday - August 17, 2004

Ketchikan's 'Fish House Tessie'; She was proud of the nickname

Fairbanks: Golden Heart City; A story of its founding

Remembering 'Swede' Risland (1915-1991);The town's most memorable logger

Alaska's Deepwater Highway; A part of Alaska history

Ketchikan's American Legionnaires; Here's to 'the boys' of Post #3 -

Ketchikan's Cruise Ship Industry; A light-hearted look at its origins

Ketchikan's First City Players; Did you hear that applause?

A biography of Alaska's herring: A little fish of huge importance...

Read more stories by June Allen...

Copyright Applies - Please obtain written permission before reproducing photographs, features, columns, etc. that are published on SitNews.
---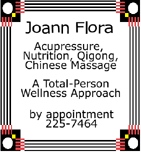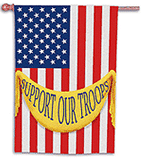 'Our Troops'
Ketchikan Charter Commission

Website

Download the Draft Charter Petition
(201 pages, 944KB)
Scheduled Meetings:
Sept. 3rd, 6 pm
Sept. 10th, 6 pm
Sept. 17th, 6 pm regular meeting
Sept. 17th, 7 pm Public Hearing
September 24, 6 pm All meetings will be held in the City Council Chambers
Ad & web pages provided by Sitnews as a Public Service...