Injured Man Rescued From Ketchikan Creek Bank
September 07, 2004
Tuesday

Ketchikan, Alaska - Forgetting the lesson 'look before you leap' - a man apparently jumped over the railing on Park Avenue near Harris Street Monday night. According to information provided by Ketchikan Fire Department personnel, the man fell approximately 12 feet from Park Avenue to the creek bank below injuring his leg.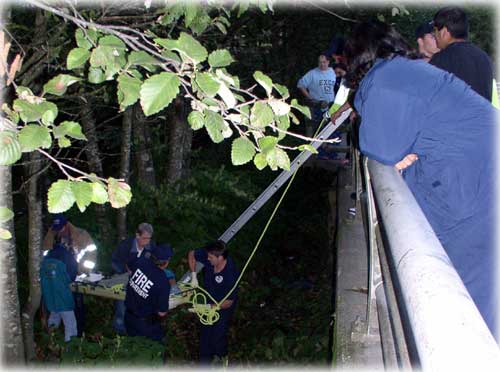 Pictured from the creek end of the stretcher are rescuers Candace Hatfield, Lt. Dave Breitkreutz, Richard Tombaugh, Dave Hull, James Kleinschmidt.
Photo by Rushcelle Hull ©2004

The Ketchikan Fire Department responded to the rescue call. The injured man received treatment and his leg was stabilized by Richard Tombaugh and Candace Hatfield of the Ketchikan Fire Department while other KFD personnel on Park Avenue worked on figuring out the best method to safely lift the injured man to street level for transport to the hospital.
While ground personnel prepared the person for lifting from the creek bank, it was decided to position a ladder in a manner for use as a ramp for pulling the stretcher up the approximate 12 feet to street level where an ambulance waited. After successfully lifting the unidentified man from the creek bank, he was then transported to Ketchikan General Hospital by the ambulance crew.
No further information is available concerning the man's identity, injuries or condition.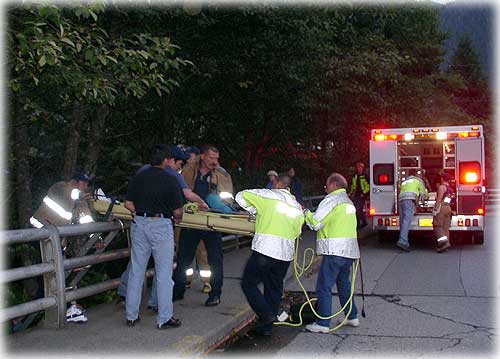 The rescue workers are pictured as they successfully lift the injured man to street level. Pictured lifting the stretcher over the railing are Lt. Breitkreutz on the ladder; Presco Ancheta, John Wylie; Ken Holmes (in fire coat); Walt Goodwin (back Bright yellow coat) and Lt. Rupert Henry at the head of stretcher. Lt. Kevin Murphy and Greg Karlik pull the gurney from the back of the ambulance and Brian Short (yellow coat beside the ambulance) assists with other equipment.
Photo by Rushcelle Hull ©2004



E-mail your news & photos to editor@sitnews.org


Post a Comment View Comments
Submit an Opinion - Letter

Sitnews
Stories In The News
Ketchikan, Alaska