Mescalero performers go north to Alaska
By Sandy Suggitt/Ruidoso News Staff Writer
September 28, 2004
Tuesday

Eight Mescalero students went kayaking and saw seals, whales and hundreds of eagles this summer - during a cultural exchange trip to Alaska.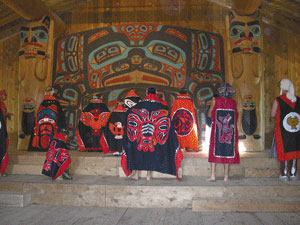 Mescalero Apache dancers performed twice
at the tribal house in Saxman...
Photo by Yeda Hicks
The students were members of the Mescalero Apache School Performing Arts Group, ranging from eighth grade through graduating seniors, and their guide was teacher John Vlaun, who used to live in Ketchikan.
The performing arts group has performed around the Southwest, won the Governor's Choice Award at the State Fair last year in Albuquerque, and performed at the opening ceremony at the Gathering of Nations, the largest pow-wow in the country.
For the students the trip to Alaska meant not only seeing a new part of the world and new experiences but also meeting Native Alaskans, performing for them and watching them perform.
"They were pretty proud to be the only Apaches to go sea kayaking," Vlaun said.
"We saw some seals bob up and down in the water and went kayaking, too," Roman Aldava-Thoendel, now a junior, said. "It was pretty scary out in the middle of the ocean ... with John in his kayak."
Food experiences
Roman also tried some foods not usually found in New Mexico, such as herring eggs, which, he said, are "crunchy and chewy ... and feel like bubble gum." He also tried salmon but didn't really like it.
The group, which included Bonnadell Ortega, an Apache language and culture teacher at Mescalero High School, flew to Seattle, Wash., shuttled to Bellingham, Wash., and ferried on the Alaska Marine Highway to Skagway, Alaska.
They spent most of their time in the Ketchikan area, the three guys staying at Vlaun's father's house and the five gals staying with Ortega at the house of Tsimshian Dance Group founder and director Terri Burr.
Yeda Hicks from Saxman provided a 15-passenger van to take the group to totem parks, museums and downtown Ketchikan.
The students performed about four times, twice on the ferry and twice at a tribal house on Saxman, the Tlingit village south of Ketchikan, Vlaun said.
They also gave presentations on Mescalero culture at two gatherings, translating some of their songs to English and explaining people's names and the meaning of traditional parts of their dress.
Dancers win appreciation
"They were kind of like movie stars, really popular after a dancing performance," he said. "People would ask what the feathers signified, what did the words mean. They had a really good time sharing their culture with people who had never been exposed to Apache songs and traditions."
Roman, who sang and played the drum, said some of the Native Alaskans' art had the same designs as Mescalero art.
Part of the time the group stayed at Totem Heritage Center, an isolated campsite far from Ketchikan and accessible only by boat, and fished.
"We went looking for eagle feathers and found a lot," he said. "We saw black bears but didn't see any grizzly bears."
One difference everyone noticed was that the Alaskan natives had an owl clan and wore button capes with pictures of owls on the back.
"Our custom is that owls are messengers of death," Roman said.
Vlaun explained that in Saxman, members of a clan greeting members of another nation put their button capes on them.
Another difference between the two cultures is that although bears - especially white glacier bears - are believed to be reincarnated medicine men, other bears are hunted and used for clothing.
Bears like relatives
"The bear is like your grandma or uncle," Roman said. "You don't do anything to them and they don't do anything to you."
Roman and Randy Ray Fulsom followed bear trails along a stream through the forest, climbing to six 150-foot waterfalls - an exhilarating, and sometimes scary, experience.
"I wanted to give them a little bit of the native culture that I was familiar with and see how they liked it," Vlaun said. "My wife is a tribal member and has half cousins of Tlingit."
Vlaun already is planning fund-raising for the next trip so they can take a train trip to Mount McKinley, called Denali by Alaskans.
This story was republished with written permission of the Ruidoso News of Ruidoso, New Mexico, a Gannett Co., Inc. newspaper. ©2004

E-mail your news & photos to editor@sitnews.org


Post a Comment View Comments
Submit an Opinion - Letter

Sitnews
Stories In The News
Ketchikan, Alaska