Saturday
October 09, 2004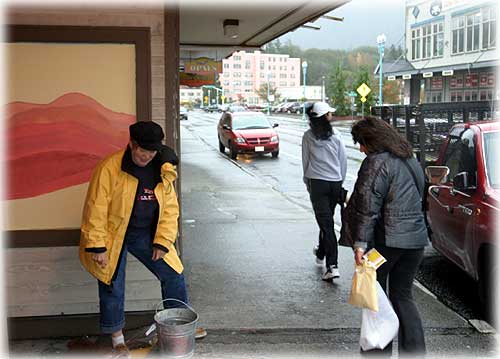 Flora and Fauna Will Brighten Boarded Windows
Bobbi McCreary helps with the painting of the background on the boarded windows of the Diamond's International Building Friday as an unidentified woman looks on.
Photo by Carl Thompson - More...
Viewpoints
Opinions/Letters

Fish or Cut Bait by June Allen - Sunday


The Borough & Loggerville by Robert McRoberts - Sunday


Senator Kerry's Flu shot Blame Game is Sick! by Mark Neckameyer - Sunday


RE: OXYCONTIN CRISIS by Joseph Branco - Sunday


Save Ward Lake From Commercialization by Bob Weinstein - Saturday


RE: Free Boat! by Glen Thompson - Saturday


More Viewpoints/ Letters


Publish A Letter
October 2004
Click on the date for stories and photos published on that day...

| | | | | | | |
| --- | --- | --- | --- | --- | --- | --- |
| S | M | T | W | T | F | S |
| 26 | 27 | 28 | 29 | 30 | 01 | 02 |
| 03 | 04 | 05 | 06 | 07 | 08 | 09 |
| 10 | 11 | 12 | 13 | 14 | 15 | 16 |
| 17 | 18 | 19 | 20 | 21 | 22 | 23 |
| 24 | 25 | 26 | 27 | 28 | 29 | 30 |
| 31 | | | | | | |

Front Page Archives
Ketchikan: Local Fire Departments Spread "Fire Prevention" Message - The Great Chicago Fire of October 8, 1871, killed more than 300 people, destroyed more that 17,000 structures, and consumed more than 2,000 acres in 27 hours. The catastrophic losses people suffered from this fire lead to stricter fire, building, and life-safety codes giving way to terms like "prevention of fires" and "fire education".
It wasn't until 1925 that aggressive fire education and prevention program began. In that year, President Calvin Coolidge proclaimed the first National Fire Prevention Week, October 4-10, 1925.
President Coolidge noted that in the previous year some 15,000 lives were lost due to fire in the United States. He stated in his proclamation, "...these losses are startling" and "This waste results from the conditions which justify a sense of shame and horror and for the greater part of it, could and ought to be prevented... It is highly desirable that every effort be made to reform the conditions which have made possible so vast a destruction of the national wealth."
Progress was made but as late as the mid-1970's fire related deaths in the United States still approached 12,000 people a year. The "fire-prevention" message continues today and the number of fire related deaths has dropped to less that 5,000. These number are still not acceptable if one of those fatalities is one of our citizens or family members.
As recently as September 5, 2004, we still see the sad effects of fire right here in Ketchikan when a fire completely destroyed a home that had been a Ketchikan landmark for more than 100 years. Luckily no one was injured in this fire above the tunnel on Front Street , but the effects of the fire - both financially and emotionally - will be felt for years to come. - More...
Saturday - October 09, 2004
Tonight
Saturday - October 9th
Sweet Second Saturdays Dance and Dessert with live music and caller, at the Coast Guard Upper Base, Crows Nest. All are welcome, $5 at the door.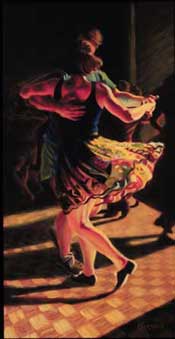 "In the Moment"
Painting by June Harman
Visit June's website at JuneHarman.com
Ketchikan: Borough Parks & Rec Phone Outage - Due to a hardware problem, the phone systems at several Ketchikan Gateway Borough buildings are experiencing difficulties. The affected buildings include the Gateway Recreation Center, Mike Smithers Pool and the Weis Building which houses the Animal Protection and Assessment Departments. The phones are working sporadically and sometimes cut out in the middle of a call. - More...
Saturday - October 09, 2004
Ketchikan: Training for Fishers - A Coast Guardsman uses a floatation device as he swims toward a fishing vessel during training for fishers. - More...
Saturday - October 09, 2004
Columnist

Bob Ciminel - Fish or Cut Bait: The Submariner's Worst Nightmare - Next to uncontrolled flooding, the worst thing that can happen to a submarine crew is an onboard fire. As I write this, the Royal Canadian Navy's HMCS Chicoutimi wallows in the Atlantic off the coast of Ireland, under tow by a British frigate. Yesterday, one of the sub's crewmembers died of injuries from smoke inhalation. It is small consolation to his family, but, unlike most submarine disasters, they will at least be able to lay their loved one to rest in a marked grave on his home soil.
The Chicoutimi is one of four mothballed Victoria-class diesel-electric submarines the Royal Navy sold to Canada. According to news reports, the Chicoutimi had an electrical fire while transiting from the United Kingdom to Canada.
To put it simply, a submarine is nothing more than a "people tank" surrounded by water. The submarine is designed to keep air in the "people tank" and water out. That they are able to do this was tragically demonstrated in February 2001, when the USS Greenville surfaced beneath a Japanese training ship off the coast of Hawaii. What happens when you cannot keep the water out of the "people tank" was tragically demonstrated by the loss of the USS Thresher in April 1963. - More...
Saturday - October 09, 2004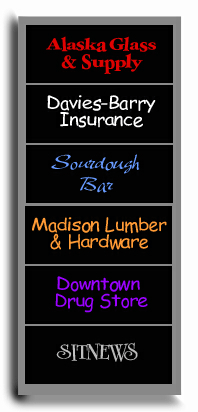 The June Allen Column
is made possible in part by these sponsors. Cick on each name to visit each web site.
June Allen Column

A Legendary Mountain of Jade; Just one of Alaska's Arctic Wonders - Alaska is a state of superlatives. It is the nation's largest state. We drive past or fly over America's highest mountain. We can visit the nation's deepest cave on Prince of Wales Island, admire the waters of our state's longest coastline and enjoy the midnight sun's longest days. Most of us, however, will never see our superlative example of the Alaska State Gem - jade. That's because Jade Mountain, an entire mountain made of beautiful dark green jade, is far from any Alaska road system. - More...
Tuesday - October 05, 2004

John Koel, Baker to Banker; An eccentric philanthropist

Harold Gillam: A Tragic Final Flight; Ketchikan remembers the search

Ketchikan's 'Fish House Tessie'; She was proud of the nickname

Fairbanks: Golden Heart City; A story of its founding

Remembering 'Swede' Risland (1915-1991);The town's most memorable logger

Alaska's Deepwater Highway; A part of Alaska history

Ketchikan's American Legionnaires; Here's to 'the boys' of Post #3 -

Ketchikan's Cruise Ship Industry; A light-hearted look at its origins

Ketchikan's First City Players; Did you hear that applause?

A biography of Alaska's herring: A little fish of huge importance...

Read more stories by June Allen...

Copyright Applies - Please obtain written permission before reproducing photographs, features, columns, etc. that are published on SitNews.
---








Paid for by David Landis
for State Senate Campaign
1920 Tongass Avenue, Lower
Ketchikan, Alaska 99901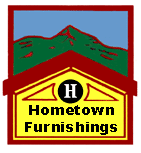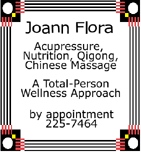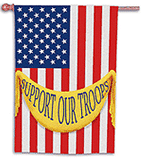 'Our Troops'