Wednesday
September 29, 2004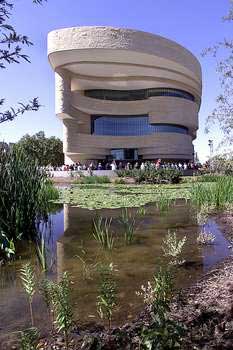 National Museum of the American Indian
Photo courtesy U.S.State Dept.
Photo by Janine Sides
Ketchikan: KIC Representatives Attend Opening of National Museum of the American Indian - Thousands of Native people and non-native supporters from throughout the Western Hemisphere, many in traditional clothing, joined in the "Nation's Procession" to celebrate the week-long opening of the National Museum of the American Indian (NMAI) in Washington D. C. this month. Among the Tribal leaders present were Ketchikan Indian Community (KIC) President Stephanie Rainwater-Sande and two members of the KIC Tribal Council. KIC Vice President Merle Hawkins and KIC Treasurer Sam Bergeron also attended these important ceremonies.
The Museum's opening at the heart of the nation's capital signifies a long and overdue cultural reconciliation between those who were here already and those who came later. President Rainwater-Sande stated, "The opening of the Museum was a colorful, emotional and triumphant milestone in our long-standing quest for national recognition."
Council member Sam Bergeron said, "I was honored and thrilled to be there it was a once in a lifetime experience". He continued, "There are over 400 monuments in Washington D.C. and this is the first that honors Native Americans." - More...
Wednesday - September 29, 2004
Viewpoints
Opinions/Letters

Alaska Salmon Marketing Program by Scott McAllister - 09/29/04


Landis Supporters by Samuel Bergeron - 09/29/04


Governor Wrongly Targeted Over Law by Sen. Fred Dyson & Rep. Nancy Dahlstrom - 09/29/04


Sad news from home... by Archie Inoncillo - 09/29/04


So It Goes: Sweets by Jane Unkovich - 09/29/04


Re: The "Elite" media is even further to the left... by David Ferrall - 09/29/04


Flora's Fatitudes by Lynn Walters - 09/29/04


More Viewpoints/ Letters


Publish A Letter
Ketchikan Regular Election
Tuesday - Oct. 5th

Assembly, School Board, City Council Candidates

Saxman City Council Candidates

Front Page Archives

Alaska: INFLUENZA VACCINATION AWARENESS WEEK; Flu shots especially encouraged for seniors, infants, and persons with chronic illnesses - Governor Frank H. Murkowski on Tuesday issued an executive proclamation declaring Sept. 26-October 2, 2004 as Influenza Vaccination Awareness Week in Alaska. Governor Murkowski made the proclamation at the Anchorage Pioneers' Home, where he also received a flu shot. Governor Murkowski, Alaska Department of Health and Social Services Commissioner Joel Gilbertson, and staff of the DHSS Division of Public Health participated in the event kicking off the annual influenza vaccination season. "We're approaching the time of year when Alaskans need to be vaccinated against the flu, especially our most vulnerable citizens - the elderly, young children, and pregnant women," said the governor. - More...
Wednesday - September 29, 2004
Southeast Alaska: Most Fairweather Sailings to Sitka Cancelled - Alaska's fast vehicle ferry Fairweather will make one more sailing to Sitka, on October 8, before going out of service for maintenance and night crew training. The ferry will provide service on its regular schedule to Haines and Skagway through October 14.- More...
Wednesday - September 29, 2004
Ketchikan: Ketchikan Settlers Cove Volunteer Winter Caretaker Needed - The Alaska State Parks in Ketchikan has a volunteer caretaker position open at Settlers Cover State Recreation Site. This small park is nestled in a cove along an ocean passage and surrounded by dense forest. There is fishing nearby and wildlife viewing for whales, bald eagles, and black bear and an abundance of Sitka-black tailed deer right out the front door. There are opportunities for hiking and winter sea kayaking. The winter weather is mild and misty, with very little snow. Settlers Cove is only open for day use in the winter and is located 18 miles north of Ketchikan. - More...
Wednesday - September 29, 2004
Columnist

Dick Morris: The Anti-War Turn Is A Loser - Stung by criticism that his campaign lacks direction and focus, Sen. John Kerry has chosen to base his candidacy on an all-out assault on President Bush's record in Iraq - indeed, opted to move to the left decisively and attack the war head-on.
Liberals will cheer Kerry's new-found decisiveness, but it opens the way for Bush to deal him a counterstroke that can all but end this election and finish off Kerry for good. - More...
Wednesday - September 29, 2004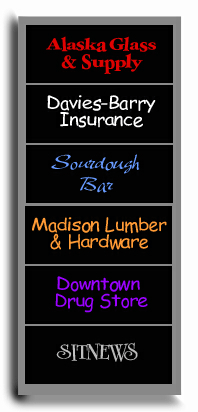 The June Allen Column
is made possible in part by these sponsors. Cick on each name to visit each web site.
June Allen Column

John Koel, Baker to Banker; An eccentric philanthropist John Koel was a well-known figure in Ketchikan from the day he arrived in 1901 to the day he died in 1946. The eldest son of German immigrants who settled in the Midwest, Koel was a 38-year-old confirmed bachelor, a slight man with high cheekbones, a small mustache and a tidy bankroll he had saved to finance his adventure in Alaska. A baker by trade and already a canny businessman when he alighted on the steamship dock, he quickly toured the new city of Ketchikan and almost immediately opened the OK Bakery on Dock Street, near the intersection with Main Street. - Read the rest of this story by June Allen...
Tuesday - September 07, 2004

Harold Gillam: A Tragic Final Flight; Ketchikan remembers the search

Ketchikan's 'Fish House Tessie'; She was proud of the nickname

Fairbanks: Golden Heart City; A story of its founding

Remembering 'Swede' Risland (1915-1991);The town's most memorable logger

Alaska's Deepwater Highway; A part of Alaska history

Ketchikan's American Legionnaires; Here's to 'the boys' of Post #3 -

Ketchikan's Cruise Ship Industry; A light-hearted look at its origins

Ketchikan's First City Players; Did you hear that applause?

A biography of Alaska's herring: A little fish of huge importance...

Read more stories by June Allen...

Copyright Applies - Please obtain written permission before reproducing photographs, features, columns, etc. that are published on SitNews.
---







Paid for by David Landis
for State Senate Campaign
1920 Tongass Avenue, Lower
Ketchikan, Alaska 99901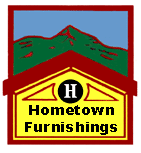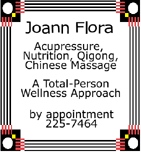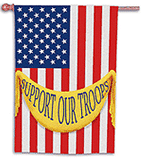 'Our Troops'