ALASKA INFLUENZA VACCINATION AWARENESS WEEK

Flu shots especially encouraged for seniors,
infants, and persons with chronic illnesses
September 29, 2004
Wednesday

Juneau, Alaska - Governor Frank H. Murkowski on Tuesday issued an executive proclamation declaring Sept. 26-October 2, 2004 as Influenza Vaccination Awareness Week in Alaska. Governor Murkowski made the proclamation at the Anchorage Pioneers' Home, where he also received a flu shot. Governor Murkowski, Alaska Department of Health and Social Services Commissioner Joel Gilbertson, and staff of the DHSS Division of Public Health participated in the event kicking off the annual influenza vaccination season. "We're approaching the time of year when Alaskans need to be vaccinated against the flu, especially our most vulnerable citizens - the elderly, young children, and pregnant women," said the governor.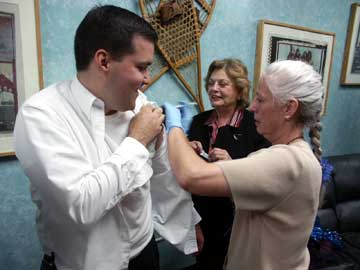 Alaska Health and Social Services Commissioner Joel Gilbertson receives a flu shot from from Anchorage Pioneers' Home staff nurse Janet Sumner Tuesday, as First Lady Nancy Murkowski stands by with a Band-Aid. Both Gilbertson and Governor Frank H. Murkowski got their shots to kick off the state's 2004 flu vaccination program, and to encourage older Alaskans and other vulnerable residents to get vaccinated against the respiratory illness before the season begins in earnest this winter.

This season's flu vaccine provides protection against three different strains of the influenza virus, including A Fujian, the strain that caused the majority of last year's cases. The Division of Public Health has ordered 100,000 doses of adult-type vaccine, and 25,000 doses of pediatric, preservative-free vaccine for children. Many Alaska medical providers also purchase additional flu vaccine to use with their patients.
Although there should be an ample supply of flu vaccine during this flu season, some providers may not receive their vaccine until later in October. One of the two influenza vaccine manufacturers in the United States has begun vaccine shipments, but the second company experienced some initial problems with the release of their vaccine. These problems have been resolved, and the company will be shipping flu vaccine throughout October. Health and Social Services Commissioner Joel Gilbertson noted that this delay should not be a problem. "The vaccine is effective about two weeks after it is received," explained Commissioner Gilbertson. "Because the peak of influenza illness usually does not occur until December or January, receiving a shot anytime during October or November is ideal."
Alaska public health centers, Native health corporations, and Pioneer Homes currently are receiving their first shipments of flu vaccine for older children and adults. Within the next few weeks, they also will receive vaccine for use in young children 6-23 months of age. "Our health centers will provide announcements about vaccine availability and clinic times." Commissioner Gilbertson said. He also suggested Alaskans could check with their private providers, many of whom receive vaccine separately from the state supply.
Although anyone may receive a flu shot to lessen his or her chances of becoming infected with the influenza virus, many health clinics initially will target vaccine to persons at highest risk for complications from influenza. Public Health officials and the Advisory Committee on Immunization Practices, the American Academy of Pediatrics, and the American Academy of Family Physicians recommend vaccination for people 50 years of age and older, people of any age with chronic medical conditions, children 6-23 months of age, and women who will be pregnant during the influenza season. All of these persons are at substantially increased risk for influenza-related hospitalizations.
Health officials also highly recommend flu vaccine for health care workers, other persons in close contact with someone at high risk for complications from influenza, and medical emergency responders such as paramedics and emergency medical technicians.
Influenza vaccination is available for anyone who wants to be protected from the flu, regardless of his or her risk status. "Anyone can get the flu, and serious problems from influenza can happen at any age," said Commissioner Gilbertson. "If you want to help prevent the flu, get vaccinated."
Alaska's public health clinics and private providers will begin offering flu vaccine as soon as they receive their vaccine supplies and can establish clinic times. Commissioner Gilbertson concluded that "Any persons wishing to get a flu shot should check with their health care provider or their public health clinic to determine when vaccine will be available."
Source of News & Photograph:
Office of the Governor
Web Site

E-mail your news & photos to editor@sitnews.org


Post a Comment View Comments
Submit an Opinion - Letter

Sitnews
Stories In The News
Ketchikan, Alaska