Saturday
October 02, 2004
Viewpoints
Opinions/Letters

School Board's choice to offer bonus a concern by Karen Eakes - 10/03/04


Very Little Trickle Down by MJ Cadle - 10/03/04


Vote David Landis by Dave Kiffer - 10/03/04


Land-swap.... by Anna Thomas Dupont - 10/03/04


CBS & Bambi? by Mel Newbill- 10/02/04


History of the beautiful town of Ketchikan by Barry Trudeau- 10/02/04


Does anyone know? by Peg Travis- 10/02/04


RE: Express your dissatisfaction by Marvelle Lahmeyer- 10/02/04


Vote Bert Stedman by Laura Antonsen- 10/02/04


Re: Why is it like this? by Ken Lewis- 10/02/04


Re: Why is it like this? by Lilian Filanis- 10/02/04


More Viewpoints/ Letters


Publish A Letter
Ketchikan Regular Election
Tuesday - Oct. 5th

Assembly, School Board, City Council Candidates

Saxman City Council Candidates
October 2004
Click on the date for stories and photos published on that day...

| | | | | | | |
| --- | --- | --- | --- | --- | --- | --- |
| S | M | T | W | T | F | S |
| 26 | 27 | 28 | 29 | 30 | 01 | 02 |
| 03 | 04 | 05 | 06 | 07 | 08 | 09 |
| 10 | 11 | 12 | 13 | 14 | 15 | 16 |
| 17 | 18 | 19 | 20 | 21 | 22 | 23 |
| 24 | 25 | 26 | 27 | 28 | 29 | 30 |
| 31 | | | | | | |
Ketchikan: Ketchikan Ranks in Top U.S. Ports For Landings and Fishery Values - Ranking in the top 10 leading U.S. ports in volume and value of fish and shellfish landed in 2002 and 2003 was Ketchikan, according to NOAA's National Marine Fisheries Service. Ketchikan ranked 10th in quanity of landings in 2003 with 93.7 million pounds - up from 73.2 million pounds in 2002. The 2003 dollar value of landings at Ketchikan was $48.7 million in 2003 - significantly up from $12.8 million in 2002. Ketchikan ranked 6th in the top U.S. ports in dollar value of landings.
Commercial fishermen unloaded 900.7 million pounds of fish and shellfish at the port of Dutch Harbor-Unalaska, Alaska, making it the top port in the United States for landings in 2003, according to the National Oceanic and Atmospheric Administration. In an announcement Thursday, NOAA also said that the port of New Bedford, Mass., claimed the top spot for highest value of landings with $176.2 million for 2003.
Dutch Harbor-Unalaska netted the top landings slot for the 15th consecutive year, according to NOAA's National Marine Fisheries Service, although the total fish and shellfish landings had decreased 7.4 million pounds from the record 2002 level. - More...
Saturday - October 02, 2004
Alaska: UFA objects to canned and smoked salmon exclusion from Country of Origin Labeling - The USDA Agricultural Marketing Service on Thursday released the Interim Final Rule on Country of Origin Labeling (COOL).
"United Fishermen of Alaska (UFA) strongly objects to the exclusion of canned and smoked salmon products from COOL labeling requirements, as doing so dilutes the effectiveness of this law for consumers and producers of seafood," said UFA Executive Director Mark Vinsel. - More...
Saturday - October 02, 2004
Ketchikan: Judge halts roadwork for timber sale - federal judge has halted roadwork for a timber sale near Ketchikan while environmental groups appeal their lawsuit challenging sales in the Tongass National Forest. - Read this ADN story...
Anchorage Daily News - Saturday - October 02, 2004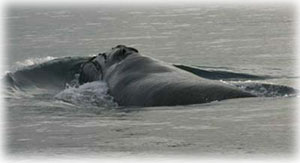 Northern Right Whale in the Bering Sea
Photo courtesy NMFS
Alaska: Scientists Double Tally of Known Right Whales; Scientists Optimistic After Sightings of Critically Endangered Whale - The National Oceanic and Atmospheric Administration's National Marine Fisheries Service announced Friday in Kodiak, Alaska, that they have located more endangered right whales. Scientists on the NOAA Research Vessel McArthur II nearly doubled the tally of known right whales in the Bering Sea in two lucky days of whale research.
"We saw more right whales in the Bering Sea than have been documented in the last five years combined," said Robert Pitman, NOAA fisheries marine scientist. "More importantly, we also saw three cow-and-calf pairs. Not only is the population bigger than we thought, but it may actually be growing." - More...
Saturday - October 02, 2004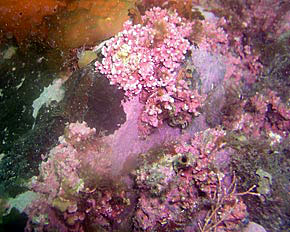 Bed of coral-like rhodoliths
Photo courtesy Brenda Konar, UAF/SFOS.
Alaska: Fumbling Fingers Lead to Discovery of New Alaska Marine Habitat by Doug Schneider - Scientific discoveries often come as a result of detailed planning and thoughtful experiments. But sometimes they happen by accident. That was the case this past summer when scuba-diving scientists dropped in on an entirely new marine habitat in waters off Alaska.
If not for a slippery strainer, marine scientists Katrin Iken and Brenda Konar would have missed making what has turned out to be an important discovery.
This past June, the University of Alaska Fairbanks researchers, together with a team of graduate students, were aboard a chartered fishing vessel in Alaska's Prince William Sound. They were conducting a survey of the sound's marine life as part of a global study of ocean biodiversity. - More...
Saturday - October 02, 2004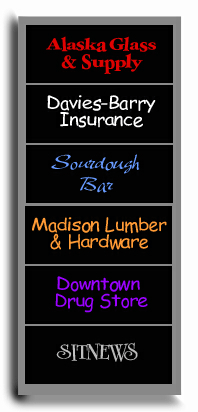 The June Allen Column
is made possible in part by these sponsors. Cick on each name to visit each web site.
June Allen Column

John Koel, Baker to Banker; An eccentric philanthropist John Koel was a well-known figure in Ketchikan from the day he arrived in 1901 to the day he died in 1946. The eldest son of German immigrants who settled in the Midwest, Koel was a 38-year-old confirmed bachelor, a slight man with high cheekbones, a small mustache and a tidy bankroll he had saved to finance his adventure in Alaska. A baker by trade and already a canny businessman when he alighted on the steamship dock, he quickly toured the new city of Ketchikan and almost immediately opened the OK Bakery on Dock Street, near the intersection with Main Street. - Read the rest of this story by June Allen...
Tuesday - September 07, 2004

Harold Gillam: A Tragic Final Flight; Ketchikan remembers the search

Ketchikan's 'Fish House Tessie'; She was proud of the nickname

Fairbanks: Golden Heart City; A story of its founding

Remembering 'Swede' Risland (1915-1991);The town's most memorable logger

Alaska's Deepwater Highway; A part of Alaska history

Ketchikan's American Legionnaires; Here's to 'the boys' of Post #3 -

Ketchikan's Cruise Ship Industry; A light-hearted look at its origins

Ketchikan's First City Players; Did you hear that applause?

A biography of Alaska's herring: A little fish of huge importance...

Read more stories by June Allen...

Copyright Applies - Please obtain written permission before reproducing photographs, features, columns, etc. that are published on SitNews.
---







Paid for by David Landis
for State Senate Campaign
1920 Tongass Avenue, Lower
Ketchikan, Alaska 99901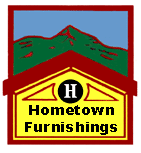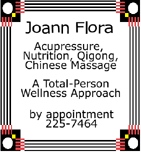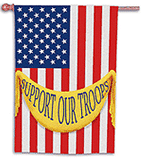 'Our Troops'