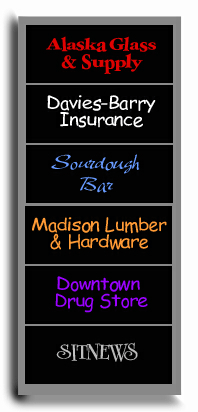 The June Allen Column
is made possible in part by these sponsors. Cick on each name to visit each web site.
June Allen Column

A Legendary Mountain of Jade; Just one of Alaska's Arctic Wonders - Alaska is a state of superlatives. It is the nation's largest state. We drive past or fly over America's highest mountain. We can visit the nation's deepest cave on Prince of Wales Island, admire the waters of our state's longest coastline and enjoy the midnight sun's longest days. Most of us, however, will never see our superlative example of the Alaska State Gem - jade. That's because Jade Mountain, an entire mountain made of beautiful dark green jade, is far from any Alaska road system. - More...
Tuesday - October 05, 2004

John Koel, Baker to Banker; An eccentric philanthropist

Harold Gillam: A Tragic Final Flight; Ketchikan remembers the search

Ketchikan's 'Fish House Tessie'; She was proud of the nickname

Fairbanks: Golden Heart City; A story of its founding

Remembering 'Swede' Risland (1915-1991);The town's most memorable logger

Alaska's Deepwater Highway; A part of Alaska history

Ketchikan's American Legionnaires; Here's to 'the boys' of Post #3 -

Ketchikan's Cruise Ship Industry; A light-hearted look at its origins

Ketchikan's First City Players; Did you hear that applause?

A biography of Alaska's herring: A little fish of huge importance...

Read more stories by June Allen...

Copyright Applies - Please obtain written permission before reproducing photographs, features, columns, etc. that are published on SitNews.