Photo Essay
Flora and Fauna Fun!
photos by Gretchen Klein
October 11, 2004
Monday

Ketchikan, Alaska - The rain and wind Sunday didn't keep the Project Ketchikan event from taking place as scheduled. In an effort to turn uninspiring boarded up windows into something more appealing that everyone can enjoy, Project Ketchikan was created by Bobbie McCreary, M.J. Turek and other interested locals in 2003.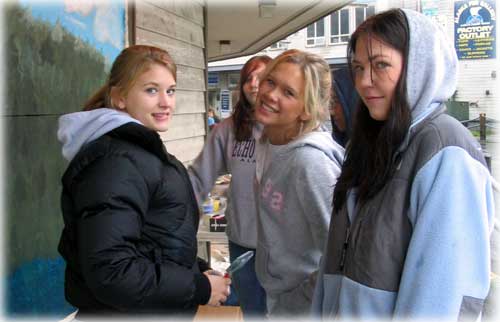 These young people smile as they take a break from painting flora and fauna designs on the boarded windows of the Diamond's International Building Sunday.
Photo by Gretchen Klein

Along with adult community members, participant Gretchen Klein said there were kids as young as two-years old painting Sunday. She said there was a high number of Ketchikan Youth Court and Big Brothers Big Sisters' members also participating in the event.
"I am proud of the kids who continue to show their commitment to community service and team-work no matter their differences." Most of them actually had a lot of fun working together," said Gretchen Klein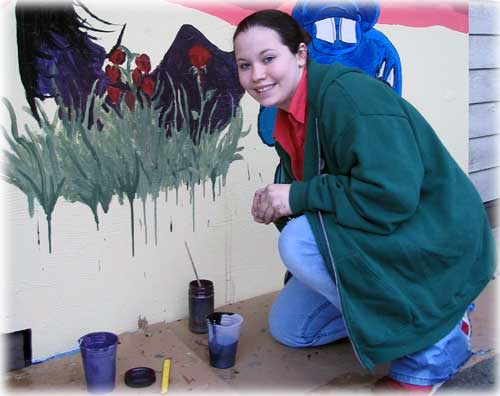 Jordan takes a break from painting to pose for the camera....
Photo by Gretchen Klein
Klein thanked the downtown businesses for allowing community members of all ages to decorate their windows.
Project Ketchikan 2004 was sponsored by the Ketchikan Area Arts and Humanities Council and Historic Ketchikan. Paint and supplies for the project were generously donated by Diamond's International and Talbott's according to event coordinator Bobbie McCreary.
Another participant Robyn smiles delightfully for the camera....
Photo by Gretchen Klein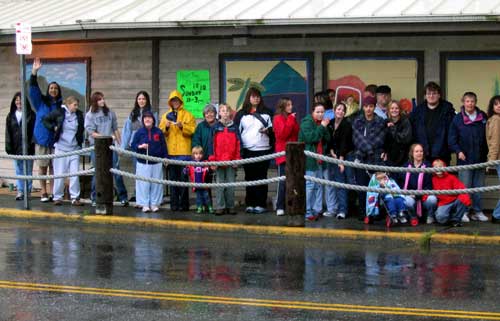 Project Ketchikan 2004 participants come together for a group photo...
Photo by Gretchen Klein
Gretchen Klein ©2004
Submit your photos for publication to photos@sitnews.org
Post a Comment View Comments
Submit an Opinion - Letter
Sitnews
Stories In The News
Ketchikan, Alaska