Glenn-Parks Highway Interchange Dedicated

October 11, 2004
Monday

Wasilla, Alaska - The new Glenn Highway and Parks Highway interchange is a significant improvement in Southcentral Alaska's transportation system that will be a boon to Alaska motorists, Governor Frank Murkowski said at ceremony dedicating the interchange on Friday.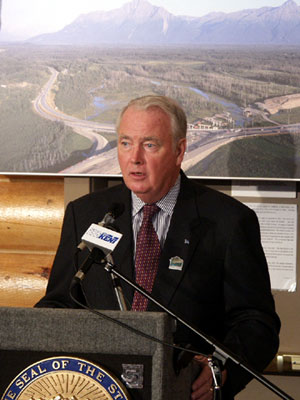 Governor Frank Murkowski praised the new Glenn-Parks Highway Interchange in the Matanuska-Susitna Valley Borough as a significant improvement to Alaska's road system. Speaking at the dedication ceremony on Friday, Oct. 8, 2004 in Wasilla, he said he looks forward to cutting the ribbons at more roads, bridges and other transportation projects around the state.
"The intersection of the Glenn and Parks highways is one of our state road system's primary intersections, and anything we can do to make the traffic here move more quickly, smoothly and safely will mean a major improvement in the quality of life for thousands of Alaskans," the governor said.
The new interchange was designed to accommodate the vast numbers of travelers who shift between the Glenn Highway and the Parks Highway while traveling along Alaska's main north-south transportation corridor.
The project began in August 2002 as part of an overall transportation improvement plan to improve the Glenn Highway from the Village of Eklutna to its juncture with the Parks Highway. The final element of this overall transportation improvement will see an upgrade from four lanes to six lanes from Eklutna to the Trunk Road Interchange.
As the interchange occurs in an area of considerable wetlands and important salmon habitat, designers worked hard to protect and in some cases enhance the natural environment, the governor said.
The interchange design includes an innovative ramp configuration, known as a "fly-over" for the Anchorage to Palmer traffic flow. This design element eliminated the need for what could have been the most expensive bridge of the project, while reducing the project footprint in some of the most critical habitat areas. The project also removed an at-grade rail crossing, improving safety for both motorists and trains.
The Alaska Department of Transportation and Public Facilities and the Federal Highway Administration have been working jointly since 1985 to improve the Glenn and Parks highways. This phase of the project cost $46.87 million and was funded by the Federal Highway Administration.
The dedication ceremony was held at the Mat-Su Visitor Center on the hill above the interchange. Also in attendance were state Sen. Lyda Green, R-Wasilla, and Transportation Commissioner Mike Barton, and many state and local elected officials.

Source of News & Photograph:
Office of the Governor
Web Site
E-mail your news & photos to editor@sitnews.org


Post a Comment View Comments
Submit an Opinion - Letter

Sitnews
Stories In The News
Ketchikan, Alaska