Thursday
October 14, 2004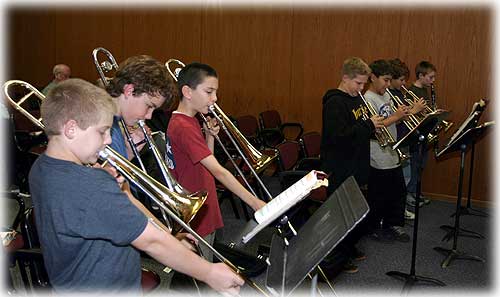 'Young Musicians'
Front Page Photo by Carl Thompson
Viewpoints
Opinions/Letters

Take control by Neil Gray - Thursday


New York Pollution Problem Bad for Brain Cells! by Mark Neckameyer - Thursday


More Viewpoints/ Letters


Publish A Letter
October 2004
Click on the date for stories and photos published on that day...

| | | | | | | |
| --- | --- | --- | --- | --- | --- | --- |
| S | M | T | W | T | F | S |
| 26 | 27 | 28 | 29 | 30 | 01 | 02 |
| 03 | 04 | 05 | 06 | 07 | 08 | 09 |
| 10 | 11 | 12 | 13 | 14 | 15 | 16 |
| 17 | 18 | 19 | 20 | 21 | 22 | 23 |
| 24 | 25 | 26 | 27 | 28 | 29 | 30 |
| 31 | | | | | | |

Alaska: Governor: Consider State Share in Gasline - Alaska Governor Frank Murkowski told a legislative committee Wednesday that he supports the state assuming a shipper's risk and taking an equity position in construction of a natural gas pipeline.

"Whether we are talking about an independently operated gas line or a producer-built and operated gas line, it has become clear to me that the most likely path for starting construction soon will require the state to take an ownership position in the project and bear a certain amount of shippers' risk," Murkowski told the Legislative Budget & Audit Committee.

With the state's congressional delegation's extraordinary success in obtaining the federal enabling and fiscal provisions necessary to construct the pipeline, it is appropriate for the Administration and Legislature to complete the Stranded Gas Act process, he said.

Murkowski said his administration supports the state taking a more active stake in a major pipeline project by assuming some level of shipper risk, serving as an equity partner or both. A similar state response during construction of the trans-Alaska Oil Pipeline could have resulted in billions more for state coffers, Murkowski said. - More...
Thursday - October 14, 2004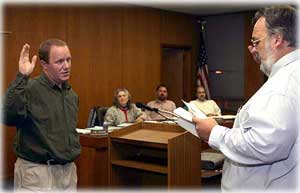 Superintendent Harry Martin administers the oath of office to Joel Jackson as Board member Choc Schafer looks on. Seated next to Schafer are newly elected board members Keith Smith and Dave Lieben.
Photo by Carl Thompson

Ketchikan: New School Board Members Sworn In - Ketchikan School Superintendent Harry Martin administered the oath of office to the three newly elected School Board members Wednesday evening. Joel Jackson and Dave Lieben were chosen by the voters to fill two three-year seats vacated by incumbents Richard Van Cleave and Russell Thomas. Van Cleave did not file for re-election and Thomas filed as a write-in candidate. - More...
Thursday - October 14, 2004
Ketchikan/Southeast Alaska: Radio Network plans House & Senate candidate call-in forums - Southeast Alaska candidates for state House and Senate will appear in a series of regional public radio call-in forums Oct. 19-21. Stations in Juneau, Sitka and Ketchikan will host the programs, which will be broadcast to most communities in the region. - More...
Thursday - October 14, 2004
Alaska: Study Reveals Which States Have Business-Friendly Tax Codes; Alaska ranks 3rd in most business-friendly tax systems - In the wake of new government data showing that 99 percent of re-located jobs move to other states, not abroad, a new Tax Foundation study examines the role of attractive state business tax climates in the shifting of economic activity. - More...
Thursday - October 14, 2004
Left to right: Ron Adler, API Chief Executive Officer; Governor Frank Murkowski; Alaska Health & Social Services Commissioner Joel Gilbertson; and Patrick Ventgen, Quality Improvement Coordinator of Alaska Psychiatric Institute. Outside the entrance to the new facility.

Alaska: Governor tours new psychiatric hospital - Governor Frank Murkowski on Wednesday toured the new psychiatric treatment facility now under construction next to the Alaska Psychiatric Institute (API). Governor Murkowski announced that the program, under the umbrella organization of API, will be named the Alaska Recovery Center. "The name of this program exemplifies our notion that all of our citizens who suffer from psychiatric disabilities can lead productive lives in recovery," said Governor Murkowski. - More...
Thursday - October 14, 2004
Alaska: United Fishermen of Alaska Selects Governor as "Man of the Year in Alaska Politics" - United Fishermen of Alaska, representing 33 Alaska fishing groups, announced Wednesday that Alaska Governor Frank Murkowski is UFA's 2004 "Man of the Year in Alaska Politics." The vote approving the selection of Governor Murkowski was unanimous. - More...
Thursday - October 14, 2004

Alaska: Alaska Division of Investments and Alaska Business Development Center Receive Prestigious Award - The Alaska Division of Investments and the Alaska Business Development Center recently received the prestigious 2004 Honorable Mention Partnership Award from the International Economic Development Council at its annual conference held in St. Louis. - More...
Thursday - October 14, 2004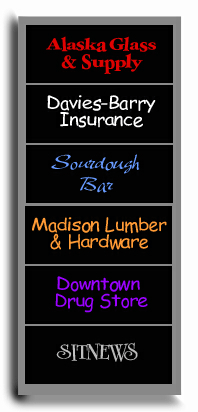 The June Allen Column
is made possible in part by these sponsors. Cick on each name to visit each web site.
June Allen Column

A Legendary Mountain of Jade; Just one of Alaska's Arctic Wonders - Alaska is a state of superlatives. It is the nation's largest state. We drive past or fly over America's highest mountain. We can visit the nation's deepest cave on Prince of Wales Island, admire the waters of our state's longest coastline and enjoy the midnight sun's longest days. Most of us, however, will never see our superlative example of the Alaska State Gem - jade. That's because Jade Mountain, an entire mountain made of beautiful dark green jade, is far from any Alaska road system. - More...
Tuesday - October 05, 2004

John Koel, Baker to Banker; An eccentric philanthropist

Harold Gillam: A Tragic Final Flight; Ketchikan remembers the search

Ketchikan's 'Fish House Tessie'; She was proud of the nickname

Fairbanks: Golden Heart City; A story of its founding

Remembering 'Swede' Risland (1915-1991);The town's most memorable logger

Alaska's Deepwater Highway; A part of Alaska history

Ketchikan's American Legionnaires; Here's to 'the boys' of Post #3 -

Ketchikan's Cruise Ship Industry; A light-hearted look at its origins

Ketchikan's First City Players; Did you hear that applause?

A biography of Alaska's herring: A little fish of huge importance...

Read more stories by June Allen...

Copyright Applies - Please obtain written permission before reproducing photographs, features, columns, etc. that are published on SitNews.
---



Paid for by Stedman for Senate
125 Main Street, #265
Ketchikan, Alaska 99901



Paid for by David Landis
for State Senate Campaign
1920 Tongass Avenue, Lower
Ketchikan, Alaska 99901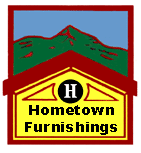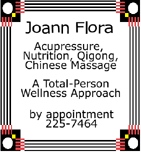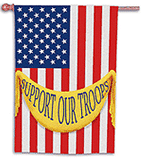 'Our Troops'