Wednesday
October 13, 2004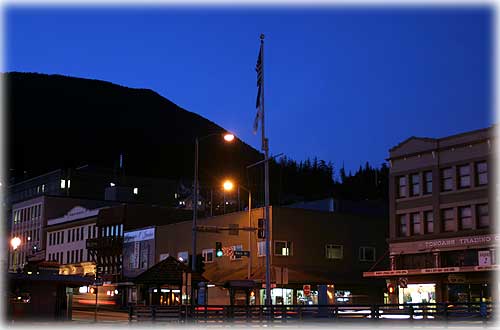 'Colors of Evening'
Front Page Photo by Carl Thompson
Viewpoints
Opinions/Letters

No logging, No Bridge, No roads on Gravina Island by Don Hoff, Jr. - Wednesday


Incentive Enough by Kathleen Evans - Wednesday


Thoughts on drug use by Archie Inoncillo - Wednesday


Re: Oxycontin Crisis by Brandi Conway - Wednesday


More Viewpoints/ Letters


Publish A Letter
October 2004
Click on the date for stories and photos published on that day...

| | | | | | | |
| --- | --- | --- | --- | --- | --- | --- |
| S | M | T | W | T | F | S |
| 26 | 27 | 28 | 29 | 30 | 01 | 02 |
| 03 | 04 | 05 | 06 | 07 | 08 | 09 |
| 10 | 11 | 12 | 13 | 14 | 15 | 16 |
| 17 | 18 | 19 | 20 | 21 | 22 | 23 |
| 24 | 25 | 26 | 27 | 28 | 29 | 30 |
| 31 | | | | | | |

Front Page Archives
Alaska: Fishermen gain income averaging provision in tax bill - The United States Senate Tuesday followed the House and gave final passage to a new corporate tax bill that includes a provision to add fishermen to farmers as taxpayers who can average income over a three-year period to help offset high income years. The tax change, first proposed by the Alaska congressional delegation in 2000, will help fishermen recover from bad income years, by keeping a bit more of their income in good years, offsetting potentially high tax burdens in isolated windfall years.
"Fishermen brave bad weather, unpredictable stream conditions and cutthroat global pricing conditions. They shouldn't be penalized further by the nation's tax code. Income averaging is fair in that it will help offset the highs and lows in fishing and help fishermen plan for their financial futures," said U.S. Senator Lisa Murkowski, of the income averaging provision (Section 314) that was kept in the final bill, the House version of a Foreign Sales Corporation/Extraterritorial Income (FSC/ETI) bill (now H.R. 4520). It now heads to the President for signature.
Income averaging was allowed for all prior to passage of the 1986 tax reform act because under an income tax with progressive tax rates, the total tax assessment on income that fluctuates from year to year will be greater than the tax levied on an equal amount of income that is received in equal annual installments. In 1986, when tax brackets were cut to two from 11, averaging was eliminated. But with the changes in the tax code that have gradually restored five brackets, it became clear that individuals in occupations that face wildly varying incomes, need to be able to income average to equalize their tax burdens. In 1997, Congress again allowed farmers to income average, making the change permanent for farmers in 1998. - More...
Wednesday - October 13, 2004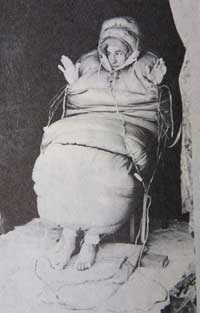 Northern lab cranked out the quirky and controversial...
Arctic Aeromedical Lab Photo
Alaska: Northern lab cranked out the quirky and controversial by Ned Rozell - "Rectal Temperature of the Working Sled Dog", "Cleaning and Sterilization of Bunny Boots" and "Comparative Sweat Rates of Eskimos and Caucasians Under Controlled Conditions."
These are some of the studies completed by scientists who worked for the Arctic Aeromedical Laboratory from the late 1940s to the 1960s. Developed during the Cold War to "solve the severe environmental problems of men living and working in the Arctic," the lab cranked out dozens of quirky and sometimes controversial publications.
Based at Ladd Air Force Base in Fairbanks, which later became Fort Wainwright, the Arctic Aeromedical Laboratory was a group of about 60 military and civilian researchers charged with finding the best way to wage warfare in the cold. At the time, U.S. political and military leaders feared a nuclear or conventional war with the Soviet Union and thought that Alaska was a likely battleground.
Projects from the Air Force lab in Fairbanks included cold-weather gear development (as in Technical Report 59-4, "Walk-Around Sleeping Bag,"); studies of the body structure and function of bears, ground squirrels, and other animals that hibernate; and comparisons of different races of people to determine if Eskimos, for example, were better adapted to the cold than non-Native soldiers. - More...
Wednesday - October 13, 2004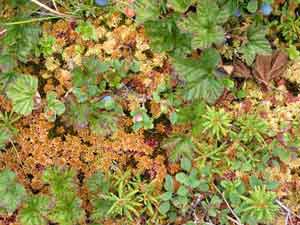 Close-up of Arctic Tundra
Credit: Ted Schuur
Alaska: Researchers Find Frozen North May Accelerate Climate Change - NASA-funded researchers have found that despite their sub-zero temperatures, a warming north may add more carbon to the atmosphere from soil, accelerating climate warming further.
"The 3 to 7 degree Fahrenheit rise in temperature predicted by global climate computer models could cause the breakdown of the arctic tundra's vast store of soil carbon," said Michelle Mack, an ecologist at the University of Florida, Gainsville, Fla., and one of the lead researchers on a study published in last week's issue of Nature. It would release more of the greenhouse gas carbon dioxide into the air than plants are capable of taking in. - More...
Wednesday - October 13, 2004
Columnist

Dick Morris: 'Nuisance' Nonsense - Sen. John Kerry has just explained, clearly and lucidly, the difference between the Democratic and Republican approaches on how to fight terrorism: He told the New York Times Magazine that, as a "former law-enforcement person," he knew that we could not wipe out terrorism, but hoped we could repress it until it became a "nuisance," not a mortal threat. - More...
Wednesday - October 13, 2004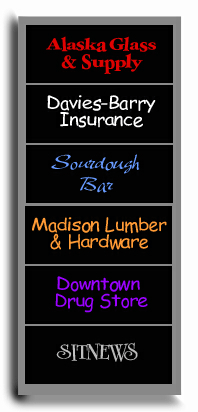 The June Allen Column
is made possible in part by these sponsors. Cick on each name to visit each web site.
June Allen Column

A Legendary Mountain of Jade; Just one of Alaska's Arctic Wonders - Alaska is a state of superlatives. It is the nation's largest state. We drive past or fly over America's highest mountain. We can visit the nation's deepest cave on Prince of Wales Island, admire the waters of our state's longest coastline and enjoy the midnight sun's longest days. Most of us, however, will never see our superlative example of the Alaska State Gem - jade. That's because Jade Mountain, an entire mountain made of beautiful dark green jade, is far from any Alaska road system. - More...
Tuesday - October 05, 2004

John Koel, Baker to Banker; An eccentric philanthropist

Harold Gillam: A Tragic Final Flight; Ketchikan remembers the search

Ketchikan's 'Fish House Tessie'; She was proud of the nickname

Fairbanks: Golden Heart City; A story of its founding

Remembering 'Swede' Risland (1915-1991);The town's most memorable logger

Alaska's Deepwater Highway; A part of Alaska history

Ketchikan's American Legionnaires; Here's to 'the boys' of Post #3 -

Ketchikan's Cruise Ship Industry; A light-hearted look at its origins

Ketchikan's First City Players; Did you hear that applause?

A biography of Alaska's herring: A little fish of huge importance...

Read more stories by June Allen...

Copyright Applies - Please obtain written permission before reproducing photographs, features, columns, etc. that are published on SitNews.
---



Paid for by Stedman for Senate
125 Main Street, #265
Ketchikan, Alaska 99901



Paid for by David Landis
for State Senate Campaign
1920 Tongass Avenue, Lower
Ketchikan, Alaska 99901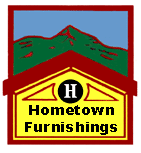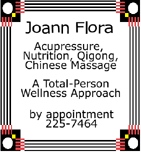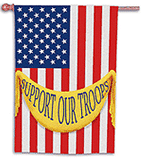 'Our Troops'