Viewpoints
No logging, No Bridge, No roads on Gravina Island
by Don Hoff, Jr.
October 13, 2004
Wednesday

Tribal representatives from Saxman, Metlakatla and Ketchikan Indian Community blasted U.S. Forest Service plans to harvest about 38 million board feet of timber on Gravina Island. The bigger picture than the proposed logging on Gravina Island is the proposed $240 million dollar (tax payers) bridge to Gravina Island via Pennock Island to get the products of logging to Ketchikan. This bridge will also further desecrate our Tribal graves on Pennock Island.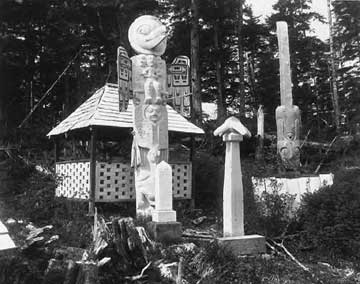 Pennock Island Tribal Graveyard - Early 1900's
Grave totem and tombstone of David Andrews, a Tlingit Chief's Son. The Graveyard is said to be in three sections on the whole of Pennock Island. The center is the oldest part. The graveyard is a Native cemetery, with residents being buried there for many generations.
In my opinion, this is a master plan of a few opulent people in Ketchikan and a few State of Alaska officials like Governor Frank Murkowski to get a bridge and logs off of Gravina Island at taxpayers' expense. This requires taxpayers to build a $240 million dollar bridge to no-where and build new expensive roads. Not only that, the U.S. Forest Service will give up our trees for almost nothing. These few folks could care less about how we natives think nor listen to what we have to say about the exploitation all our natural resources that rightfully belongs to the Native people. How long as Native people are we going to be pushed around like we don't exist? I am getting tired of it aren't you? They are taking more of our subsistence rights and all our natural resources from us with impunity.
I want to thank Ms. Nora DeWitt of Saxman, Metlakatla and Ketchikan Indian Community (K.I.C.) for making a stand on logging on Gravina Island. The U.S. Forest Service failed to adequately consult with Tribal representatives, as required by a presidential executive order... that is a good point. "We must step forward. We must speak loudly. We must call attention to our situation and show this situation up for the what it truly is: A direct attack and desecration of our traditional areas where we hunt , fish and food-gather," Ms. Nora DeWitt. What a great statement and I will back you up on this important issue for Native people in Ketchikan and surrounding areas in Southeast Alaska.
In closing, the enemy is not just the U.S. Forest Service. We need to look at whom is really pushing the their buttons? Governor Frank Murkowski, Senator Lisa Murkowski, Congressman Don Young, Senator Ted Stevens and your local Borough government folks too. There is the bigger picture.
This is my own opinion shared by others.
Don Hoff Jr.
Aan Kadax
Gaanax adi Clan
Yei l hit
Taan ta Kwaan
E-mail: Unukriver@aol.com
Hixson, TN - USA
Note: Comments published on Viewpoints are the opinions of the writer
and do not necessarily reflect the opinions of Sitnews.
Write a Letter -------Read Letters

E-mail an Opinion/Letter

Sitnews
Stories In The News
Ketchikan, Alaska