Tuesday
October 19, 2004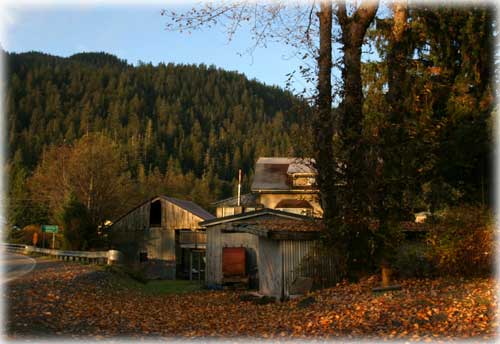 'Colors of Fall'
Front Page Photo by Carl Thompson
Viewpoints
Opinions/Letters

Ban bear baiting: Vote Yes on Proposition 3 by Karen Deatherage - Tuesday


More Viewpoints/ Letters


Publish A Letter
October 2004
Click on the date for stories and photos published on that day...

| | | | | | | |
| --- | --- | --- | --- | --- | --- | --- |
| S | M | T | W | T | F | S |
| 26 | 27 | 28 | 29 | 30 | 01 | 02 |
| 03 | 04 | 05 | 06 | 07 | 08 | 09 |
| 10 | 11 | 12 | 13 | 14 | 15 | 16 |
| 17 | 18 | 19 | 20 | 21 | 22 | 23 |
| 24 | 25 | 26 | 27 | 28 | 29 | 30 |
| 31 | | | | | | |

Front Page Archives

Alaska: Stevens Speaks At Dedication of the Maritime Safety & Security Team - Recently Alaska's senior U.S.Senator Ted Stevens (R-Alaska) helped welcome a new Maritime Safety and Security Team (MSST) to the Port of Anchorage. The mission of the Maritime Safety and Security Teams is to provide waterborne and a modest level of shoreside antiterrorism force protection for strategic shipping, high interest vessels, and critical infrastructure. MSSTs are a quick response force capable of rapid, nationwide deployment via air, ground, or sea transportation in response to changing threat conditions and evolving maritime homeland security mission requirements. - More...
Tuesday - October 19, 2004
Alaska: Trident Seafoods Corporation Agrees To Pay $18,000 Penalty for Fish Waste Violations - The Northwest office of the Environmental Protection Agency announced last week that Trident Seafoods Corporation, which operates the Naknek Cannery in Naknek, Alaska has agreed to pay $18,000 in penalties for violating the federal Clean Water Act. - More...
Tuesday - October 19, 2004
Ketchikan: First City Republican Women Opposes Ballot Measure 2, The Legalization of Marijuana - The First City Republican Women (FCRW) announced they have unanimously voted to oppose Ballot Measure No. 2 to be voted on November 2, which, if passed, would legalize marijuana in the state of Alaska. A statement from the FCRW said this is a "PURE LEGALIZATION" measure that would allow anyone 21 years old and older the opportunity to possess, cultivate, distribute or consume marijuana/hemp for medicinal, industrial or recreational purposes without any criminal or civil penalty. - More...
Tuesday - October 19, 2004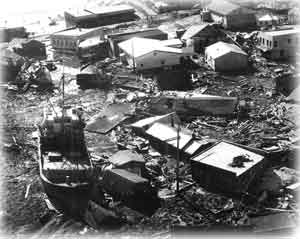 Tsumani Damage in Kodiak - 1964
Photo courtesy Alaska Sea Grant Program

Alaska: Alaska Killer Tsunamis Featured on AlaskaOne Public Television; Describes tsunami warning system and how coastal residents should react... More than 100 Alaskans were swept to their deaths when multiple tsunamis hit Alaska shores after the 1964 earthquake. The magnitude 9.2 temblor was the most powerful earthquake ever recorded in North America. The tsunamis wiped out Valdez and destroyed much of Seward, Kodiak, Whittier and other Alaska communities.
Forty years after that terrible night, memories remain vivid for sourdough Alaskans who witnessed the destruction. Some of their impressions will be shared on Thursday, October 21 at 7:00 p.m. when Ocean Fury: Tsunamis in Alaska, a half-hour documentary, airs statewide on AlaskaOne Public Television. The program will be repeated on Sunday, October 24, at 2:00 p.m. The documentary was co-produced by the Alaska Sea Grant College Program, the UAF Geophysical Institute Alaska Earthquake Information Center, and the Alaska Division of Homeland Security and Emergency Management. - More...
Tuesday - October 19, 2004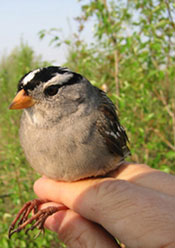 A white crown sparrow that researcher Niels Rattenborg captured in south Fairbanks.
Photograph by Niels Rattenborg.
Alaska: Migrating Alaska sparrows perform despite lack of sleep by Ned Rozell - Each fall, white-crowned sparrows hop off branches in Alaska and begin journeys toward warm winters in California, Arizona, New Mexico and west Texas. On their trip of several weeks, flying mostly at night, the tiny songbirds may cut back on their sleep by two-thirds without crash landing. - More...
Tuesday - October 19, 2004
Columnists

Bob Ciminel - Fish or Cut Bait: Does it Really Matter? - I'm one of those weird persons who like buttermilk. I acquired a taste for it in Fifth Grade. As a class project, we took whole milk that had not been homogenized - I assume it was pasteurized - put it in a butter churn and all took turns mixing it until we ended up with buttermilk and butter. We ate the butter with Saltine crackers and drank the buttermilk in little paper cups. It was delicious. - More...
Tuesday - October 19, 2004

Dick Morris: The L-Word Sticks - With only two weeks to go, President Bush and his campaign demonstrated once again that they are playing chess while Kerry is playing checkers.
In a feat of strategy worthy of the greatest admiration, they realized that the entire race would change complexion once the third debate kindled a focus on domestic disagreements in what had been, until then, a foreign-policy contest. - More...
Tuesday - October 19, 2004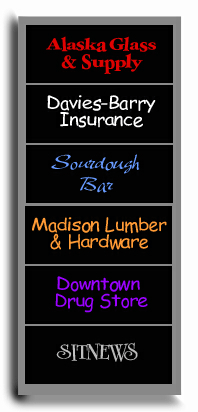 The June Allen Column
is made possible in part by these sponsors. Cick on each name to visit each web site.
June Allen Column

A Legendary Mountain of Jade; Just one of Alaska's Arctic Wonders - Alaska is a state of superlatives. It is the nation's largest state. We drive past or fly over America's highest mountain. We can visit the nation's deepest cave on Prince of Wales Island, admire the waters of our state's longest coastline and enjoy the midnight sun's longest days. Most of us, however, will never see our superlative example of the Alaska State Gem - jade. That's because Jade Mountain, an entire mountain made of beautiful dark green jade, is far from any Alaska road system. - More...
Tuesday - October 05, 2004

John Koel, Baker to Banker; An eccentric philanthropist

Harold Gillam: A Tragic Final Flight; Ketchikan remembers the search

Ketchikan's 'Fish House Tessie'; She was proud of the nickname

Fairbanks: Golden Heart City; A story of its founding

Remembering 'Swede' Risland (1915-1991);The town's most memorable logger

Alaska's Deepwater Highway; A part of Alaska history

Ketchikan's American Legionnaires; Here's to 'the boys' of Post #3 -

Ketchikan's Cruise Ship Industry; A light-hearted look at its origins

Ketchikan's First City Players; Did you hear that applause?

A biography of Alaska's herring: A little fish of huge importance...

Read more stories by June Allen...

Copyright Applies - Please obtain written permission before reproducing photographs, features, columns, etc. that are published on SitNews.
---



Paid for by Stedman for Senate
125 Main Street, #265
Ketchikan, Alaska 99901



Paid for by David Landis
for State Senate Campaign
1920 Tongass Avenue, Lower
Ketchikan, Alaska 99901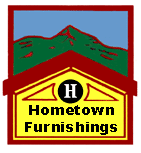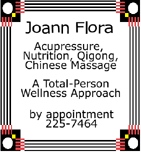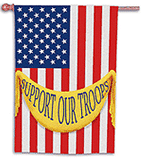 'Our Troops'