Friday
October 15, 2004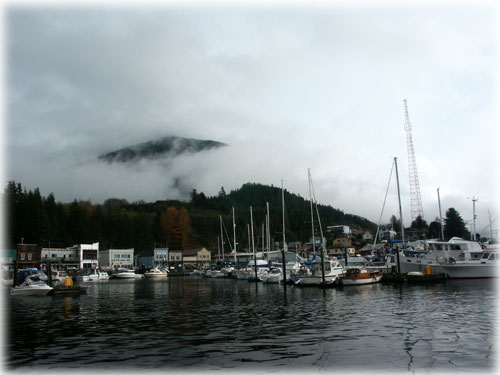 'Thomas Basin'
Front Page Photo by Dick Kauffman
Viewpoints
Opinions/Letters

Be Careful Out There by Jerry Cegelske - Friday


Stedman Will Represent Communities Fairly by Eric F. Bjella - Friday


Thank You by Karen S. Hollywood - Friday


Open Letter to Lt. Gov. Leman by Bill and Samon Arnold - Friday


Sneaky Attack by Kerry by Mark Neckameyer - Friday


Ward Creek Plans by Marya Tyler - Friday


Bridge to Gravina by Mike McColley - Friday


More Viewpoints/ Letters


Publish A Letter
October 2004
Click on the date for stories and photos published on that day...

| | | | | | | |
| --- | --- | --- | --- | --- | --- | --- |
| S | M | T | W | T | F | S |
| 26 | 27 | 28 | 29 | 30 | 01 | 02 |
| 03 | 04 | 05 | 06 | 07 | 08 | 09 |
| 10 | 11 | 12 | 13 | 14 | 15 | 16 |
| 17 | 18 | 19 | 20 | 21 | 22 | 23 |
| 24 | 25 | 26 | 27 | 28 | 29 | 30 |
| 31 | | | | | | |
Alaska: TAA recertification for all Alaska salmon species for fishing year 2003 announced - United Fishermen of Alaska (UFA) announced the recertification of its petition that qualified all five species of Alaska salmon last year for the USDA Trade Adjustment Assistance (TAA) for Farmers and Fishermen program. The 90-day signup period to apply for price adjustment and educational benefits based on the 2003 salmon fishing season begins on Friday, October 15. Salmon fishermen and crew members can expect 3.1 cents per pound price adjustment on their share of 2003 season catch if they can show a decline in their salmon income from 2002 to 2003 - or from 2001 to 2003 if they have already applied and qualified for benefits in the first year of the program. - More...
Friday - October 15, 2004
Alaska: Town Hall Meeting to Discuss Fish Farming Announced - Speaking before the United Fishermen of Alaska on Thursday, Alaska Department of Fish and Game Commissioner Kevin C. Duffy announced that the State of Alaska will host a series of town hall meetings this winter to launch an important policy discussion regarding options for Alaska's response to the growth of finfish farming. The meetings are being held in response to the expansion of finfish farming across the globe. - More...
Friday - October 15, 2004
Alaska: Information for Voters - Alaska Lieutenant Governor Loren Leman and Alaska Division of Elections Director Laura Glaiser announced the status of ballot distribution and by-mail absentee ballot applications Tuesday.
Reprinted ballots have been distributed to all regional offices-on schedule. They will be available at all early voting sites, starting October 18. The next wave of absentee ballots, more than 27,000, were mailed to voters today-on schedule. The Division is processing another 10,000 absentee ballot applications and more are arriving each day. This election year will set a new record for absentee ballot requests. - More...
Friday - October 15, 2004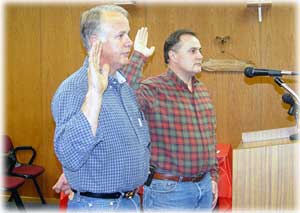 New Assembly Members Sworn In
Newly elected Ketchikan Assembly Members Mike Painter and Glen Thompson take their oath of office Monday evening.
Photo by Kacie Paxton - More...
Friday - October 15, 2004
Ketchikan: Listen to this KRBD story... The candidates for House District One sounded off on use of the Permanent Fund, Resource Development and the state's fiscal gap during a packed Ketchikan Chamber of Commerce Luncheon Wednesday. Deanna Garrison has this report.
KRBD - Ketchikan Public Radio - linked Friday am - October 15, 2004
Ketchikan: Alaska's Public Fire Educator of the Year Announced - Ketchikan Fire Department Assistant Chief Jim Hill was recognized as Alaska's Public Fire Educator of the Year by the Alaska Division of Fire Prevention. Hill was recognized at the 2004 Alaska State Firefighters Association and Alaska Fire Chiefs Association Joint Annual Conference held on October 1st in Sitka, Alaska. - More...
Friday - October 15, 2004
Alaska: ADF&G Makes Black Bear Baiting Information Available on Website - In response to questions received from the public, the Alaska Department of Fish and Game (ADF&G) has posted factual information on black bear baiting to its website. The information is in the form of frequently asked questions and is easily accessible via the Internet. - More...
Friday - October 15, 2004
Deanna Garrison of KRBD interviews U.S. Senator Ted Stevens during his visit to Ketchikan Wednesday...
Photo by Dick Kauffman
Ketchikan: Listen to this KRBD story... U.S. Senator Ted Stevens says he will not seek any new funding for the Swan Lake-Lake Tyee Electrical Intertie Project this year. The Senior Alaska Senator discussed the Intertie Project, the proposed gas pipeline for Alaska and the Highway Reauthorization Act during a visit to Ketchikan Wednesday. Deanna Garrison reports.
KRBD - Ketchikan Public Radio - linked Friday am - October 15, 2004
Columnists

Michael Reagan: Seeing Dead People: - The behavior of candidates for political office often reflects what they are seeing in their private polls. That being so, I suspect that the Kerry/Edwards private polls look pretty grim, unlike the public polls which purport to show them running neck-and-neck with the Bush/Cheney ticket.
To put it bluntly, both John Kerry and John Edwards are beginning to look more than a little loony. - More...

Bob Ciminel - Fish or Cut Bait: How Low Can You Go? - A member of the Tennessee state legislature produced the poster included with this article. The man, who has been distributing the poster for the past couple of weeks, is the Democratic incumbent. He is running for reelection. His campaign office serves as the local headquarters for the Kerry-Edwards ticket. - More...
Friday - October 15, 2004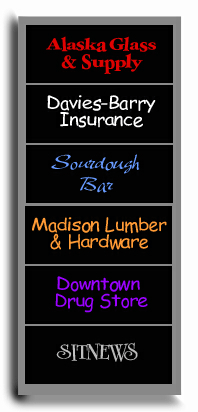 The June Allen Column
is made possible in part by these sponsors. Cick on each name to visit each web site.
June Allen Column

A Legendary Mountain of Jade; Just one of Alaska's Arctic Wonders - Alaska is a state of superlatives. It is the nation's largest state. We drive past or fly over America's highest mountain. We can visit the nation's deepest cave on Prince of Wales Island, admire the waters of our state's longest coastline and enjoy the midnight sun's longest days. Most of us, however, will never see our superlative example of the Alaska State Gem - jade. That's because Jade Mountain, an entire mountain made of beautiful dark green jade, is far from any Alaska road system. - More...
Tuesday - October 05, 2004

John Koel, Baker to Banker; An eccentric philanthropist

Harold Gillam: A Tragic Final Flight; Ketchikan remembers the search

Ketchikan's 'Fish House Tessie'; She was proud of the nickname

Fairbanks: Golden Heart City; A story of its founding

Remembering 'Swede' Risland (1915-1991);The town's most memorable logger

Alaska's Deepwater Highway; A part of Alaska history

Ketchikan's American Legionnaires; Here's to 'the boys' of Post #3 -

Ketchikan's Cruise Ship Industry; A light-hearted look at its origins

Ketchikan's First City Players; Did you hear that applause?

A biography of Alaska's herring: A little fish of huge importance...

Read more stories by June Allen...

Copyright Applies - Please obtain written permission before reproducing photographs, features, columns, etc. that are published on SitNews.
---



Paid for by Stedman for Senate
125 Main Street, #265
Ketchikan, Alaska 99901



Paid for by David Landis
for State Senate Campaign
1920 Tongass Avenue, Lower
Ketchikan, Alaska 99901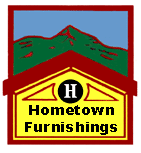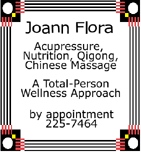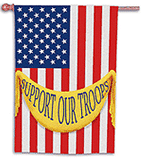 'Our Troops'