Building Assets Brings Sweet Rewards

PATCHWorks Honors Residents at Annual Asset Builder Awards Ceremony
October 30, 2004
Saturday

Ketchikan, Alaska - PATCHWorks hosted their 4th annual Asset Builder Awards ceremony Tuesday to recognize individuals in the Ketchikan community who continually make a difference in the lives of young people through asset building. Masters of Ceremonies Marketia McElroy and Jessica Bernard, both students at Kayhi, reminded the crowd of close to 100 youth and adults that being an "asset builder" is easy and can be as simple as volunteering to be a mentor or role model for just one young person.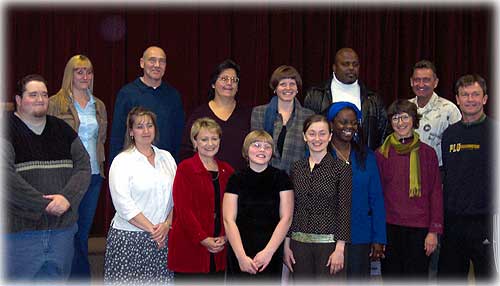 Ketchikan's 2004 Asset Builders
Priscilla Barnett, Rob Skinner, Lynda Adams/Alaskans for Drug Free Youth, James Corrao, Gretchen Klein, KJ Harris, Gary Morris, Courtney Enright, Scott and Traci Davis/South Tongass Volunteer Fire Department, Peggy Hovick, Dinah Pearson, Lupe Thompson, Walmart of Ketchikan, Patti Mackey; Ashley Byler, Kurt Kuehl and Bill Elberson...
Photo courtesy PATCHWorks

The developmental assets model is a framework of 40 Developmental Assets which are concrete, common sense, positive experiences and qualities essential to raising successful young people. These assets have the power during critical adolescent years to influence choices young people make and help them become caring, responsible adults.
The Developmental Asset framework is categorized into two groups of 20 assets. External assets are the positive experiences young people receive from the world around them. These 20 assets are about supporting and empowering young people, about setting boundaries and expectations, and about positive and constructive use of young people's time. External assets identify important roles that families, schools, congregations, neighborhoods, and youth organizations can play in promoting healthy development.
The 2004 Asset Builders were recognized for promoting asset building in areas such as time at home, religious community, school bonding and engagement, restraint, positive view of personal future and constructive use of time.
Nominations were solicited from the community in early fall and recipients were then chosen by a panel of youth. This year a total of 17 awards were given to the following people and organizations:
Priscilla Barnett
Rob Skinner
Lynda Adams/Alaskans for Drug Free Youth
James Corrao
Gretchen Klein
KJ Harris
Gary Morris
Courtney Enright
Scott and Traci Davis/South Tongass Volunteer Fire Department
Peggy Hovick
Dinah Pearson
Lupe Thompson
Walmart of Ketchikan
Patti Mackey
Ashley Byler
Kurt Kuehl
Bill Elberson
Jaylyn Merrill, the Executive Director of PATCHWorks stated, "We know there are many people in this community who are building assets everyday, the Asset Builder Awards is a great opportunity to recognize some of those people who are doing great things for the youth of Ketchikan. We want to thank them as well as encourage others to take asset building personally, it truly is a community approach to raising healthy, successful kids and we all have a part to play."
This event was also sponsored by the Ketchikan Gateway Borough School District, Alaska ICE, and the Association of Alaska School Boards.
Related Information:
Developmental Assets...
SEARCH Institute
Source of News & Photograph:
PATCHWorks


E-mail your news & photos to editor@sitnews.org


Publish A Letter on SitNews Read Letters/Opinions
Submit A Letter to the Editor

Sitnews
Stories In The News
Ketchikan, Alaska