Monday
October 25, 2004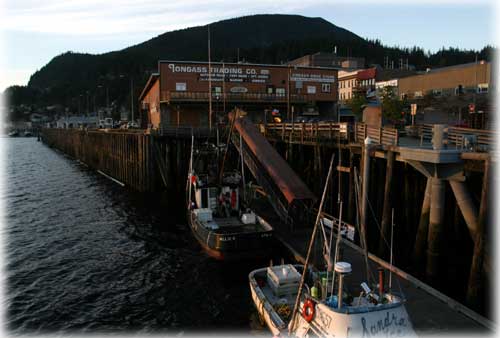 'Waterfront'
Front Page Photo by Carl Thompson
Viewpoints
Opinions/Letters

Build the school now! by Diana Chaudhary - Monday


Landis Supporter by Eliasica Timmerman - Monday


Senator Kerry's lies are scary! by Mark Neckameyer - Monday


Ludicrous items that need to be argued by Robert Fruehan - Monday


Vote Dawn Allen-Herron by Judy Jenkinson - Monday


Support Dawn Allen-Herron For State House by Marty West - Monday


Guard Democracy at Home by Mike Boyer - Monday


Profoundly divided by Sterling Barlow - Monday


RE: Fight should not be against innocent civilians, ever... by Lilian Filanis - Monday


What I did say about Islam... by Lily Katz - Monday


Bypass Litter Bugs by Thomas Ferry - Monday


Why Landis, Why Now by Samuel Bergeron - Monday


Seafood Producers Cooperative Endorses Lisa Murkowski by Tom McLaughlin - Monday


Support taking Fawn Mt. project off back burner... by Kathy Paulson - Monday


Fight should not be against innocent civilians, ever... by Jamal Kheiry - Monday


More Viewpoints/ Letters


Publish A Letter
Ketchikan: Unemployment Follows Trends - Alaska's unemployment rate rose one-tenth of a percentage point in September to 6.7 percent and nonfarm payroll employment fell by 6,000, according to Dan Robinson, an economist at the Alaska Department of Labor and Workforce Development.
The comparable national unemployment rate (not seasonally adjusted) fell three-tenths of a percentage point to 5.1 percent. The unadjusted national rate typically falls in September as Alaska's rate rises because of different seasonal patterns according to Robinson. - More...
Monday - October 25, 2004
Alaska: Murkowski and Knowles Faceoff In Final Debate Oct. 28th; Debate Will be broadcast on Statewide TV and Radio - U.S. Senate candidates Senator Lisa Murkowski and former Governor Tony Knowles will face off in the final televised debate of the campaign on Thursday, October 28. The debate, sponsored by the Anchorage Daily News and Alaska Public Television will air statewide at 8 p.m.
By the People U.S. Senate Debate 2004 will originate live before a studio audience at KAKM's television studios in Anchorage. It will be carried in Anchorage on KAKM and statewide on Alaska One, ARCS, Gavel to Gavel, and the 26 Alaska Public Radio Network stations. The debate will be webcast on the Internet at www.ktoo.org/gavel. The national cable channel C-Span will air the debate live and rebroadcast it before the Nov. 2 general election. - More...
Monday - October 25, 2004
Alaska: Implementation of Informed Consent Legislation Underway - The Alaska Department of Health and Social Services (DHSS) is moving ahead with implementation of CCS Senate Bill 30 passed by the 23rd Alaska State Legislature, which outlines requirements for DHSS to create a web site providing scientific and resource information regarding pregnancy and pregnancy alternatives.
"The Department of Health and Social Services has been drafting the required information for the web site, which will be proposed to the State Medical Board for review and approval for medical accuracy" said DHSS Public Health Director Richard Mandsager. At the State Medical Board meeting on October 21, Mandsager requested that the State Medical Board establish an advisory committee of obstetrical and gynecological specialists to review and approve the information prepared by the department for the Web site. The statute requires the State Medical Board designate such a committee to review and approve the information for medical accuracy on the Web site to ensure that the information is objective, nonjudgemental, scientific and medically accurate. - More...
Monday - October 25, 2004
Alaska: Board of Game to Meet in Juneau - The Alaska Board of Game will meet November 2 -5, 2004 in Juneau at the Westmark Baranof Hotel. The board will consider over 70 proposals on Southeast Region hunting and trapping regulations, among other topics. - More...
Monday - October 25, 2004
Columnist

Jason Love - So It Goes: What Is Halloween? - At the risk of sucking the fun out of things, what the hell is Halloween?
Everywhere I look, it's a screwball parade of blood and guts. If you have ever attended a funeral, you know that death isn't the most amusing stage of life, yet every year we get Halloween, a time to raise the dead and hang bodies from the ceiling and smear blood all over our faces. To me, it's like doing shots with O. J. - More..
Monday - October 25, 2004
---



Paid for by Stedman for Senate
125 Main Street, #265
Ketchikan, Alaska 99901



Paid for by David Landis
for State Senate Campaign
1920 Tongass Avenue, Lower
Ketchikan, Alaska 99901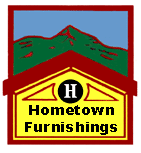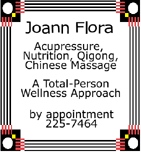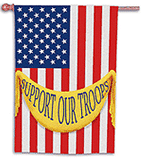 'Our Troops'