Latest news & features from hundreds of sources:
Updated throughout the day - every day!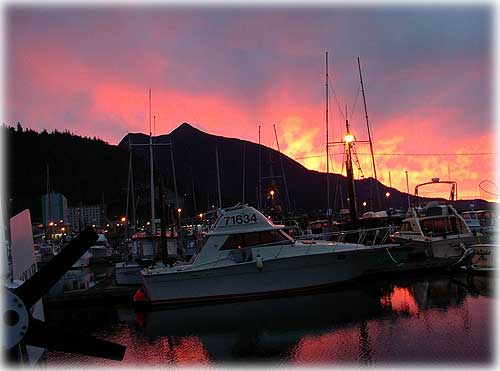 'Red Skies'
Front Page Photo by April Buel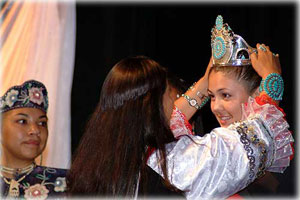 Madeline Marie Soboleff-Levy of Juneau is crowned Miss NCAI 2004-2005 by Cheryl V. Dixon of Isleta Pueblo, New Mexico the outgoing Miss NCAI 2003-2004. Photograph by Dana Brooks-Ruaro
Alaska: Tlingit-Haida Woman New Reigning Miss NCAI; Madeline Marie Soboleff-Levy Wins National Premiere Pageant by M.C. Kauffman - Madeline Marie Soboleff-Levy of Juneau is the new reigning Miss National Congress of American Indians 2004-2005. Since its beginning in 1968, the Miss NCAI Scholarship Pageant Program has become the premiere pageant for the American Indian woman.
As the reigning Miss NCAI 2004-2005, Soboleff-Levy will serve as both a goodwill ambassador and a socially conscious spokesperson sharing her culture with others, instilling pride and challenging stereotypes. Soboleff-Levy will educated others about the issues affecting Native Americans and will reach out to support charitable causes throughout the nation. This will all be done while pursuing her education and gaining skills that will prepare her to challenge, amend, and improve the conditions of American Indian people. - More...
Friday - October 22, 2004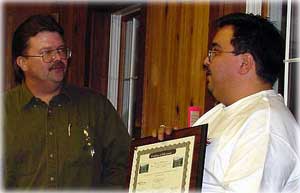 Newly appointed Saxman Mayor Gilbert Benge presents departing Mayor Dan Williams a certificate of appreciation.
Photo by Gigi Pilcher
Ketchikan: New Saxman City Council Members Sworn In; Saxman Mayor and Vice-Mayor Selected by Gigi Pilcher - A special meeting of the Saxman City Council was held Thursday evening for the purpose of swearing in the newly elected Council Members and to select the Saxman City Mayor and Vice-Mayor. Two newly elected council members, Yeda Hicks and Joe Williams along with re-elected Council Member Gilbert Benge were administered the oath of office by Saxman City Clerk Nora DeWitt. - More...
Friday - October 22, 2004
Alaska: Sanders Wants Right To Life Endorsement; U.S. Senate Candidate Appeals To State's Largest Pro-Life Group - U.S. Senate Candidate Jerry Sanders appealed Thursday to Alaska Right to Life, asking the state's leading anti-abortion group for its endorsement and touting his pro-life voting record. - More...
Friday - October 22, 2004
Viewpoints
Opinions/Letters

Informed Republican on drug costs by Timothy Droke - Friday


Re: Republicans are Obviously Smarter by Vera Plumb - Friday


Favoritism? by Mike McColley - Friday


More Viewpoints/ Letters


Publish A Letter
Large-Scale Forces Shape Local Ocean Life, Global Study Shows - In a groundbreaking, globetrotting study of sea life in shallow waters, a research team led by a Brown University marine ecologist has found that the richness of species diversity in a small patch of ocean is powerfully shaped by far-away forces.
Jon Witman, associate professor of biology at Brown, said this finding was a surprise. At the start of the project, Witman expected to find that forces specific to a small area of ocean -- predation, species competition and disturbances such as hurricanes or landslides -- would play a central role in limiting the number of species found there. But Witman and his team found that species diversity in local areas, no bigger than a half-mile square, was directly proportional to species diversity in that region, which can span thousands of square miles. Researchers came to this conclusion after examining 1,500 photographic samples taken of invertebrates clinging to rock walls in every corner of the world. - More...
Friday - October 22, 2004
Columnist

Mike Reagan: The Lady of the House Counts Too - Who do you want sharing the White House with the president? Does it matter who becomes first lady, or must all the focus be on the man of the house?
It may seem to be a frivolous pursuit to let the question of who is best suited to be the president's first ladies influence our votes, but the fact of the matter is that the kind of woman who serves as the lady of the (White) House has an impact far beyond merely being the president's wife. - More...
Friday - October 22, 2004
Dear Crabby: TALKATIVE OLD WOMAN - I have an embarrassing problem. Ever since I can remember, I've talked out loud to myself. My mother always did it too, but I'm worse than her, and more so since I was widowed last year. - More...
Friday - October 22, 2004
---

Vote
Nov. 2nd



Paid for by Stedman for Senate
125 Main Street, #265
Ketchikan, Alaska 99901



Paid for by David Landis
for State Senate Campaign
1920 Tongass Avenue, Lower
Ketchikan, Alaska 99901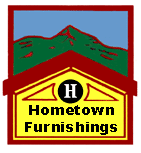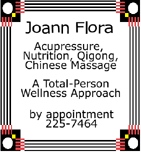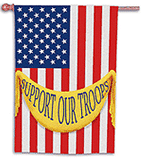 'Our Troops'