Tlingit-Haida Woman New Reigning Miss NCAI
Madeline Marie Soboleff-Levy Wins National Premiere Pageant
by M.C. Kauffman
October 22, 2004
Friday

Ketchikan, Alaska - Madeline Marie Soboleff-Levy of Juneau is the new reigning Miss National Congress of American Indians 2004-2005. Since its beginning in 1968, the Miss NCAI Scholarship Pageant Program has become the premiere pageant for the American Indian woman.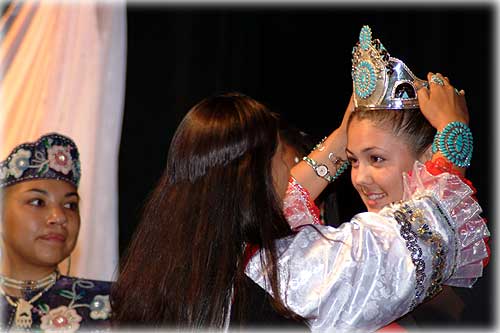 Madeline Marie Soboleff-Levy of Juneau is crowned Miss NCAI 2004-2005 by Cheryl V. Dixon of Isleta Pueblo, New Mexico the outgoing Miss NCAI 2003-2004.
Photograph by Dana Brooks-Ruaro ©2004

As the reigning Miss NCAI 2004-2005, Soboleff-Levy will serve as both a goodwill ambassador and a socially conscious spokesperson sharing her culture with others, instilling pride and challenging stereotypes. Soboleff-Levy will educated others about the issues affecting Native Americans and will reach out to support charitable causes throughout the nation. This will all be done while pursuing her education and gaining skills that will prepare her to challenge, amend, and improve the conditions of American Indian people.
Soboleff-Levy is a Tlingit-Haida from Alaska. Her pageant platform focused on improving educational levels among American Indians and Alaska Natives. According to the MISS NCAI pageant, the selection of Miss NCAI is made on the basis of the contestant's knowledge of tribal government, tribal culture and tribal history as well as scholastic achievement, communicative skills, presentation and personality. Most importantly, contestants are judged on their knowledge of traditional customs and practice, their concerned interest in present and future issues, and the conditions affecting the well-being of American Indian and Alaska Native governments and people. During the selection process, two panels of judges conduct separate interviews, limited to 10 minutes per contestant. The judging is conducted by a panel of prominent Native individuals, as well as by NCAI Youth Commissioners. The contestants are also judged in authentic traditional tribal dress and modern attire.
"She gave a terrific performance at the pageant and we are all very proud of her!," wrote Ed Thomas, President of the Central Council Tlingit and Haida Indian Tribes of Alaska.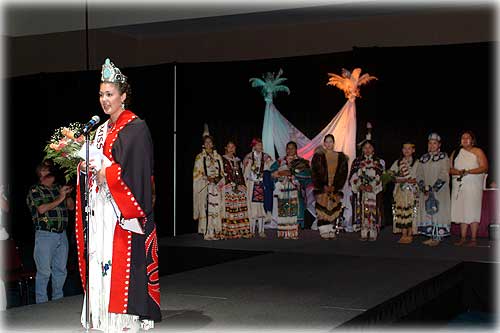 Miss NCAI 2004-2005 Madeline Marie Soboleff-Levy.
Photograph by Dana Brooks-Ruaro ©2004

Soboleff-Levy wrote in her pageant biography, "My family is a huge network of people who are all very important to me and have actively supported me my entire life." She further stated, "I have had four parents since I was very young: Ross Soboleff, my biological father; Vicki Soboleff, technically my step-mother; Janice Gregg Levy, my biological mother; and Keith Levy, technically my step-father. My father is Alaska Native, as is my step-mother. My biological mother was adopted into my paternal grandfather's clan. My Chinah, Walter Soboleff Senior, is a L'eeneidi/Raven Dog Salmon and that is my clan also. I have four siblings; Jacob Soboleff; Nathan Soboleff; Abraham Levy; and Ruby Soboleff; who range in age from fourteen to twenty-seven. Though these people compose my immediate family, I also have an extensive extended family from all four of my parents. The extended family of aunts, uncles, grandparents and all variations of cousins have been a huge influence on me." Her grandparents, Al and Helene Levy, were present to watch their granddaughter compete.
Soboleff-Levy, a woman of many talents and interests, graduated from Juneau-Douglas High School in 2002 with honors. She is currently pursuing a B.A. degree from the University of Puget Sound in Communication Studies. One of her career goals is to develop programs for "At Risk" Children and Teenagers.
Winning the crown of Miss NCAI 2004-2005, Madeline Marie Soboleff-Levy receives a $5000 scholarship to help meet her educational goals. Other awards presented by the NCAI Pageant include Miss NCAI Runner Up, Best Talent, and Miss Congeniality. For her talent she sang an Italian Aria called "Se tu m'ami, so sospiri" by Pergolesi and she also won Best Talent Award. In 2001, Soboleff-Levy also received the Miss National Congress of American Indians Best Talent Award.
Cheryl V. Dixon of Isleta Pueblo, New Mexico is the outgoing Miss NCAI 2003-2004. The 37th annual Miss NCAI 2004 was just one of the many events held during the 61st annual National Congress of American Indians (NCAI) held in Fort Lauderdale, Florida, October 10-15, 2004.
Soboleff-Levy represented the Central Council Tlingit and Haida Indian Tribes of Alaska in the Miss NCAI Pageant and was accompanied to Ft. Lauderdale by her escort and mentor, Catherine Edwards, Assistant Group Leader of the All Nations' Children dance troupe.
E-mail your news & photos to editor@sitnews.org


Publish A Letter on SitNews Read Letters/Opinions
Submit A Letter to the Editor

Sitnews
Stories In The News
Ketchikan, Alaska