New Saxman City Council Members Sworn In
Saxman Mayor & Vice-Mayor Selected
by Gigi Pilcher
October 22, 2004
Friday
Ketchikan, Alaska - A special meeting of the Saxman City Council was held Thursday evening for the purpose of swearing in the newly elected Council Members and to select the Saxman City Mayor and Vice-Mayor. Two newly elected council members, Yeda Hicks and Joe Williams along with re-elected Council Member Gilbert Benge were administered the oath of office by Saxman City Clerk Nora DeWitt.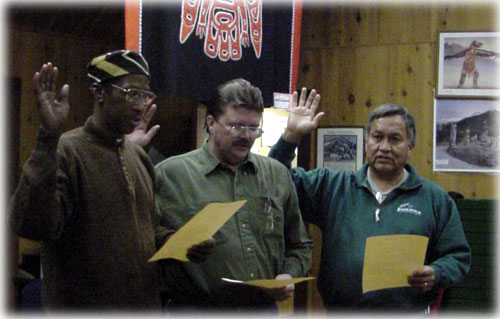 Yeda Hicks, Gilbert Benge and Joe Williams administered
the oath of office by Saxman City Clerk Nora DeWitt...
Photo by Gigi Pilcher

Following the swearing in ceremony, the new Council Members took their seats on the Saxman City Council joining Council Members Tim Burton, Charles Denny, Peachy Williams, and Frank Seludo. The Council then set about the business of appointing a Mayor and Vice-mayor.
Gilbert Benge was appointed by the Council as Mayor and Frank Seludo was appointed Vice-mayor. Departing Saxman Mayor Dan Williams presented the new Mayor Gilbert Benge the gavel. Williams then addressed the meeting giving words of encouragement to the new Council Members and expressed his appreciation for the hard work of the Council and City of Saxman staff during his service as mayor.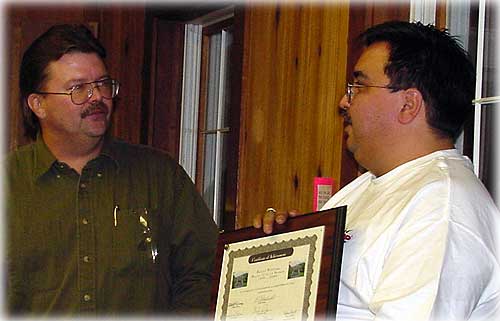 Newly appointed Saxman Mayor Gilbert Benge presents
departing Mayor Dan Williams a certificate of appreciation.
Photo by Gigi Pilcher

Following Williams' comments, departing Saxman City Council Member Sylvia Banie addressed the new City Council echoing the words of Williams and advising the Council to read the packets and be prepared for the meetings.
Each of the new City Council Members were given an opportunity to speak. Saxman Mayor Gilbert Benge then presented departing Mayor Dan Williams with a certificate of appreciation citing his years of service as Mayor and as a City Council Member. Mayor Benge also presented the Williams with a Mickey Mouse hat with his name embroidered on it.
The meeting then recessed for a reception for the new Council and members of the public.

E-mail your news & photos to editor@sitnews.org


Publish A Letter on SitNews Read Letters/Opinions
Submit A Letter to the Editor

Sitnews
Stories In The News
Ketchikan, Alaska