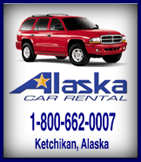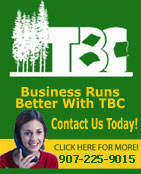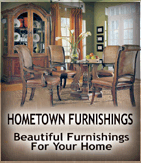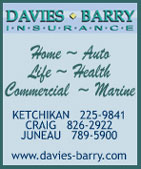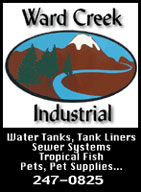 Contact


Webmail Letters


News Tips


Search Sitnews


Copyright Info


Archives
Today's News


Alaska


Ketchikan


Top Stories


U.S. News


U.S. Politics


Stock Watch


Personal Finance


Science News


US Education News


Parenting News


Seniors News


Medical News


Health News


Fitness


Offbeat News


Online Auction News


Today In History


Product Recalls


Obituaries
Quick News Search


Alaska


Ketchikan


SE Alaska


Alaska News Links
Columns - Articles


Dave Kiffer


Fish Factor


Career Success Stories


Parnassus Reviews


Chemical Eye On...


George Pasley


More Columnists
Ketchikan


Our Troops
Historical Ketchikan


June Allen


Dave Kiffer


Louise B. Harrington
Recognition


Match of the Month


Asset Builders
Ketchikan Arts & Events


Ketchikan Museums


KTN Public Library


Parks & Recreation


Chamber
Lifestyles


Home & Garden


Food & Drink


Arts & Culture


Book Reviews


Movie Reviews


Celebrity Gossip
On the Web


Cool Sites


Webmaster Tips


Virus Warnings
Sports


Ketchikan Links


Top Sports News
Public Records


FAA Accident Reports


NTSB Accident Reports


Court Calendar


Court Records Search


Wanted: Absconders


Sex Offender Reg.


Public Notices
Weather, Webcams


Today's Forecast


KTN Weather Data


AK Weather Map


Ketchikan Webcam


SE AK Webcams


Alaska Webcams


AK Earthquakes


Earthquakes
TV Guide


Ketchikan
Ketchikan Phone Book


Yellow Pages


White Pages
Employment


Employment
Government Links


Local Government


State & National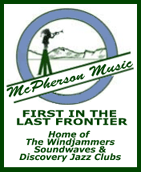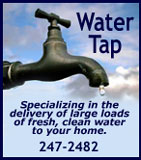 Friday
August 01, 2008

Herring Cove: Black Bear
Front Page Photo by Dave Georgia (Visiting from Maine)

Ketchikan: Guardian Flight bases new helicopter in Ketchikan - Guardian Flight, the largest Alaska-based critical care air medivac company, has based a new helicopter in Ketchikan that will increase its ability to provide medivac service in Southeast Alaska.

Chris Roussell, Rotor Wing Manager-Ketchikan
Photo courtesy Guardian Flight

The Guardian Flight helicopter, an AS-350 Eurocopter, is one of the most commonly used utility platforms in Southeast Alaska. Its capability to set down in a small landing zone will enable Guardian Flight to access patients in smaller communities, lodges, and camps.

The service area for the helicopter includes Revillagigedo, Prince of Wales, Gravina and Annette Islands, Petersburg, Wrangell, Hyder, Stewart, and Prince Rupert; wherever a safe landing zone is available within that area. - More...
Friday - August 01, 2008

Ketchikan: Watchdog Groups File 3rd Notice to Sue Cruise Lines for "Breaking Alaska Law" - The groups sponsoring the 2006 Alaska Cruise Ship Ballot Measure filed a third notice of intent to sue members of the Alaska Cruise Association in as many weeks. Alaska's cruise ship pollution control law allows citizens to sue the industry for failure to comply after posting a 45-day notice of intent to sue, and if necessary, sue the State for failure to enforce the law.

The first notice was filed in early July after the manager of the Alaska Ocean Ranger program, the independent monitoring program for cruise ship wastewater treatment, issued a report detailing a systematic effort by ACA member lines to block Ranger access to equipment, personnel, and logbooks aboard ship. The second notice was filed about a week later after a Royal Caribbean ship admitted illegally dumping ~20,000 gallons of untreated wastewater into Chatham Straits in S.E. Alaska. This third notice, filed Wednesday with the State Attorney General and the Commissioner of the Alaska Dept. of Environmental Conservation (ADEC), calls for more charges to be brought against the industry and a revocation of discharge permits to some ships because a key component of the State's discharge permit system was flagrantly ignored.

In a news release, Campaign to Safeguard America's Waters (CSAW) and Responsible Cruising in Alaska (RCA ) stated cruise ships that couldn't meet State Water Quality Standards for metals and ammonia were generously provided with less stringent interim effluent limits for two years under a compliance order that accompanied ADEC's recent permit. In order to legally operate under the permit, the ships were required to submit an SRE or 'Source Reduction Evaluation' within 60 days of submitting their application. An SRE must describe what standards they can't meet, how they intend to fix those problems, and state when the problems will be fixed. The industry submissions only told the State they hoped to have the problems identified by the end of the year, and possible technical solutions might be identified to remedy their non-compliant discharges if they were "practicable for implementation in a cruise ship environment." According to Gershon Cohen of the Earth Island Institute; "The cruise line SRE reports made a farce of the ADEC permit requirement. Cruise lines making billions of dollars in profits have no business telling the State what is "practicable" when it comes to meeting our aquatic life standards."

"Not good enough," said Chip Thoma, President of RCA, "No one is being fooled by the cruise line's shenanigans. Their formal request for a stay in the permit review process and their failure to properly address the SRE permit requirement are part and parcel of the same agenda - push back the compliance date with Alaska standards until they've had a chance to twist arms in Juneau next winter."

Joe Geldhof, attorney for the citizen's groups, summed up the action: "A legitimate SRE submission would have demonstrated the cruise lines know they can meet our standards if they try. Regardless, just as with their recent self-inflicted scandal over using bogus numbers for the copper concentrations in Ketchikan's drinking water, the cruise lines at every turn have continued to show a remarkable disregard for the rule of law. This 45-day notice puts the industry and ADEC on notice that we expect them both to step up to the plate and act appropriately, or face justifiable legal consequences." - More...
Friday - August 01, 2008

Alaska Science: A search for the coldest ice worm By NED ROZELL - Ice worms, so small and wispy that several would fit on your fingertip, live on warmish glaciers, eating algae and slithering toward the few spots in the narrow range of temperature they can endure. Ice worms die if the temperature drops much below freezing. At temperatures comfortable for humans, they disintegrate.

This summer, a few biologists are making a ski-and-crampon trek over the glaciers on the south side of the Alaska Range to see if rumors are true of the ice worm's existence there. Ice worms typically live on warmer glaciers in lower latitudes or near the coast of Alaska, not on the colder ice of the Interior.

"A worm in Denali would have to be a bit different to survive the harsh winters," said Rutgers professor Dan Shain, a trekker and one of the few people who study ice worms.

Shain, Alaska Pacific University professor Roman Dial, and a few others are making a ski and packraft traverse of the southern Alaska Range this August in search of the ice worm. Mountaineers, pilots, and park rangers have reported seeing ice worms on glaciers within Denali National Park. - More...
Friday - August 01, 2008

Columns - Commentary

Dave Kiffer: For $100 Grand, It Better Be Sunny! - I'm sure that when you read this it will be a gloriously sunny day in our fair salmon city.

That's the way it goes sometimes.

I want to note, that as I write this, I am watching the wind and the rain pelt my windows and I am wearing a flannel shirt - AND - a fleece vest. And I am still chilled.

And it is toward the end of July, for !@#@$! sakes.

Okay, after nearly 50 years here, I am used to summers in which the weather is not optimal. I am used to weather that always seems to be colder and wetter than you would think it should be according to the calendar.

I am used to my wife reminding me - during every unpleasant June - that it is indeed "summer somewhere else."

If fact, I have even had the same thought myself when I bundle up in a goretex parka to go outside for an August barbeque.

Yet, even with that background, I have to admit that this has been an unusually dismal summer.

Perhaps we haven't had the horrendous soakers that have been known to even drive the mosquitoes inside, but the drizzle has been constant, the temps have been 6 to 10 degrees below normal and the sunny days have been, well, they've been "somewhere else."

I noticed that a store on Creek had a sign noted there had been four days of summer thus far. Although I think they are exaggerating, they're not far off.

And have you noticed there hasn't been a truly good weekend since the first two weeks of the Salmon Derby in May and June?

A few months ago, I asked a friend what he'd do with if he had Bill Gates' money.

"I'd fix the weather around here," he answered.

"How?"

"I don't know but if I had a billion dollars I'd do something."

Fair enough

We all like to imagine that - if we just had enough money - we could change things. That's the American way.

But apparently, that's not always the case (see below).

Anyway, about all that is good about this summer is the egalitarian nature of the liquid sunshine. It falls on everyone, no matter what their station in life.

The difference, of course, is that people with money can escape the bad weather. Some places have "snowbirds" but Ketchikan has "rainbirds." - More...
Friday - August 01, 2008




33rd Annual Blueberry Festival

Blueberry Festival Schedule of Events


Candidates' Forum

The Greater Ketchikan Chamber of Commerce will host a U.S. Congress Republican primary candidates' forum on Friday August 1, 2008 at the Ted Ferry Civic Center. Attending will be: incumbent Don Young, Lt. Governor Sean Parnell and Representative Gabrielle LeDoux. Doors will open and seating will began at 6:45. Between 7:00 and 7:30 guest will have the opportunity to mingle and to meet the Candidates. The Forum will run from 7:30 to 9:30 with scheduled breaks. During the forum, room assistants will be circulating within the Civic Center to accept and screen written questions to be asked by the forum moderator, as time allows.

Ketchikan

Ketchikan Police Report
AK Troopers Daily Dispatch
Today's Forecast
Satellite
Today's Weather Images
Marine Forecasts
Ketchikan Weather Data
Current AK Weather Map

CLASSIFIEDS

Publish ad
Please select the proper category before posting.




CLASSIFIEDS' CATEGORIES

Announcements and
Help Wanted
For Sale / Free Stuff
Garage Sales
Homes / Apts/ Property
Pets
Wanted
Lost & Found
Local Services
Publish your ad

More Front Page Archives

Viewpoints
Opinions/Letters
Basic Rules

Alaska "Roadside" flower By Al Johnson - On or around the 20th of July I contacted the State Police regarding What is now a trashed Jeep Cherokee, AK License EEP 229 located at the Whipple Creek pull out. I was advised that abandoned cars were the responsibility of the Ketchikan Gateway Borough enforcement officer. The State Trooper on duty volunteered to pass the matter on to the Borough enforcement officer. I thanked him and departed knowing the issue was being delt with. - More...
Friday - August 01, 2008

Rebuttal: The Other Presidential Candidates By Frank McEnulty - I couldn't be more different than Alan Keyes and the others that Tom Proebsting compared me to. First, I am not, nor have I ever been a bible thumper. - More...
Friday - August 01, 2008

GIVING AWAY MONEY AT ELECTION TIME By Rep. Mike Doogan - AGIA License in Peril: The bill to grant a state license for the gas pipeline is in the clutches - did I say clutches? I meant, of course, loving hands - of the Alaska State Senate where, I'm sure, a thousand plots are being hatched. I could list them all, but why bother. These things are like soap bubbles and last about as long. So let's talk about something concrete, like logistics, instead. If the legislature is to approve granting a license <http://gov.state.ak.us/agia/> to a subsidiary of TransCanada, it must do so by midnight Aug. 2, which is the last of the 60 days the law allows for legislative review and approval. The way the votes seem to be distributed in the Senate, approval will take four days: send the bill to the floor, second reading, third reading, reconsideration. As I write this, there are four days left. What does that mean? It means the license's opponents have succeeded in stalling long enough that the slightest bobble could kill it. (Necessary disclaimer here: The license's opponents claim they haven't been stalling. But if it looks like a duck and walks like a duck and talks like a duck ) Stay tuned. - More...
Friday - August 01, 2008

The Other Presidential Candidates By Tom Proebsting - The media has offered extensive coverage to presidential candidates John McCain and Barack Obama. Every day reveals something new about the two mavericks. However, to be fair and balanced, there are other presidential candidates. There may be virtually dozens running for president, but only ten worthy of honorable mention. - More...
Friday - August 01, 2008

The Truth Abouts Cats & Dogs By Chris Elliott - I live on Jackson Street. While I sympathize with Mr. Griffin, I think Ms. Pitcher makes an excellent point. I don't remember cats being such a problem when I was a kid. I don't know if they were more apt to hang out at home or what, but there are a lot of cats running around our neighborhood now. On a nice day, when I've got my front door open, it's not unusual to have a cat poke his nose in. Often, when I go to work in the morning, I find little cat prints on the hood of my car. They get under our house and do whatever it is they do (stinking it up). I wish they would stay on their own property, but they're sneaky, and if you let them out, they're going to cat around. - More...
Monday - July 28, 2008

Thank You From the Family of Benjamin Noah Phillips By Karen Galloway - Words cannot express the gratefulness in our hearts as we try to write this thank you. We were (and still are) absolutely overwhelmed by the kindness and generosity of our friends, family and community members when our son and grandchild, "Baby Ben," was critically injured by a truck and had to be medevac'd to Harborview on June 9, 2008. That was the scariest thing any of us has ever experienced and those first few critical days were heart-wrenching. We live in a kind and caring community and your support has been more than awesome. - More...
Sunday - July 27, 2008

Neighborhood Cats By Karen Pitcher - I don't live in the Jackson Street neighborhood but I can really understand the frustration of the neighbor who was setting a trap for cats. The cats in my neighborhood also love to use my fenced yard as a large litter box and I get very tired of scooping up after them. Especially when I miss some and don't discover it until I've mowed over it. Yuk. - More...
Sunday - July 27, 2008

Energy: We can't just have a box of chocolates By Sen. Kim Elton - This week I'm giving my laptop's keyboard a break. I'm not putting more miles on the A,G, I, and A keys. Truth be told, I'm so tired of downloading and forwarding data on gas pipeline economics that I too need a short break from that acronym I'm not mentioning in this newsletter. - More...
Sunday - July 27, 2008

Alaska Driver's Manual By Jay Jones - To Chief Davis, I would hope that operators of Departmental Vehicles would already observe what is included in the second paragraph of your letter concerning pedestrians entering/occupying crosswalks, and that it would already be Department policy, as it is on page 60 of the Alaska State Driver's Manual. - More...
Sunday - July 27, 2008

More Letters/Viewpoints
Webmail your letter or
Email Your Letter To: editor@sitnews.us

---

E-mail your news tips, news
releases & photos to:
editor@sitnews.us

SitNews
Stories in the News
©1999 - 2008
Ketchikan, Alaska

M.C. Kauffman, Webmaster/Editor, &
Graphic Designer
webmaster@sitnews.us

In Memory of SitNews' first editor,
Dick Kauffman
1932-2007

Locally owned & operated.
Online since 1999

Articles & photographs that appear in SitNews may be protected by copyright and may not be reprinted or redistributed without written permission from and payment of required fees to the proper sources.