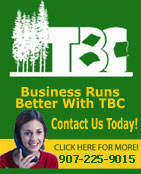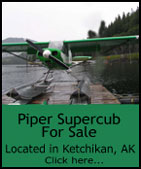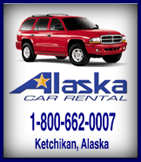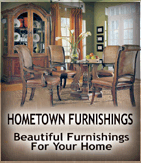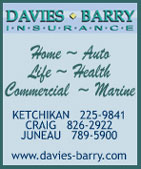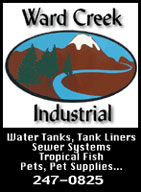 Contact


Webmail Letters


News Tips


Search Sitnews


Copyright Info


Archives
Today's News


Alaska


Ketchikan


Top Stories


U.S. News


U.S. Politics


Stock Watch


Personal Finance


Science News


US Education News


Parenting News


Seniors News


Medical News


Health News


Fitness


Offbeat News


Online Auction News


Today In History


Product Recalls


Obituaries
Quick News Search


Alaska


Ketchikan


SE Alaska


Alaska News Links
Columns - Articles


Dave Kiffer


Fish Factor


Career Success Stories


Parnassus Reviews


Chemical Eye On...


Bob Ciminel


Rob Holston


More Columnists
Ketchikan


Our Troops
Historical Ketchikan


June Allen


Dave Kiffer


Louise B. Harrington
Recognition


Match of the Month


Asset Builders
Ketchikan Arts & Events


Ketchikan Museums


KTN Public Library


Parks & Recreation


Chamber
Lifestyles


Home & Garden


Food & Drink


Arts & Culture


Book Reviews


Movie Reviews


Celebrity Gossip
On the Web


Cool Sites


Webmaster Tips


Virus Warnings
Sports


Ketchikan Links


Top Sports News
Public Records


FAA Accident Reports


NTSB Accident Reports


Court Calendar


Court Records Search


Wanted: Absconders


Sex Offender Reg.


Public Notices
Weather, Webcams


Today's Forecast


KTN Weather Data


AK Weather Map


Ketchikan Webcam


SE AK Webcams


Alaska Webcams


AK Earthquakes


Earthquakes
TV Guide


Ketchikan
Ketchikan Phone Book


Yellow Pages


White Pages
Employment


Employment
Government Links


Local Government


State & National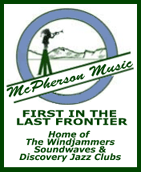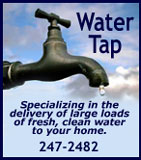 Monday
June 30, 2008



Hummingbird
Front Page Photo by Bill Meck

Alaska: IBU Contract Not Ratified - A tentative agreement (TA) on a three-year contract covering the period of July 1, 2008 through June 30, 2011 was not ratified in the Friday, June 27th vote. Although the contract wasn't ratified, the Inlandboatmen's Union of the Pacific (IBU) and State of Alaska negotiators plan to meet again soon to see what adjustments can be made to the proposals in the hopes of reaching agreement.

Commissioner Annette Kreitzer said, "I am hopeful that we will be able to reach a compromise that will satisfy both parties. We are committed to a long-term vision for improving working conditions for State workers.

Nancy Sutch, Chief Spokesman for the State said, "We will be meeting in the near future to take a look at the contract terms and attempt to work out the differences. I am confident that we can come to an agreement."

The TA contained the following provisions: - More...
Monday - June 30, 2008

National: Despite Frustrations, Americans Are Pretty Darned Happy - We're number 16 ... in world happiness. Feel the joy.

The United States ranks ahead of more than 80 countries, but below 15 others in happiness levels, according to new World Values Survey data released in the July issue of the journal Perspectives on Psychological Science.

The World Values Survey (WVS) is the work of a global network of social scientists who perform periodic surveys addressing a number of issues. The latest surveys, taken in the United States and in several developing countries, showed increased happiness from 1981 to 2007 in 45 of 52 countries for which substantial time series data was available. Survey analysis was funded by the National Science Foundation.

Researchers responsible for the analysis, from the University of Michigan's Institute for Social Research (ISR) in Ann Arbor, say the overall rise in reported happiness is due to greater economic growth, democratization and social tolerance.

Denmark tops the list of surveyed nations, along with Puerto Rico and Colombia. A dozen other countries, including Ireland, Switzerland, the Netherlands, Canada and Sweden also rank above the United States, which maintains about the same relative position as it did in WVS's 2000 survey.

"Though by no means the happiest country in the world, from a global perspective the U.S. looks pretty good," says Ronald Inglehart, a political scientist at the university, who directs the study. "The country is not only prosperous; it ranks relatively high in gender equality, tolerance of ethnic and social diversity and has high levels of political freedom."

Researchers measured happiness by simply asking people how happy they were, and how satisfied they were with their lives as a whole. Ninety-seven percent of respondents--an exceptionally high response rate--gave answers that strongly correlated with how satisfied they were with various aspects of life such as gender equality and tolerance of minorities.

Interestingly, countries whose respondents reported high levels of happiness were much likelier to be democracies than were countries that rank lower in terms of their citizens' happiness. - More...
Monday - June 30, 2008

National: Study: News media bias can net mistakes at the ballot box - The media slant political news to the left or right to increase ratings and profits, spinning up an information vacuum that can lead to mistakes at the ballot box, a new study by three University of Illinois economists says.

Media bias has become increasingly profitable given a polarized electorate in which conservatives and liberals want news coverage that tilts toward their political leanings, according to the study by Dan Bernhardt, Stefan Krasa and Mattias Polborn.

"You listen to news not just to get informed, but to be entertained," Krasa said. "And you're more entertained if they tell you you're right than if they tell you you're wrong."

But even though voters typically take the spin into account rather than following blindly and that the media only slant news rather than falsifying it, selective reporting can still factor into mistakes at the polls, according to findings that will appear in the Journal of Public Economics.

Voters get an incomplete picture as conservative media outlets favor Republicans and blast Democrats, while liberal outlets do just the opposite, according to the study, "Partisan Polarization and the Electoral Effects of Media Bias."

"Biased media suppresses information that is unfavorable to 'their' candidate, and even smart voters cannot completely recover the truth from their reports," Polborn said.

The study says media bias can also trip up voters who try to account for the slant some outlets put on the news.

For instance, an independent voter who hears only minor negative news about a Democrat through a conservative outlet could rightly infer that the Democrat has no glaring faults or they would have been trumpeted. But the Republican's quality remains in question because the voter rationally expects any negative news would be stifled.

Bernhardt and Krasa say the earnings-driven bias that tailors news to give conservatives or liberals what they want to hear could weigh on this fall's presidential race. Conservative media outlets will tout Republican John McCain's strengths and downplay or ignore weaknesses, while Democrat Barack Obama will get similar kid-glove treatment from left-leaning media, the economics professors say.

"Selective reporting by a liberal or conservative outlet can cause voters to make mistakes because they don't hear the whole story," Bernhardt said. "If collectively enough of them make mistakes it can switch the winner of the election."

Media bias could play an even bigger role in this year's presidential race because Obama is still a relative unknown whose positions and past will be selectively reported as they surface during the campaign, Bernhardt said. - More...
Monday - June 30, 2008

Columns - Commentary

Dave Kiffer: No Food For You! - So what will $50 buy you these day?

How about 4 inches?

It seems that if you take advantage of a $50 first class upgrade on our "state" airline, they make it very clear to you that you will not get a meal with your "upgrade."

Basically, all you are paying for is more buttspace. Four inches to be exact.

And on a cross country flight that might not be a bad thing, especially if - like me - coach seats stopped being comfortably wide enough for you when your feet finally started to reach the floor. And - hey - I'm not much of a wide body, so that's saying something.

I recently had the pleasure of sitting next to a very large fishing-type gentleman from Texas who probably should have been charged for both his seat and half of mine. So if the upgrade would have been available I probably would have taken it, even without much of the "complimentary" service you normally get in First Class.

So how do I know about the "no meals for you upgraders" policy?

Two different people have told me about their recent experiences in First Class on Elastic Air.

Much like the Soup Nazi on Seinfield, they were told welcome to first class and "no food for you."

In fact, one person was even told she couldn't even pay for one of the $5 picnic packs they were selling in Coach. So she had the pleasure of absolutely no food at all on a lengthy flight.

Fortunately, they did give her the complimentary alcoholic beverages so all was not lost.

It does seem a long, long, long way away from the Golden Samovar service of the past though. Alaska Airlines is squeezing hard to try to reduce costs as much as possible and we passengers are the ones feeling the pinch.

I guess this makes sense in an era when fuel costs are doubling between the time a plane takes off and reaches its destination. You just wish they didn't have to be quite so snotty when it came to making sure the "upgraders" realize they really, really, really aren't First Class after all.

Especially since these "upgraders" are actually paying the airline an additional $50 for what would otherwise be an empty seat (and allowing the airline to then "regift" the now empty coach seat because just about every AK air flight has standby in coach these days).

Oh well, just the Spirit of Alaska, I guess.

Still, we do need to be happy that Alaska Airlines isn't hang glinding off the bankruptcy cliff like a lot of other airlines. - More...
Saturday - June 28, 2008




Ketchikan

Ketchikan Police Report
AK Troopers Daily Dispatch
Today's Forecast
Satellite
Today's Weather Images
Marine Forecasts
Ketchikan Weather Data
Current AK Weather Map

CLASSIFIEDS

Publish ad
Please select the proper category before posting.




CLASSIFIEDS' CATEGORIES

Announcements and
Help Wanted
For Sale / Free Stuff
Garage Sales
Homes / Apts/ Property
Pets
Wanted
Lost & Found
Local Services
Publish your ad

More Front Page Archives

Viewpoints
Opinions/Letters
Basic Rules

Outrage! Private Profit on public Alaskan Lands By Norbert Chaudhary - I read today of the plan by AP&T (Alaska Power and Telephone) (NOT an Alaskan Company - it is based in Port Townsend,Washington) to build a dam on PUBLIC LANDS in Southeast Alaska in order to sell electicity for PRIVATE PROFIT to Canada. - More...
Monday - June 30, 2008

Statehood Day By Alan R. McGillvray - When I was a young sprout, wasn't even interested in girls yet, my younger brother and I were over at Minnich's house on 3rd Ave. up by the High School, playing around, when we heard the sirens go off. So we all knew that the STATEHOOD vote was up in the Senate of the U.S.A. govt. and it finally went in our favor. - More...
Monday - June 30, 2008

Gasline, Energy & Salmon By Rep. Mike Doogan - Hearings, we got hearings.

The legislature held more hearings on Gov. Sarah Palin 's proposal to give TransCanada subsidiary TC Alaska a state license to build a gas pipeline from the North Slope. We met Tuesday afternoon in Palmer and Thursday afternoon in Soldotna, with public hearings on those evenings. - More...
Monday - June 30, 2008

Trans Canada Pipeline By Ben Moffett - Way down here in New Mexico, where we have quite a bit of oil and gas too, we're pulling for Trans Canada Pipeline. - More...
Monday - June 30, 2008

Open letter: Gravina Access Priorities, Public Spending for Roads By Michael C. Spence - In my informed opinion, as long as the road system and infrastructure of Ketchikan on the Revillagigedo Island is poorly maintained, with vast areas either unpaved or pothole-ridden, it is a travesty to spend any more public money on roads on Gravina Island. For example, Tongass Avenue near the main post office, Tongass Highway from Revilla Road to Refuge Cove are a mess. Revilla Road is unpaved over much of the area above Ward Lake recreation area, as is South Tongass Highway from mile 8 to the end of the road at Beaver Falls. Both of the latter roads are frequently used by local residents and visitors. There is inadequate pedestrian access throughout the road system in Ketchikan, and critically inadequate in the downtown area where thousands of tourists and residents alike are on the streets during the Summer. - More...
Saturday - June 28, 2008

Our Fuel for the Future By Gov. Sarah Palin - Summer is officially here. And during this time, we like to put the winter months behind us and focus on the longer and warmer days. But we are in the midst of an energy crisis across the nation and in Alaska. And the warmer summer months will only provide a brief respite from the colder months and the increasing need for fuel which lay ahead. - More...
Saturday - June 28, 2008

Customer service By Cecelia Johnson - I recently had a pleasant surprise walking into a business downtown, "Crazy Wolf Studio." I felt like a celebrity and I was treated with respect. Why the surprise? I am a local resident. - More...
Saturday - June 28, 2008

Instead of a tale of two cities, we have two different tales of floating cities By Sen. Kim Elton - Cruise ship compliance with Alaska's environmental laws likely is okay if the question is "can they do lunch?" Ask more relevant questions, though, and compliance apparently is more difficult to assess. - More...
Saturday - June 28, 2008

Oil from ANWR/ gas price reduction By Marlowe Thompson - I have no expertise in the petroleum business. I am retired and trying to convince my U.S. Representative Democrat Mike Thompson (no relation) to change his view and vote to drill in ANWR. He stated in a letter to me that it would take too long, 10 years, to get oil to the Lower 48 and would only lower the gas price about 1.5 cents. - More...
Saturday - June 28, 2008

Moving Forward?? By Jerilyn Lester - It seems to me that Governor Palin is just intent on ripping Alaska off for all it is worth. First the Governor steals the money for the bridge promised to Ketchikan 30 years ago only to build another one across Knik Arm because it takes too long to drive around. Now the Governor is taking jobs and money out of the state and sending them to Canada. - More...
Saturday - June 28, 2008

More Letters/Viewpoints
Webmail your letter or
Email Your Letter To: editor@sitnews.us

---

E-mail your news tips, news
releases & photos to:
editor@sitnews.us

SitNews
Stories in the News
©1999 - 2008
Ketchikan, Alaska

M.C. Kauffman, Webmaster/Editor, &
Graphic Designer
webmaster@sitnews.us

In Memory of SitNews' first editor,
Dick Kauffman
1932-2007

Locally owned & operated.
Online since 1999

Articles & photographs that appear in SitNews are protected by copyright and may not be reprinted or redistributed without written permission from and payment of required fees to the proper sources.