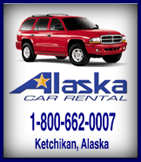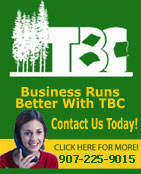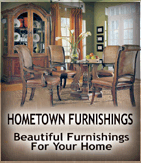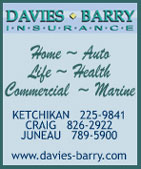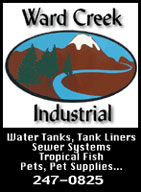 Contact


Webmail Letters


News Tips


Search Sitnews


Copyright Info


Archives
Today's News


Alaska


Ketchikan


Top Stories


U.S. News


U.S. Politics


Stock Watch


Personal Finance


Science News


US Education News


Parenting News


Seniors News


Medical News


Health News


Fitness


Offbeat News


Online Auction News


Today In History


Product Recalls


Obituaries
Quick News Search


Alaska


Ketchikan


SE Alaska


Alaska News Links
Columns - Articles


Dave Kiffer


Fish Factor


Career Success Stories


Parnassus Reviews


Chemical Eye On...


George Pasley


More Columnists
Ketchikan


Our Troops
Historical Ketchikan


June Allen


Dave Kiffer


Louise B. Harrington
Recognition


Match of the Month


Asset Builders
Ketchikan Arts & Events


Ketchikan Museums


KTN Public Library


Parks & Recreation


Chamber
Lifestyles


Home & Garden


Food & Drink


Arts & Culture


Book Reviews


Movie Reviews


Celebrity Gossip
On the Web


Cool Sites


Webmaster Tips


Virus Warnings
Sports


Ketchikan Links


Top Sports News
Public Records


FAA Accident Reports


NTSB Accident Reports


Court Calendar


Court Records Search


Wanted: Absconders


Sex Offender Reg.


Public Notices
Weather, Webcams


Today's Forecast


KTN Weather Data


AK Weather Map


Ketchikan Webcam


SE AK Webcams


Alaska Webcams


AK Earthquakes


Earthquakes
TV Guide


Ketchikan
Ketchikan Phone Book


Yellow Pages


White Pages
Employment


Employment
Government Links


Local Government


State & National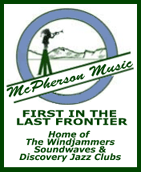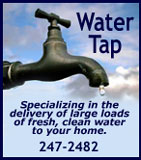 Tuesday
July 29, 2008

"I am innocent of these charges and intend to prove that."
U. S. Senator Ted Stevens

Alaska: U.S. SENATOR INDICTED ON FALSE STATEMENT CHARGES - United States Senator Theodore F. Stevens (R) of Alaska was charged today in an indictment returned by a federal grand jury in the District of Columbia with seven counts of making false statements related to Stevens' financial disclosure forms. The indictment was announced today by Acting Assistant Attorney General Matthew Friedrich of the Criminal Division of the U. S. Department of Justice.

The seven-count indictment charges Sen. Stevens, the former chairperson of the Senate Committee on Appropriations, with engaging in a nearly eight-year scheme to conceal his receipt of more than $250,000 in things of value from VECO Corporation, formerly a multi-national oil services company based in Alaska, and Bill J. Allen, the Chief Executive Officer of VECO at the time. According to the indictment, Stevens concealed these things of value from his publicly filed United States Senate financial disclosure forms. The things of value that Stevens allegedly received included: substantial home improvements to property Stevens owns in Girdwood, Alaska; automobile exchanges in which Stevens received new vehicles worth far more than the used vehicles Stevens provided in exchange; and household goods. The indictment also alleges that Sen. Stevens, during the same time that he was concealing his continuing receipt of these things of value from VECO and Allen, received solicitations for official actions from Allen and other VECO employees, and that Sen. Stevens used his position and office on behalf of VECO during that same time period.

The indictment specifically charges Stevens with making false statements on his financial disclosure forms for calendar years 2001 to 2006. The indictment alleges that, during each of those years, Stevens knowingly failed to report his receipt of any thing of value from Allen, VECO or two other individuals, despite the fact that the forms required Stevens to report his receipt of such things of value.


As set forth in the indictment, the Ethics in Government Act requires all members of the United States Senate to file a financial disclosure form, detailing specified financial transactions that the elected official engaged in during the prior calendar year, including disclosure of gifts over a specified monetary amount and disclosure of liabilities in excess of $10,000 owed during any point of a calendar year.

Today in a prepared statement Senator Stevens said, "I have proudly served this nation and Alaska for over 50 years. My public service began when I served in World War II. It saddens me to learn that these charges have been brought against me. I have never knowingly submitted a false disclosure form required by law as a U.S. Senator."

"In accordance with Senate Republican Conference rules, I have temporarily relinquished my vice-chairmanship and ranking positions until I am absolved of these charges," said Stevens.

Stevens said, "The impact of these charges on my family disturbs me greatly."

"I am innocent of these charges and intend to prove that." said Stevens. - More...
Tuesday - July 29, 2008

Alaska: Alaska man saves Utah woman from grizzly attack By JASON BERGREEN - Robert VinZant heard what he thought was a drunk person laughing and having too much fun.

But as he stood near his truck in the parking lot of the Kenai Princess Lodge in Cooper Landing, Alaska, the 43-year-old oil field worker realized just how wrong he was.

"I heard a bear growl, he said by phone Friday. "It was really deep."

VinZant is being hailed as a hero last week for saving the life of 21-year-old Utahn Abigail Sisk.

An 8-foot-tall grizzly attacked her about 11 p.m. Wednesday, ripping part of her scalp off and dragging her several feet from a dirt road near the lodge where she works this summer.

VinZant, a guest at the lodge, instinctively ran toward the growling, which was coming from a hiking trail between the Kenai River and the deck of the lodge. As he crested a hill, he looked down and saw the grizzly.

"I saw the bear actually on top of her pinning her down," VinZant said.

The Wasilla, Alaska, resident yelled and ran at the grizzly, which stood on its hind legs and stared at him. VinZant stopped. He yelled at the bear again and it shuffled off toward the river. - More...
Tuesday - July 29, 2008

Alaska: Scientists depart for month-long expedition into the Beaufort Sea - On the last day of July, a group of northern-oriented marine scientists will depart on a pioneering expedition to the Beaufort Sea.

"This will be NOAA's first dedicated scientific expedition focusing on fish in the Beaufort," said Doug DeMaster, Director of NOAA's Alaska Fisheries Science Center. "It will tell us many currently unknown facts about fish and fish habitat in the Arctic, laying a baseline for further scientific expeditions to track changes in the ecosystem. It will also provide scientific data for the Arctic Fisheries Management Plan currently under development by the North Pacific Fishery Management Council." - More...
Monday - July 28, 2008

Alaska: New AMHS plan could save $5 million - As all modes of transportation are being hampered by soaring fuel costs, the Alaska Marine Highway System (AMHS) has initiated a new Vessel Voyage-Power-Management System that officials are confident could save as much as $5 million in coming years.

"We installed this new computerized, electronic power and speed control system aboard the Aurora last winter during the ship's federal capital improvement project overhaul in Washington," said AMHS General Manager, Capt. John Falvey. "The system is integrated into the ship's navigation instruments and main engines. It's designed to control the vessel's power and speed settings and eventually add to fuel consumption savings." - More...
Monday - July 28, 2008

Alaska: AMHS fall, winter, spring sailing schedule now available; Release earliest in system's history - Alaska Marine Highway System (AMHS) officials on Friday released the upcoming sailing schedule for service during this coming fall, winter and the spring of 2009, the earliest schedule release in the system's history.

"We're absolutely excited to have the schedule released and available to our traveling customers who've repeatedly asked for earlier schedule postings to help them plan vacations and other trips," said Capt. John Falvey, General Manager, AMHS. "Early schedule releasing is the course we want to keep in the future of AMHS ­ a reliable schedule that's available in a timely manner." - More...
Monday - July 28, 2008

National: Web site tracks traffic deaths across U.S. By JEFF SHELMAN - Getting behind the wheel of an automobile has significant consequences, a list that includes death.

But how often do people really think about that when they turn the key of their car or truck? The Center for Excellence in Rural Safety at the University of Minnesota would like people to ponder just what might happen if they are distracted, tired, had a couple too many beers or decide that that seat belt is a pain.

That's why the university's center dedicated to rural highway safety plotted more than 42,000 traffic fatalities in the United States in 2006 -- the equivalent of 115 each day -- and placed them on an interactive map on the Internet.- More...
Monday - July 28, 2008

National: Forest Service burns through its budgets By LES BLUMENTHAL - The Forest Service has struggled for years to pay for fighting fires that last year alone scorched almost 10 million acres, mainly in the West. As fire seasons grow longer and the blazes more intense in forests stressed by global warming, the agency's funding woes mount.

The Forest Service has already spent roughly $900 million this year, almost 75 percent of its fire-suppression budget, and the season is just nearing its peak.- More...
Monday - July 28, 2008

Columns - Commentary

Ann McFeatters: Many questions, no firm answers on election - Six months ago, Americans were worried about Barack Obama's inexperience and John McCain's age and adherence to President Bush's policies. Today? Ditto.

Granted, most normal people are not yet besotted with the upcoming presidential election. Vacations, gas prices, the upcoming Olympics and the sagging economy are more important right now.

But we all know this is a crucial election, and for the first time many young people as well as older, established folks (read mortgage or children or a long-standing gripe against the system) plan to vote. With polls showing vast dissatisfaction with the job Bush has done and a wide belief (three out of four Americans) that the country is on the "wrong track," voters this election want to get it right. - More...
Mnday - July 28, 2008

Philip Gailey: Obama surge risky too - With the United States fighting two wars on foreign soil, Barack Obama promises to end the bad one, in Iraq, and to escalate the good one, in Afghanistan. He still opposes the troop surge that has dramatically lowered the level of violence in Iraq even as he proposes a troop surge sure to increase the violence in Afghanistan.

That course would appear to suit most Americans, who are weary of the war in Iraq but share Obama's view that Afghanistan is "the central front'' in the war against terrorism. But how long will Americans be willing to stay the course in Afghanistan, which could become another quagmire? And what price are they willing to pay in blood and treasure? The cost of a protracted war, even a good one, would burden the domestic agenda of an Obama presidency, making it more difficult to fund his health care plan and provide middle-class tax relief without adding trillions of dollars to the national debt. - More...
Monday - July 28, 2008

Dale McFeatters: Record setting red ink - The White House has disclosed that the Bush administration will be leaving behind a nasty house-warming gift for the next president: a record budget deficit of $482 billion in fiscal 2009.

Since the fiscal year begins before President Bush leaves office, if that forecast holds -- and it may even be on the low side -- Bush will have set the records for the first, second, third, fourth and fifth highest federal deficits ever. Not bad considering that when he took office the country had had four straight years of budget surpluses and had started to pay down the national debt, now also at record levels

Bush's tax cuts took care of the accumulated surplus and untrammeled spending by the Republican Congress dug us into the hole. Even without the demands of 9/11 this was the freest spending bunch Washington had seen since the Great Society. When the 2007 deficit came in at "only" $161.5 billion, that was treated as good news but, alas, not for long. When fiscal 2008 ends Sept 30, the deficit for the current year likely will be around $389 billion. - More...
Monday - July 28, 2008




Candidates' Forum

The Greater Ketchikan Chamber of Commerce will host a U.S. Congress Republican primary candidates' forum on Friday August 1, 2008 at the Ted Ferry Civic Center. Attending will be: incumbent Don Young, Lt. Governor Sean Parnell and Representative Gabrielle LeDoux. Doors will open and seating will began at 6:45. Between 7:00 and 7:30 guest will have the opportunity to mingle and to meet the Candidates. The Forum will run from 7:30 to 9:30 with scheduled breaks. During the forum, room assistants will be circulating within the Civic Center to accept and screen written questions to be asked by the forum moderator, as time allows.

Ketchikan

Ketchikan Police Report
AK Troopers Daily Dispatch
Today's Forecast
Satellite
Today's Weather Images
Marine Forecasts
Ketchikan Weather Data
Current AK Weather Map

CLASSIFIEDS

Publish ad
Please select the proper category before posting.




CLASSIFIEDS' CATEGORIES

Announcements and
Help Wanted
For Sale / Free Stuff
Garage Sales
Homes / Apts/ Property
Pets
Wanted
Lost & Found
Local Services
Publish your ad

More Front Page Archives

Viewpoints
Opinions/Letters
Basic Rules

The Truth Abouts Cats & Dogs By Chris Elliott - I live on Jackson Street. While I sympathize with Mr. Griffin, I think Ms. Pitcher makes an excellent point. I don't remember cats being such a problem when I was a kid. I don't know if they were more apt to hang out at home or what, but there are a lot of cats running around our neighborhood now. On a nice day, when I've got my front door open, it's not unusual to have a cat poke his nose in. Often, when I go to work in the morning, I find little cat prints on the hood of my car. They get under our house and do whatever it is they do (stinking it up). I wish they would stay on their own property, but they're sneaky, and if you let them out, they're going to cat around. - More...
Monday - July 28, 2008

Thank You From the Family of Benjamin Noah Phillips By Karen Galloway - Words cannot express the gratefulness in our hearts as we try to write this thank you. We were (and still are) absolutely overwhelmed by the kindness and generosity of our friends, family and community members when our son and grandchild, "Baby Ben," was critically injured by a truck and had to be medevac'd to Harborview on June 9, 2008. That was the scariest thing any of us has ever experienced and those first few critical days were heart-wrenching. We live in a kind and caring community and your support has been more than awesome. - More...
Sunday - July 27, 2008

Neighborhood Cats By Karen Pitcher - I don't live in the Jackson Street neighborhood but I can really understand the frustration of the neighbor who was setting a trap for cats. The cats in my neighborhood also love to use my fenced yard as a large litter box and I get very tired of scooping up after them. Especially when I miss some and don't discover it until I've mowed over it. Yuk. - More...
Sunday - July 27, 2008

Energy: We can't just have a box of chocolates By Sen. Kim Elton - This week I'm giving my laptop's keyboard a break. I'm not putting more miles on the A,G, I, and A keys. Truth be told, I'm so tired of downloading and forwarding data on gas pipeline economics that I too need a short break from that acronym I'm not mentioning in this newsletter. - More...
Sunday - July 27, 2008

Alaska Driver's Manual By Jay Jones - To Chief Davis, I would hope that operators of Departmental Vehicles would already observe what is included in the second paragraph of your letter concerning pedestrians entering/occupying crosswalks, and that it would already be Department policy, as it is on page 60 of the Alaska State Driver's Manual. - More...
Sunday - July 27, 2008

More Letters/Viewpoints
Webmail your letter or
Email Your Letter To: editor@sitnews.us

---

E-mail your news tips, news
releases & photos to:
editor@sitnews.us

SitNews
Stories in the News
©1999 - 2008
Ketchikan, Alaska

M.C. Kauffman, Webmaster/Editor, &
Graphic Designer
webmaster@sitnews.us

In Memory of SitNews' first editor,
Dick Kauffman
1932-2007

Locally owned & operated.
Online since 1999

Articles & photographs that appear in SitNews may be protected by copyright and may not be reprinted or redistributed without written permission from and payment of required fees to the proper sources.