Thursday
May 20, 2004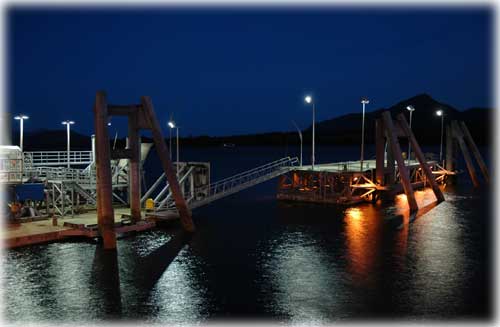 'Landing'
Front Page Photo by Carl Thompson
Viewpoints
Opinions/Letters

THE MAINTENANCE WILL BANKRUPT THE TOWN, FOLKS! by David G. Hanger - Ketchikan - 05/20/04


Desecration Bridge by Don Hoff Jr. - TN - 05/20/04


Re: Pro Bridge & Opportunities by Rick Grams II - Ketchikan - 05/20/04


Re: Pro Bridge by P. J. Travis - Ketchikan - 05/20/04


Looking for relatives by Kevin Rickard - Dublin, Ireland - 05/20/04


Re: Pro Bridge & Taxes by Brandi Conway - Ketchikan - 05/20/04


Read More Viewpoints


Publish A Letter
May 2004
Click on the date to read the stories & to view photos published on that day...

| | | | | | | |
| --- | --- | --- | --- | --- | --- | --- |
| S | M | T | W | T | F | S |
| 25 | 26 | 27 | 28 | 29 | 30 | 01 |
| 02 | 03 | 04 | 05 | 06 | 07 | 08 |
| 09 | 10 | 11 | 12 | 13 | 14 | 15 |
| 16 | 17 | 18 | 19 | 20 | 21 | 22 |
| 23 | 24 | 25 | 26 | 27 | 28 | 29 |
| 30 | 31 | | | | | |

Alaska: State Holds Cook Inlet Oil & Gas Lease Sale - Alaska Governor Frank Murkowski announced Wednesday that the state received $2.7 million in bonus bids for leasing 363,000 acres in its Cook Inlet areawide oil and gas lease sale. Today's sale was the highest amount of acreage leased in the 17 Cook Inlet sales that the state has conducted since 1986. Along with the Cook Inlet sale, the state conducted North Slope Foothills Areawide, in which Petro-Canada picked up 5 tracts for approximately $154,000. The Cook Inlet and North Slope Foothills sales are part of the state's ongoing areawide leasing program.

"Areawide leasing has been a highly successful program," Murkowski said. "With today's sales, the state has surpassed $100 million in bonus bids since the program's inception in 1998. Participation in today's sales demonstrates that industry, especially the independents, remains bullish on Alaska. I am particularly pleased to see new participation in our sales, and welcome Pioneer Oil to Alaska."- Read more...
Thursday - May 20, 2004

Ketchikan: LeConte Expected To Arrive In Ketchikan Thursday Morning - The LeConte is expected to arrive in Ketchikan on Thursday morning where the vessel is scheduled to berth at Alaska Ship & Drydock.

According to information provided Wednesday by the Unified Command, the LeConte under tow by the tug Chahunta continues to progress well on the voyage to Ketchikan. The voyage weather continues to be favorable with almost no wind and very calm seas.

The American Salvor continues to escort the Chahunta and LeConte. A 500-yard moving safety zone remains in place around the vessel towline and Chahunta during the voyage to Ketchikan. - Page...
Thursday - May 20, 2004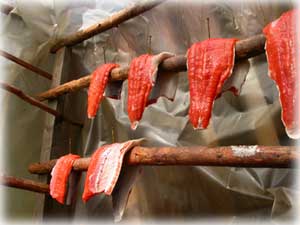 Alaska's salmon and other fish are very low in pollutants, according to a new study by the state Department of Environmental Conservation.
Photo by Ned Rozell
Alaska: Alaska's fish are clean, according to study - Though buffered by many hundreds of miles from the world's industrial centers, the far north is not as pristine as it seems. Scientists have found dioxins in the breast milk of Native women in Canada's Arctic and pesticide in the bark of Alaska trees, but a new study shows extremely low levels of toxins in Alaska fish.
"It is tremendously good news," said Bob Gerlach, the state veterinarian and Alaska wild food safety coordinator at the Department of Environmental Conservation, the agency that sponsored the study.
Gerlach and his colleagues are finishing a study on more than 600 fish samples from the fresh and salt waters across Alaska, from Ketchikan to Norton Sound. The researchers looked at all five species of Pacific salmon from every major drainage in the state, halibut and other bottom-fish, and some freshwater fish, like sheefish and northern pike. Alaska's fish are showing low amounts of PCBs and other organic pollutants that hang around for decades roaming around the planet by hitchhiking in the fat cells of animals. The traces of PCBs and other pollutants can travel north in migrating fish or those fish eaten by Alaska fish.- Read more...
Thursday - May 20, 2004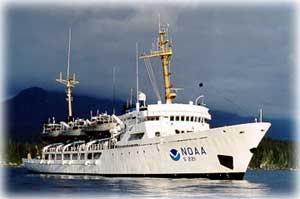 NOAA Ship Rainier
Photo Courtesy NOAA
Alaska: Teacher To Get Hands-On Research Experience Aboard NOAA Ship - Students at Lathrop High School in Fairbanks, Alaska, will learn about marine science in an exciting new way this year, through the eyes and perceptions of their own math and science teacher Curtis Watkins, who is participating in the NOAA Teacher at Sea program of the Commerce Department's National Oceanic and Atmospheric Administration (NOAA). - Read more...
Thursday - May 20, 2004
Columnists
Dick Morris: The Rigidification Of George Bush - In 1972, presidential historian David James Barber, writing in the shadow of Vietnam, described a process he called "rigidification" in his landmark work on presidential character. - Read more...
Thursday - May 20, 2004
Michael Reagan: The WMDs Found Us - It's beginning to look as if we don't have to find the missing Weapons of Mass Destruction (WMD) after all - they appear to have found us. - Read more...
Thursday - May 20, 2004
---
E-mail your news tips, stories, news releases & photos to:
editor@sitnews.org

E-mail large photo files to
photos@sitnews.org

Edited by Dick Kauffman:
editor@sitnews.org

E-mail the Webmaster:
webmaster@sitnews.org

Copyright Applies - Please obtain written permission before reproducing photographs, features, columns, etc. that are published on Sitnews.

Published online since
August 2000

Sitnews
Stories in the News
©1999 - 2004
Ketchikan, Alaska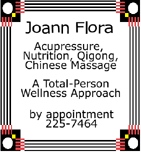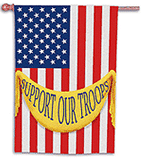 'Our Troops'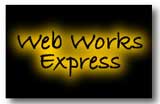 4th of July Parade

2004 Theme:
Home Is Where The Heart Is... Ketchikan Through The Generations
Presented by the Greater Ketchikan Chamber of Commerce

Download An Official Parade Entry Form - Deadline June 21st
Ad provided by Sitnews as a Public Service...