Wednesday
May 05, 2004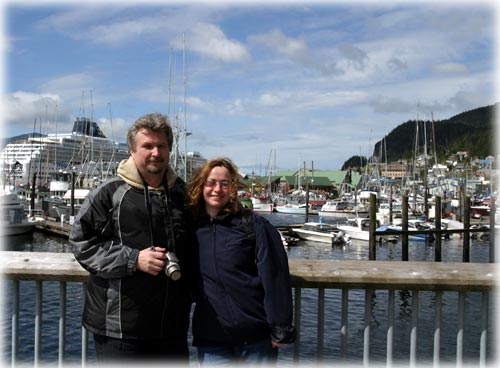 'Tour Season Kicks Off; First Cruise Ship Arrives'
Charles and Marie Obrul of Montreal, Canada...
The 2004 tour season kicked off Tuesday morning in Ketchikan with the arrival of the first cruise ship of the season - the Norwegian Sun. - More...
Front Page Photo by Carl Thompson
Ketchikan Charter Commission
Information - Forum
Survey Results
Viewpoints
Opinions/Letters

Freedom & common courtesy by Joseph Brano - Ketchikan - 05/05/04


On the subject of smoking by Archie Inoncillo - Ketchikan - 05/05/04


Read More Viewpoints


Publish A Letter
May 2004
Click on the date to read the stories & to view photos published on that day...

| | | | | | | |
| --- | --- | --- | --- | --- | --- | --- |
| S | M | T | W | T | F | S |
| 25 | 26 | 27 | 28 | 29 | 30 | 01 |
| 02 | 03 | 04 | 05 | 06 | 07 | 08 |
| 09 | 10 | 11 | 12 | 13 | 14 | 15 |
| 16 | 17 | 18 | 19 | 20 | 21 | 22 |
| 23 | 24 | 25 | 26 | 27 | 28 | 29 |
| 30 | 31 | | | | | |

Ketchikan: Listen to this story... School funding would be cut, grants to non-profit organizations eliminated and taxes increased, under a proposed budget presented to the Ketchikan Gateway Borough Assembly Monday night. As Deanna Garrison reports, residents seeking full funding for schools packed the meeting as the Assembly got its first glimpse of the fiscal year 2005 draft budget.
KRBD - Ketchikan Public Radio - linked Wednesday, May 05, 2004

Alaska: Governor Appeals to Senate to Pass Permanent Fund Endowment, Avoid 1980s-Like Economic Disaster - Governor Frank Murkowski addressed the Alaska State Senate Tuesday, asking members to pass a Permanent Fund endowment plan in order to avert a potential economic crisis. Without a long-term fiscal plan, a statewide economic disaster would likely result if the budget reserve is depleted and oil prices drop. - Read more...
Wednesday - May 05, 2004

Ketchikan: Alaska House Passes $143 Million Education Bond Package; Bonds would fund major maintenance projects - A bill that would allow the state to issue more than $143 million in revenue bonds to pay for a variety of construction projects at schools and university campuses around the state was passed late Tuesday evening by the Alaska State House. ... Representative Bill Williams (R-Saxman), co-chair of the House Finance Committee, said the bonds will provide badly needed help for the state's educational institutions. - Read more...
Wednesday - May 05, 2004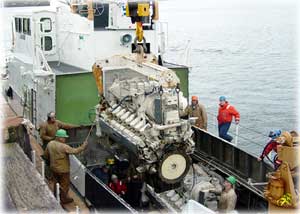 Workers haul the portside main diesel engine aboard the 110-foot Seward-based cutter Mustang.
Official U.S. Coast Guard photo by Petty Officer Jarrod Kushla, Cutter Mustang
Ketchikan: Cutter Mustang in dry-dock facility in Ketchikan for major overhaul - Coast Guard cutter Mustang departed Seward, Alaska on April 10th and transited to Ketchikan for a 15-week dry-dock maintenance availability at the Coast Guard Integrated Support Command base, making it the longest maintenance period to date for the 18-year-old patrol boat. - Read more & view photos...
Wednesday - May 05, 2004
Ketchikan: Williams Adds Incentive for Development of Ethanol made from Wood and Seafood Waste - Representative Bill Williams (R-Saxman), co-chair of the Alaska State House Finance Committee, Tuesday introduced an amendment to an Alaska Senate Bill aimed at encouraging the production of ethanol made from wood and seafood waste. The amendment adopted by the Finance Committee adds language to Senate Bill 337, a bill that allows the Alaska Energy Authority to make loans to communities and utilities to encourage alternative energy production. - Read more...
Wednesday - May 05, 2004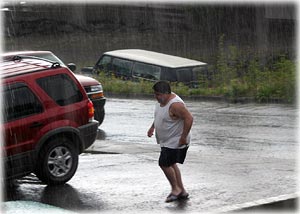 'Surprise Downpour'
Local resident, Rick Lystad, was caught in the sudden cloud-burst downtown Tuesday evening.
Photo by Carl Thompson
Alaska: Enbridge Applies To Negotiate Contract Terms for Gas Pipeline Under Stranded Gas Development Act - The Murkowski administration has received an application under the state's Stranded Gas Development Act from Enbridge Inc. to negotiate fiscal terms for a contract to build a natural gas pipeline from Alaska's North Slope to the Yukon border. Enbridge is a major Canadian oil and gas transportation company, operating more than 9,000 miles of natural gas pipelines in the US and Canada. - Read more...
Wednesday - May 05, 2004
Ketchikan: Alaska House Passes $93 Million General Obligation Bond Package; Voters will decide on funding for needed transportation projects - The Alaska State House on Tuesday passed a bill that would ask voters to approve the issuance of $93,280,000 million in general obligation bonds to accelerate the completion of many statewide transportation projects. - Read more...
Wednesday - May 05, 2004
Ketchikan: National Nurses Week to Be Celebrated May 6-12 - The work of America's 2.7 million registered nurses to save lives and to maintain the health of millions of individuals is the focus of this year's National Nurses Week, celebrated annually May 6-12 throughout the United States. - Read more...
Wednesday - May 05, 2004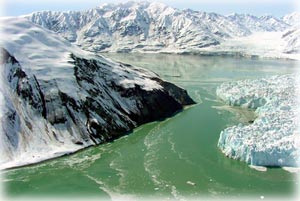 May 3, 2004 Looking west from Russell Fiord. The gap is about 640 feet at its narrowest point. Photo courtesy U.S. Forest Service
Alaska: Hubbard Glacier Is On The Move Again - Hubbard Glacier is on the move and Forest Service officials are concerned it could once again block the entrance to Russell Fiord, near Yakutat, if it continues progressing at its current rate.
"Hubbard has been advancing for the past few months and is currently about 640 feet from closing off Gilbert Point," said Yakutat District Ranger Tricia O'Connor. "It has advanced about 1000 feet in the past two to three months."
In 1986 and 2002, Hubbard Glacier closed the entrance to Russell Fiord, blocking the flow of the fiord into Disenchantment Bay. The water level in the newly formed Russell Lake rose to 83 feet above sea level in 1986 and 61 feet in 2002. Both times, the ice and moraine dam broke. - Read more...
Wednesday - May 05, 2004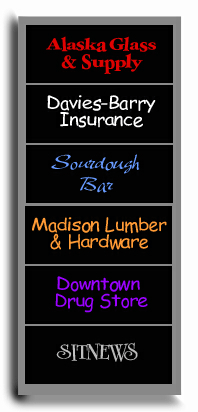 The June Allen Column
is made possible in part by these sponsors. Cick on each name to visit each web site.
June Allen Column

Ketchikan's Cruise Ship Industry; A light-hearted look at its origins - Tourists are nothing new to Ketchikan. These seasonal visitors have been spilling out onto the downtown docks for more than a century now. They share certain traits: They're thrilled to find themselves in distant, exotic Alaska; they find Ketchikan quaint and charming; and, they are wide-eyed and excited as they board charter fishing boats, or climb into sightseeing coaches to rumble off over the city's trestle streets. The basic awe most people feel when seeing our little town remains constant, even after a century. The things that have changed over the years are the much larger numbers of ships and visitors visiting each summer and the numbers of attractions available to them.
At the turn of the 20th century, brand new Ketchikan was even then being visited by tourists and journalists. In The Ladies World Magazine of March 1905, travel writer Myra Drake Moore described the Ketchikan she visited the summer of 1904: "[Ketchikan] is the port of entry into Alaska it and its sister towns of Juneau and Skagway are all very much alike in architecture, and seem to be 'happen-so's'. Ketchikan," she archly wrote, "has accumulated itself." - Read the rest of this story by June Allen...
Saturday - April 17, 2004

Ketchikan's First City Players; Did you hear that applause?

A biography of Alaska's herring: A little fish of huge importance...

Read more stories by June Allen...
---
E-mail your news tips, stories, news releases & photos to:
editor@sitnews.org

E-mail large photo files to
photos@sitnews.org

Edited by Dick Kauffman:
editor@sitnews.org

E-mail the Webmaster:
webmaster@sitnews.org

Copyright Applies - Please obtain written permission before reproducing photographs, features, columns, etc. that are published on Sitnews.

Published online since
August 2000

Sitnews
Stories in the News
©1999 - 2004
Ketchikan, Alaska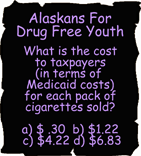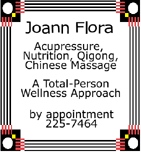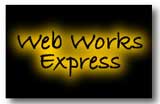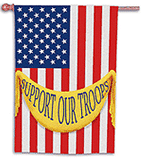 'Our Troops'
Publish Your Ad On Sitnews
For more information about how to publish your ad on the front page of Sitnews, call 247-8590
or e-mail the editor@sitnews.org
4th of July Parade

2004 Theme:
Home Is Where The Heart Is... Ketchikan Through The Generations
Presented by the Greater Ketchikan Chamber of Commerce

Download An Official Parade Entry Form - Deadline June 21st