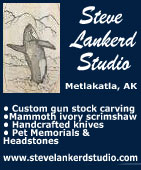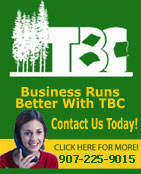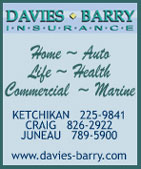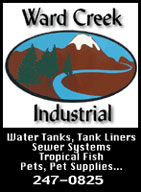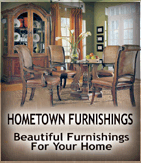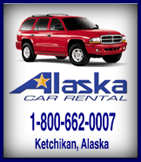 Contact


Webmail Letters


News Tips


Search Sitnews


Copyright Info


Archives
Today's News


Alaska


Ketchikan


Top Stories


U.S. News


U.S. Politics


Stock Watch


Personal Finance


Science News


US Education News


Parenting News


Seniors News


Medical News


Health News


Fitness


Offbeat News


Online Auction News


Today In History


Product Recalls


Obituaries
Quick News Search


Alaska


Ketchikan


SE Alaska


Alaska News Links
Columns - Articles


Dave Kiffer


Fish Factor


Career Success Stories


Parnassus Reviews


Chemical Eye On...


George Pasley


More Columnists
Ketchikan


Our Troops
Historical Ketchikan


June Allen


Dave Kiffer


Louise B. Harrington
Recognition


Match of the Month


Asset Builders
Ketchikan Arts & Events


Ketchikan Museums


KTN Public Library


Parks & Recreation


Chamber
Lifestyles


Home & Garden


Food & Drink


Arts & Culture


Book Reviews


Movie Reviews


Celebrity Gossip
On the Web


Cool Sites


Webmaster Tips


Virus Warnings
Sports


Ketchikan Links


Top Sports News
Public Records


FAA Accident Reports


NTSB Accident Reports


Court Calendar


Court Records Search


Wanted: Absconders


Sex Offender Reg.


Public Notices
Weather, Webcams


Today's Forecast


KTN Weather Data


AK Weather Map


Ketchikan Webcam


SE AK Webcams


Alaska Webcams


AK Earthquakes


Earthquakes
TV Guide


Ketchikan
Ketchikan Phone Book


Yellow Pages


White Pages
Employment


Employment
Government Links


Local Government


State & National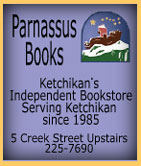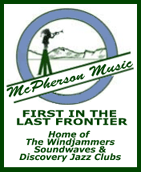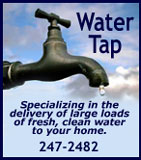 Wednesday
November 13, 2008



Pacific Giant Octopus
This Pacific Giant Octopus glares at the photographer from its den off of Sunset Drive.
Front Page Photo By MIKE KURTH

Ketchikan: Forest Service holds Open House in Coffman Cove on FS Road 3030 Cleanup - The U.S. Forest Service will host an open house on the FS 3030 Road Clean-up Tuesday, Nov 18, 6 p.m. at the Coffman Cove city council chambers.

Several federal and state agencies are working together to restore balance to the pH-levels in waters downstream from a three-and-a-half mile stretch of FS 3030 Road (known as Coffman Cove Road), which runs through the Tongass National Forest.

Crews are widening the road that connects Coffman Cove to Prince of Wales Highway from a one-lane dirt road into a two-lane paved road. The pH imbalance resulted from the interaction between rock used to build up the road bed, and muskeg soils in which that rock was placed. The clean-up project is located near Hatchery Creek along the southeastern edge of Sweetwater Lake.

Since mid-September, an inter-agency task force has been completing a time-critical removal of the roadbed materials suspected of causing the pH imbalance, and replacing it with calcium-rich rock from a different source on Prince of Wales Island. - More...
Thursday - November 13, 2008

Prince of Wales Island: Firewood Program Benefits Residents of Prince of Wales Island - Sealaska Corporation is joining forces with Viking Lumber on Prince of Wales Island to provide firewood to island residents this winter. "We recognized the enormous economic challenges and the increased demand for affordable energy on island residents during the winter months," said Chris E. McNeil, Jr. Sealaska president and CEO. "Sealaska, Sealaska Timber Corporation and Viking are in a position to help."

"I'm pleased to be working closely with Sealaska this winter and very excited that the program is benefiting all of Prince of Wales Island", said Kirk Dahlstrom Viking Lumber general manager.

All island residents are welcome to take advantage of the firewood program according to Nathan Soboleff, Sealaska natural resource planner. "Nobody on P.O.W. should have to choose between feeding their families or heating their homes," he said.

The firewood program is intended to benefit all Prince of Wales residents. Free firewood is available on a "you-cut you-haul" basis. The program is not intended to support commercial firewood purposes. In Craig and Klawock, the wood will be resupplied when needed through out the winter, until the snow melts. Residents participating in the firewood program should bring their own tools such as a chainsaw. - More...
Thursday - November 13, 2008

Alaska: The measure of the north's great mountains By NED ROZELL - In 2007, Sandy Zirnheld flew the length of Hubbard Glacier with pilot Paul Claus, using a laser altimetry system to see how much the glacier had thinned in the last few years. After a successful flight along Hubbard Glacier, Claus suggested they fly over Mt. Logan on their way back to his landing strip in the Wrangell Mountains.

As they flew over Canada's highest mountain, Zirnheld, a research technician with UAF's Geophysical Institute, operated a laser-rangefinding unit mounted in the belly of Claus's Super Otter. They flew over the summit twice, recording the mountain's elevation as 19,574 feet.

Paul Claus flies over the summit of Mt. St. Elias in his turbine Otter
in 2008 as Chris Larsen measures its elevation.
Photo by Chris Larsen

Their measurement is 276 feet lower than the number appearing on most maps, and 23 feet higher than the height of the mountain determined by Michael Schmidt and a team of Canadian climbers during a 1992 expedition.

Zirnheld's measurement was part of a campaign of opportunity to measure high peaks by Chris Larsen of the Geophysical Institute. Larsen has teamed with Claus, who helps him repeat elevation measurements on Alaska and Canada glaciers pioneered by Keith Echelmeyer. With a laser system in his Super Cub, Echelmeyer, also of the Geophysical Institute, discovered that Alaska glaciers had shrunk dramatically since the 1950s, when USGS mapmakers drew Alaska maps.

When Larsen and Claus have the time and good weather, they fly over high mountains to determine their elevations with the laser-rangefinding system. They started last year by measuring Mt. Marcus Baker in the Chugach Range (13,203 feet compared to the USGS map value of 13,176 feet), and since then have measured Mt. Vancouver (15,763 feet compared the 15,979 feet on the map), Mt. Augusta (13,905 feet compared to the map's 14,070 feet), and the lovely sharp summit of Mt. Saint Elias (18,029 feet compared to the 18,008 feet on maps).

The differences in measurements, sometimes hundreds of feet, could be the result of errors in early surveying. Surveyors working for the International Boundary Commission in the early 1900s measured most of the mountains near the coast in the Wrangell-St. Elias Range, and those readings are what remain on maps today. The surveyors used the state of the art at the time, which began with measurements at sea level and ended with surveyors aiming a theodolite at the tops of peaks to measure angles and calculate height. - More...
Thursday - November 13, 2008

Alaska: Arctic is rich in promising energy source: gas hydrates By ERIKA BOLSTAD - Frozen crystals packed with concentrated natural gas and buried 2,000 feet below the permafrost in Alaska could become the next major domestic energy source, an assessment just released by the U.S. Geological Survey found.

The Geological Survey study shows that in the North Slope, those frozen methane-and-water crystals, known as hydrates, contain as much as 85.4 trillion cubic feet of recoverable natural gas. That's enough to heat 100 million homes for as much as 10 years, said Interior Secretary Dirk Kempthorne.

New research into how to extract those resources has moved the possibility of recovering natural gas hydrates from the realm of "science and speculation" to that of the "actual and useful," Kempthorne said Wednesday.

Globally, "hydrates have more potential for energy than all other fossil fuels combined," Kempthorne said. "This can be a paradigm shift."

Government research is beginning to show that it may be possible to extract hydrates using depressurization, a technique used to get at more conventional fuel sources. Simply boring into the ground may be enough to change the pressure to extract it, said Steve Rinehart, a spokesman for BP Alaska. Or the pressure could be changed with some sort of pump. - More...
Thursday - November 13, 2008

Alaska: Student in Palin e-mail case wants felony charge tossed By JAMIE SATTERFIELD - David C. Kernell may be the one of the most high-profile guessers in America.

He may be an immature prankster.

He may even be a low-level criminal.

But the defense attorney for a 20-year-old University of Tennessee student who allegedly accessed Alaska Gov. Sarah Palin's e-mail account after figuring out the vice presidential candidate's password contends that Kernell is neither a federal felon nor a hacker.

Attorney Wade Davies is asking U.S. District Magistrate Judge Clifford Shirley to toss out a felony charge filed against Kernell last month and ban federal prosecutors from labeling Kernell a "hacker."

Kernell, whose father is a Democratic state legislator, rose to national infamy when he allegedly used the Internet to dig up answers to security questions that allowed him to change Palin's Yahoo! Mail account. He posted the e-mail and the new password to the forum www.4chan.org under the username rubico10(at)yahoo.com on Sept. 16, the indictment alleges.

He did so after national media reports that Palin, who had been tapped to stand alongside Sen. John McCain as Republican vice presidential candidate in McCain's failed bid to win the White House, had funneled Alaskan gubernatorial business e-mail through her personal Yahoo! Mail account, the indictment contends. - More...
Thursday - November 13, 2008




Ketchikan

Police Report
AK Troopers Daily Dispatch
Today's Forecast
Satellite
Today's Weather Images
Marine Forecasts
Ketchikan Weather Data
Current AK Weather Map

CLASSIFIEDS

Publish ad
Please select the proper category before posting.




CLASSIFIEDS' CATEGORIES

Announcements and
Help Wanted
For Sale / Free Stuff
Garage Sales
Homes / Apts/ Property
Pets
Wanted
Lost & Found
Local Services
Publish your ad

More Front Page Archives

Viewpoints
Opinions/Letters
Basic Rules

Dogs on North Point Higgins Road By Carrie Allen - First I want to preface this with: I am a dog lover. I would love to have one of my own, but can't right now. I even house-sit occasionally for folks with dogs and leave loving their pet as if it were my own. - More...
Monday AM - November 10, 2008

Initiate a one penny tax for school activities fund By Charles Edwardson - I am first of all encouraged by this past season of borough funding for our schools, with that said I am still disappointed in how hard our students have to work to represent (us) the city of Ketchikan. The activities fund is always on the bottom on the list and it should be at the top of the list. The benefits of extra curricular activities are obvious. - More...
Monday AM - November 10, 2008

Tongass School By Christy Showalter - I have two children who attended TSAS and are now in middle school. I am very appreciative of the education that they received there. The critical thinking skills will serve them their whole lives. The way the life skills and lifelong guidelines were integrated into the classroom to provide for a positive learning and social environment enhanced their education and has helped them to be good citizens. - More...
Monday AM - November 10, 2008

Lou Gehrig's Disease: Veterans with ALS By Linda Teal Kreider - This Veterans Day, we will pay tribute to our heroes who have served in the military. It will be marked by marching bands and parades, flags flying high atop city buildings and over neighborhood front porches. And as you remember what our veterans have done for us, ask yourself what we can do for them. - More...
Monday AM - November 10, 2008

Ella Bensen's Maple tree is gone By MJ Cadle - Sadly, the lights have been permanently darkened on Ella Bensen's maple tree. - More...
Monday AM - November 10, 2008

RE: GOD IS NOT A REPUBLICAN By Geoff Brandt - Dave Hanger nailed it. Quite well, too. - More...
Monday AM - November 10, 2008

Palin By Rob Glenn - I have to wonder had Palin been from another state would she have helped out the McCain ticket more? - More...
Monday AM - November 10, 2008

Sarah Palin By Gerard Kelder - Govenor Palin's most recent run for Vice President of the United States was Historic. - More...
Monday AM - November 10, 2008

Gas prices: You are to blame By James Dornblaser - Any day you look, 9 out of 10 rigs in the Ketchikan caravan (the steady stream of vehicles going to town at 7/9 Am & returning 4/5 Pm) is a full size SUV or pickup & with only one occupant. Any time you are near any of the schools, note the steady stream of big rigs delivering one cherub. (Why they are not riding the bus, who knows!) - More...
Monday AM - November 10, 2008

Defending the Unitarian Universalists By Stacey Hallmark-Morales - I just wanted to question Mr. David Hangar's letter regarding the inclusion of Unitarians in his thoughts about the belief in a God that is full of damnation and divisiveness. I assure you the Unitarian UNIVERSALISTS have little to NOTHING to do with perpetuating a God that has an "us or them" mentality. - More...
Monday AM - November 10, 2008

Religion & politics By Jerilyn Lester - Mr. Hanger, as an American you have the right to your opinion but I also have the right to tell you that I disagree with you 100%. God is an all loving father of all and, believe it or not, he even loves you. He doesn't want you to have that image of him but you have the right to do so. - More...
Monday AM - November 10, 2008

RE: Electoral count must go By Kris Hansen - Nicely put Mike Isaac. If Obama wants to make the American people feel American again and actually feel like they have chosen the best candidate he needs to add a few Republicans, not one or two, but many to his cabinet. - More...
Monday AM - November 10, 2008

Wondering By Tami Linne I agree, God will have nothing to do with that. But what I do know is how is it this woman from Idaho that has pretty much laughed out loud about our Bridge to Somewhere, and wore a shirt that brought us shame can ever come back here. And I will always say Palin is a wantabee. Kill all the moose you want Governor Palin, you're still not a native Alaskan. - More...
Monday AM - November 10, 2008

More Letters/Viewpoints
Webmail your letter or
Email Your Letter To: editor@sitnews.us

---

Articles & photographs that appear in SitNews may be protected by copyright and may not be reprinted or redistributed without written permission from and payment of required fees to the proper sources.