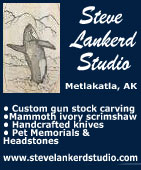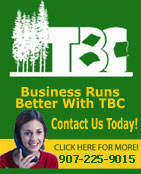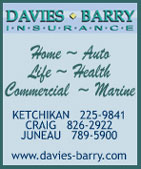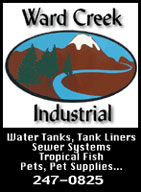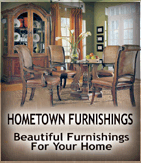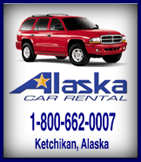 Contact


Webmail Letters


News Tips


Search Sitnews


Copyright Info


Archives
Today's News


Alaska


Ketchikan


Top Stories


U.S. News


U.S. Politics


Stock Watch


Personal Finance


Science News


US Education News


Parenting News


Seniors News


Medical News


Health News


Fitness


Offbeat News


Online Auction News


Today In History


Product Recalls


Obituaries
Quick News Search


Alaska


Ketchikan


SE Alaska


Alaska News Links
Columns - Articles


Dave Kiffer


Fish Factor


Career Success Stories


Parnassus Reviews


Chemical Eye On...


George Pasley


More Columnists
Ketchikan


Our Troops
Historical Ketchikan


June Allen


Dave Kiffer


Louise B. Harrington
Recognition


Match of the Month


Asset Builders
Ketchikan Arts & Events


Ketchikan Museums


KTN Public Library


Parks & Recreation


Chamber
Lifestyles


Home & Garden


Food & Drink


Arts & Culture


Book Reviews


Movie Reviews


Celebrity Gossip
On the Web


Cool Sites


Webmaster Tips


Virus Warnings
Sports


Ketchikan Links


Top Sports News
Public Records


FAA Accident Reports


NTSB Accident Reports


Court Calendar


Court Records Search


Wanted: Absconders


Sex Offender Reg.


Public Notices
Weather, Webcams


Today's Forecast


KTN Weather Data


AK Weather Map


Ketchikan Webcam


SE AK Webcams


Alaska Webcams


AK Earthquakes


Earthquakes
TV Guide


Ketchikan
Ketchikan Phone Book


Yellow Pages


White Pages
Employment


Employment
Government Links


Local Government


State & National


Monday
November 03, 2008



Dude Mountain: Pine Grosbeak
Front Page Photo By BILL MECK

Fish Factor: Legal wrangling could set back Exxon payments for years By LAINE WELCH - After waiting nearly 20 years, thousands of 'oiled' Alaskans are now set to get checks from Exxon before Christmas. The money - $507 million - comes from damage awards stemming from the 1989 Exxon Valdez oil spill. More than 32,000 Alaskans are eligible for settlement checks; 80% are fishermen.

Holiday hopes could be dashed, however, unless an appeal by Sea Hawk Seafoods is kicked to the curb this month in an Anchorage courtroom. Sea Hawk, a former Prince William Sound fish processor, has filed a lawsuit to reshuffle the long agreed upon payment amounts and boost its share by $7.6 million.
"That would basically alter the plan of allocation that took almost 10 years to build," said Andrew Ott, a plaintiffs' attorney in Kodiak.

The legal wrangling could set back payments to all claimants for years. Ott, along with Oiled Fishermen's Frank Mullen of Homer, said the Court does not appear to be very sympathetic to the case. Early court briefs called Sea Hawk's motion "at best highly disruptive of ongoing proceedings, and at worst divisive and ill-considered."
"No one can second guess the judge, but at first blush, it does seem to be the direction the judge is going," Ott said. "I hope this will just go away and we can move forward (with the distributions) very quickly."

"My hope is that Sea Hawk pays all expenses associated with their last minute grab," Mullen added in an email.
Even Exxon lawyers have joined the call for a quick resolution to the case. "This litigation has gone on long enough, and Sea Hawk should not be permitted to prolong it," Exxon attorneys told the Anchorage Daily News/Highliner

If the Sea Hawk case is settled on the Nov. 15 target date, Exxon checks would be distributed before Christmas. By then, oil spill plaintiffs might also know the status of the additional $488 million in interest payments that Exxon has appealed.

"That is now on a briefing schedule with the 9th Circuit Court of Appeals, and they may come out with a ruling by year's end," Ott said, "but more likely in early 2009."

Mariculture means jobs

The Alaska Shellfish Growers Association meets in Anchorage this week, and along with bi-valves, they'll be talking jobs.

There are 26 shellfish farms operating now in Alaska, mostly for oysters. The value of the crop last year was a half million dollars. Some estimate the industry could be worth $70 million or more, just in Southeast, and provide good jobs in rural regions.

"If we look at what are the opportunities in Alaska for year round sustainable jobs in Southeast, Prince William Sound, Kenai Peninsula and along the Aleutians, the shellfish industry is one of the best options we have," said John Sund of the Alaska Oceans Center in Ketchikan. "We need to help the industry grow." - More...
Monday - November 03, 2008

Alaska Science: Why do snowshoe hares eat dirt? By NED ROZELL - When she began studying snowshoe hares in the foothills of the Brooks Range 12 years ago, Donna DiFolco heard something new from Wiseman local Jack Reakoff.

A snowshoe hare.
Photo courtesy of Donna DiFolco

"Jack told me that, in some areas, when hares are at their peak, they go to certain mineral licks and eat the soil," DiFolco said. "He also noticed that lynx appeared to be really skinny when there were tons and tons of hares to eat, and (the lynx's) flesh was an unusually dark, purplish color."

DiFolco, a biologist and cartographic technician with the National Park Service, wondered why a hare would eat dirt, and how that might affect their major predator, lynx. She's trying to find some answers by doing a study on the eastern edge of Gates of the Arctic National Park and Preserve.

Though your mother told you that eating dirt was icky, many people and animals seem to disagree. Geophagy is a word meaning "to eat earth," and pregnant women in Africa do it, as do antelopes, apes, giraffes, zebras, monkeys, deer, cows, pigs, butterflies, and snowshoe hares north of the Arctic Circle.

In an article he wrote for Discover magazine in 1998, bestselling author and biologist Jared Diamond described how parrots were attracted to a recent landslide in a remote mountain range in New Guinea. Diamond and his colleagues puzzled over why so many birds were visiting the fresh soil. He didn't give up on the mystery, finding years later that the parrots were eating dirt that contained minerals that counteracted toxins in fruits.

"Somehow, parrots have made themselves relatively immune to plant poisons and bad tastes," Diamond wrote. "They specialize in eating seeds and unripe fruits, despite high concentrations of alkaloids and other toxins that would be awful-tasting or fatal to humans."

Parrots, "one of the most successful groups of birds," with 350 species worldwide, can detoxify plant poisons by using minerals in eaten soils that bind with the bad stuff and allow the birds to get nutritional value from marginal food, Diamond concluded. - More...
Friday AM - October 31, 2008

Viewpoints
Opinions/Letters
Basic Rules

The Stevens Vote By Dan Ortiz - No one doubts the years of service Senator Stevens has given to Alaska. He has played a significant role in accomplishing many good things for the people of Alaska and the country as a whole. - More...
Friday AM - October 31, 2008

Gas prices & school lunches By Rebecca Clark - Cathy Geer, you are absolutely right in my opinion; send a letter to the Governor over our blatant over priced gas in this town! My daughter was in Anchorage last week and saw the price of gas at $3.43 a gallon in many places; this before the "big" drop we saw the other day (here, it was $4.17 still). This mixing the gas for an average is a bunch of hokie! Mr. Wingrin asked the question we ALL our thinking (and some are asking): When the price of oil increases (elsewhere or by the barrel) we see an immediate increase in Ketchikan. Shouldn't it take that MONTH to see an increase??!!! - More...
Friday AM - October 31, 2008

Tongass School By Marina Hinkle - While I appreciate the concerns expressed by Agnes Moran about the Tongass School of Arts and Sciences, perhaps a different approach to the problem should be considered. I am a parent of two wonderful young boys who attend this school. I am witness to the tireless efforts of the teachers, support staff and the principle. They are a dedicated group of professionals who strive to give our children an integrated set of life skills and academic knowledge. - More...
Friday AM - October 31, 2008

Tongass School of Arts and Science By Aleisha Greenfield - I have a child who atteneds the Tongass Preschool that is located in the Tongass School of Arts and Science. This is his second year there, and I fully intend on keeping him at TSAS for all years to come. As I have walked through TSAS over that past two years, I have seen several things that have helped me to make my decision to keep him there. - More...
Friday AM - October 31, 2008

Fixing 8(a) Abuses By Albert K. White - There was an editorial in the Opinion section of the Ketchikan Daily News recently on Fixing 8(a) Abuses. This article was republished from the Anchorage Daily News on 0ctober 7, 2008. The republished article frustrated me because it goes back to spreading only one side of the information building up opinions that are biased to the issues reported. - More...
Wednesday AM - October 29, 2008

Harley Riders By Brian Stewart - Like Wow! The Ketchikan Harley Riders Association brought Christmas to over 700 children last year and has been doing it for over 19 years. And now, to the best of my knowledge, our first congrats from the Mayor! - More...
Wednesday AM - October 29, 2008




National Election
November 4, 2008

Voter's Survival Kit - The Smart Citizen's Guide to What the Politicians Won't Tell You
Public Agenda for Citizens - www.publicagenda.org

Ketchikan

Police Report
AK Troopers Daily Dispatch
Today's Forecast
Satellite
Today's Weather Images
Marine Forecasts
Ketchikan Weather Data
Current AK Weather Map

CLASSIFIEDS

Publish ad
Please select the proper category before posting.




CLASSIFIEDS' CATEGORIES

Announcements and
Help Wanted
For Sale / Free Stuff
Garage Sales
Homes / Apts/ Property
Pets
Wanted
Lost & Found
Local Services
Publish your ad

More Front Page Archives

Non Partisan Crack Pipes By Ken Lewis - Liar, Liar Fiber Optics on Fire... If anything is abundantly clear to me about this 2008 Presidential Campaign, it is this; all journalist and talking heads should have to live up to the same standards of the Major League Baseball Players they love to burn at the stake! Yes that is right, Drug Test Them All. - More...
Wednesday AM - October 29, 2008

Why Gas is Costing Alaskans By Jeff Whitesides - I have heard complaints several times lately about the expensive gas prices here in K-town. Well this is my theory on the matter; they are stealing our dividends. - More...
Wednesday AM - October 29, 2008

Gas prices By Todd Phillips - Sorry about the confusion. It takes 4 weeks for the gas to get here by barge, of course more than one barge comes, maybe a week later or so. My point was that it is mixed also with preexisting gas and the price is adjusted. You may have noticed that the prices have come down 3 times in the past week. It was the same going up as well, at one point we had cheaper gas than Seattle. - More...
Wednesday AM - October 29, 2008

Gas Prices By David Korkowski - I read with interest all the controversy on the cost of gas in Ketchikan. I am currently visiting in Colorado. When I arrived gasoline was $3.42 a gallon, as I looked today the price had dropped to $2.69 a gallon, a $0.73 decrease. - More...
Wednesday AM - October 29, 2008

It's time for everyone to speak up By Frances C. Natkong - I would like parents, relatives and friends of the 2/3rd grade class in Hydaburg City School District to know what has been going on at the school in Hydaburg. The 2/3 class has been without a teacher since school started in September, their teacher is on maternity leave until the end of November. I went to the school board meeting when they discussed whether or not to hire a substitute teacher, they voted not to on the CEO's recommendation. I don't think they have the children of Hydaburg's best interests in mind when they choose to make decisions like this. - More...
Wednesday AM - October 29, 2008

TSAS-Still too high a price By Agnes Moran - I still have two major issues with Tongass School that have not been addressed by any of the responses to my original posting (What Price Mediocrity?). My first is that Tongass School does not educate all of its students equally and the second is that it has never lived up to the commitments it made to this community in the charter that it used to justify its existence. - More...
Wednesday AM - October 29, 2008

Tongass School of Arts and Sciences By Bethany Phippen - My family and I moved to Ketchikan in February from Oregon. My son who was in kindergarten at the time absolutely hated school and would do nothing to learn. We of course moved up here for my husband's job, and they got in contact with the Chamber for us who sent us everything we needed to know about Ketchikan. Tongass School of Arts and Sciences was the first school that I called in trying to make sure my son had a school to go to as soon as we arrived. They were very helpful in our decision making and just so happened to have an opening in the kindergarten. - More...
Wednesday AM - October 29, 2008

Tongass School of Arts & Sciences - A Good Choice By Wendy Gierard - With two students now graduated from the Tongass School, I can say that the educational proof is in the pudding. I have a child who just started middle school and is excelling this year, and I have a high school student who continues to excel in school, even given that she spent 3/4 of her middle school years bounced around the district. My children are critical thinkers. They are problem solvers. They learned these skills through the efforts of the teachers and staff at the Tongass School of Arts and Sciences. - More...
Saturday PM - October 25, 2008

Open Letter: Public Library Issues By Robert Warner - Recently I learned that the Assembly is planning a work session to discuss issues related to building a new public library. There has been much public criticism about the selection of the old Main School site for this library. The site is isolated and difficult to reach, especially during long winter months with rain, ice and snow. Perhaps you would consider discussing some of the following questions at your meeting? - More...
Saturday PM - October 25, 2008

Spending Head Tax Money By Jim Shoemaker - Many of us are on the same page as Ms. Price. The Ketchikan State Parks Advisory Board is in the process of submitting an application for a bus shelter at Totem Bight. Currently this is the terminus point of the north end bus run. Current rider ship figures support participation in the request for this funding. Our hope as this goes through the funding process you and and the many like you weight in with support. - More...
Saturday PM - October 25, 2008

Harley Riders By Dave Kiffer - Hmmm! First Judge Miller wins a brand new Harley-Davidson. Now, Captain Ludwig of the Troopers wins one. If I was suspicious, I'd think that the Harley Riders are trying to curry favor with local law enforcement. I guess I better become the District Attorney if I ever want to win that "Harley of my dreams!" - More...
Saturday PM - October 25, 2008

The View From 'Nowhere' By Janet Cadero - My sister, who lives in Ketchikan, just emailed me a link to David Kiffer's opinion piece in Newsweek. You go, David. Great piece. - More...
Saturday PM - October 25, 2008

The View From 'Nowhere' By Rita Conley - Thank you Dave Kiffer for your Newsweek online opinion about "The Bridge to Nowhere." - More...
Saturday PM - October 25, 2008

Good Neighbors By Char White - On my way to the Monthly Grind on 18 October, I found out first hand another reason why I love this town, we have good neighbors here. - More...
Saturday PM - October 25, 2008

Gas Prices By Jim Wingren - Mr. Phillips, this is the same excuse that the Oil Supply Companies in Ketchikan use every time this happens. My point of contention in this excuse is that they didn't use the same process when gas prices were rising earlier this year. We saw the retail prices change anywhere from every three days to every 5 days during the rise of gas prices. Now if you use their same reasoning for pricing we should have seen prices rise only every six weeks, not every three to five days as was the case. The Oil companies at that time used the reasoning that they had to raise prices as it was going to cost them that much more to replace the fuel sold. - More...
Saturday PM - October 25, 2008

Gas Prices By Melissa Kwasney - First of all I would like to thank Mr. Phillips for responding to all the price gouging letters to the editor. It takes a lot of courage to respond to 90% of the population. However I find flaws in his response, I have noted the gas pricing goes up 2-3 times a week, are these jet shuttled barges coming up from the south? I have also noted that in the 4 months since the prices started to come down, the prices finally came down .15 last week, that is not a 4-5 week window frame. In a town not far from us in Montana, they are now at 2.39, that is almost $2.00 cheaper than here. - More...
Saturday PM - October 25, 2008

RE: Gas Prices By Cathy Geer - Give me a break! There is not a "price gouging" law in Alaska. But there should be. Only our Governor can demand the gas prices go down and stop this gouging. - More...
Saturday PM - October 25, 2008

Gas Prices By Bonnie Sullivan - Okay Mr. Phillips, then why do the prices hike immediately following a barrel price increase, rather than waiting for the "4 to 5 weeks" after purchasing it at a higher price? - More...
Saturday PM - October 25, 2008

Gas Prices By Jerilyn Lester - Hey everyone, did you all notice that the price actually went down? Well it was better. I looked the day after I filled up at 4.33 and the Chevron station had 4.17 and Carrs had 4.37. I was hoping that the Carrs price was a mistake and it was, because later in the day it went to 4.17. Still it has to feel really good to be paying 1.50 more than our neighbors in Seattle and I won't accept that it is the shipping. - More...
Saturday - October 25, 2008

Problem with way money spent By Robert McRoberts - I really have a problem with the way you have decided to spend money that was meant to make life better for the people who put up with the boat loads of tourist. For one, when you guys give money to the church it kind of goes against the laws of separation of church and state. - More...
Saturday - October 25, 2008

More Letters/Viewpoints
Webmail your letter or
Email Your Letter To: editor@sitnews.us

---

Articles & photographs that appear in SitNews may be protected by copyright and may not be reprinted or redistributed without written permission from and payment of required fees to the proper sources.