The measure of the north's great mountains
By NED ROZELL
November 13, 2008
Thursday

In 2007, Sandy Zirnheld flew the length of Hubbard Glacier with pilot Paul Claus, using a laser altimetry system to see how much the glacier had thinned in the last few years. After a successful flight along Hubbard Glacier, Claus suggested they fly over Mt. Logan on their way back to his landing strip in the Wrangell Mountains.

As they flew over Canada's highest mountain, Zirnheld, a research technician with UAF's Geophysical Institute, operated a laser-rangefinding unit mounted in the belly of Claus's Super Otter. They flew over the summit twice, recording the mountain's elevation as 19,574 feet.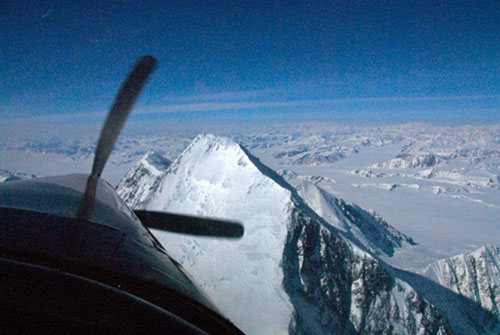 Paul Claus flies over the summit of Mt. St. Elias in his turbine Otter
in 2008 as Chris Larsen measures its elevation.
Photo by Chris Larsen.

Their measurement is 276 feet lower than the number appearing on most maps, and 23 feet higher than the height of the mountain determined by Michael Schmidt and a team of Canadian climbers during a 1992 expedition.

Zirnheld's measurement was part of a campaign of opportunity to measure high peaks by Chris Larsen of the Geophysical Institute. Larsen has teamed with Claus, who helps him repeat elevation measurements on Alaska and Canada glaciers pioneered by Keith Echelmeyer. With a laser system in his Super Cub, Echelmeyer, also of the Geophysical Institute, discovered that Alaska glaciers had shrunk dramatically since the 1950s, when USGS mapmakers drew Alaska maps.

When Larsen and Claus have the time and good weather, they fly over high mountains to determine their elevations with the laser-rangefinding system. They started last year by measuring Mt. Marcus Baker in the Chugach Range (13,203 feet compared to the USGS map value of 13,176 feet), and since then have measured Mt. Vancouver (15,763 feet compared the 15,979 feet on the map), Mt. Augusta (13,905 feet compared to the map's 14,070 feet), and the lovely sharp summit of Mt. Saint Elias (18,029 feet compared to the 18,008 feet on maps).

The differences in measurements, sometimes hundreds of feet, could be the result of errors in early surveying. Surveyors working for the International Boundary Commission in the early 1900s measured most of the mountains near the coast in the Wrangell-St. Elias Range, and those readings are what remain on maps today. The surveyors used the state of the art at the time, which began with measurements at sea level and ended with surveyors aiming a theodolite at the tops of peaks to measure angles and calculate height.

This method probably led to accurate measurements of mountains close to the ocean, such as St. Elias, but led to greater errors the farther a surveyor ventured inland, Larsen said.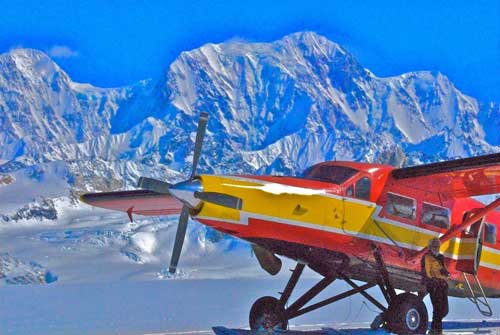 Paul Claus, owner of Ultima Thule Lodge in the Wrangell Mountains, sometimes flies scientists in his turbine Otter aircraft.
Photo by Chris Larsen.

During the 1992 expedition to the summit of Mount Logan, a team led by Michael Schmidt of the Geological Survey of Canada carried two GPS receivers to the summit of the mountain and measured it at 5,959 meters, or 19,551 feet. Their measurement corrected the original boundary survey team's 1913 measurement of 6,050 meters, or 19,850 feet.

Larsen's team's 2007 measurement has Mount Logan 23 feet higher than what Schmidt measured 15 years before, which Larsen said could be due to accumulation of snow and ice since then.

"Right now, the summit is all snow and ice," Schmidt said over the telephone from Victoria, B.C. "There could have been that much snow accumulation since then, but there's no way to tell. I'd be really surprised if there was seven meters of snow accumulation in that time span, but you never say never."

Schmidt in 1992 established a few GPS survey markers on the mountain for repeat measurements, but he hasn't been able to return. A 2008 climbing team had bad weather when they attempted to duplicate his measurements, he said.

UAF's Larsen said he will pick off more peaks when the opportunities arise, possibly even Mt. McKinley, but he's hoping to find some funding that would enable a project devoted to elevation-truthing of high peaks. A possible climate change scenario is warmer, wetter weather, which would dump loads of snow on mountaintops.

"That could be what's going on with Alaska, and the high peaks would be a perfect place to measure it," he said.


This column is provided as a public service by the Geophysical Institute, University of Alaska Fairbanks, in cooperation with the UAF research community. Ned Rozell [nrozell@gi.alaska.edu] is a science writer at the institute.

E-mail your news & photos to editor@sitnews.us


Publish A Letter in SitNews Read Letters/Opinions
Contact the Editor
SitNews ©2008
Stories In The News
Ketchikan, Alaska