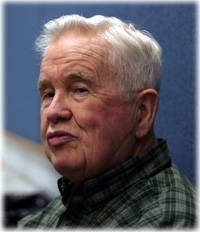 'Tom Coyne'
Front Page Photo by Carl Thompson
Viewpoints
Opinions/Letters

Open Letter To City Council RE: ADFY by Susan Bachant- Ketchikan - 06/28/04


RE: My disgust in the Legislature by Judee Mettler - Ketchikan - 06/28/04


Bridge to "nowhere" by Timothy Droke - Mesa, AZ - 06/28/04


Hateful language by Kyle Johansen - Ketchikan - 06/28/04


The Captain Jack by Thomas B. De Mott Jr. - New Delhi, India - 06/28/04


Retort: Real Facts About the Bridge by Don Hoff Jr. - Hixson, TN - 06/28/04


Read More Viewpoints


Publish A Letter

Ketchikan: Earthquakes Rattle Southeast - With the computer monitor shaking, floor lamps swaying, chimes clanging and with the log home snapping and moving, it was obvious from the experience that an earthquake was underway and was being felt significantly in Ketchikan early Monday morning. - Read more...
Monday - June 28, 2004
Ketchikan: May Unemployment Declines - Ketchikan's unemployment rate fell 1.4 percentage points to 7.1 in May as seasonal employment began building towards the peak employment months of July and August.
Statewide, Alaska's unemployment rate fell two-tenths of a percentage point to 7.1. The comparable national rate fell one-tenth of a percentage point to 5.3 percent. Dan Robinson, an economist with the Alaska Department of Labor and Workforce Development reported the numbers.- Read more...
Monday - June 28, 2004
National: 'State of the First Amendment 2004' Survey Shows Americans' Support of Fundamental Freedoms Back to Pre-9/11 Levels - Americans' support for their First Amendment freedoms - deeply shaken by the terrorist attacks of Sept. 11, 2001 -- continues to rebound and is back at pre-9/11 levels, according to the annual State of the First Amendment survey, conducted by the First Amendment Center in collaboration with American Journalism Review magazine.
"The 2004 survey found that just 30 percent of those surveyed agreed with the statement, 'The First Amendment goes too far in the rights it guarantees,' with 65 percent disagreeing. The nation was split evenly, 49 percent to 49 percent, on that same question two years ago, in the survey following the '9/11' attacks," said Gene Policinski, acting director of the First Amendment Center. - Read more...
Monday - June 28, 2004
Ketchikan Columnist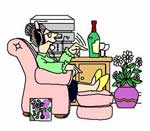 Dear Crabby: SAD OFFENDED GIRLFRIEND - Tonight I went to a party with my boyfriend and he all but ignored me all night. It was an awkward situation, because I didn't hardly know anybody, and he was talking to this other girl most the time. I just sat alone. Luckily, my cousin showed up so I had someone to talk to the last couple of hours. Even when they were serving food, my boyfriend went off to talk to that other girl in the living room, in plain sight of me and everyone else. It made me feel like I'm not interesting enough to be with. - Read more...
Monday - June 28, 2004