May Unemployment Declines
June 28, 2004
Monday

Ketchikan, Alaska - Ketchikan's unemployment rate fell 1.4 percentage points to 7.1 in May as seasonal employment began building towards the peak employment months of July and August.
Statewide, Alaska's unemployment rate fell two-tenths of a percentage point to 7.1. The comparable national rate fell one-tenth of a percentage point to 5.3 percent. Dan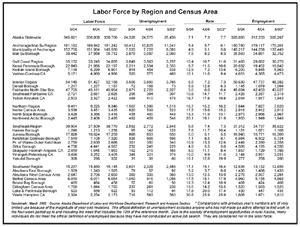 Click on graphic to view a larger chart...

Robinson, an economist with the Alaska Department of Labor and Workforce Development reported the numbers.

Four of the state's six economic regions recorded lower employment rates in May as seasonal employment began building. The exceptions were the Northern and Southwest Regions.

According to Robinson, the Northern Region has fewer seasonal jobs than other parts of Alaska and typically sees higher unemployment in May when schools break for the summer and some of the older secondary school students enter the labor market looking for jobs.

May's higher unemployment rate for the Southwest Region is due to a slight lull in fisheries activity in the Aleutians and also to a May unemployment increase in Bethel.

Most of the rest of the state, including Ketchikan, saw seasonal employment pick up in May, which lowered unemployment numbers. The most noticeable declines were in areas heavily dependent on the summer visitor industry. In the Denali Borough, for example, the unemployment rate fell from 12.8 percent in April to 5.9 percent in May. The Haines Borough and the Skagway-Hoonah-Angoon Census Area also drop of several percentage points.

Anchorage, Fairbanks and Juneau also recorded slightly lower unemployment rates. Anchorage's 4.9 percent rate was the lowest in the state.

Statewide preliminary wage and salary employment estimates for May show over-the-year growth of about 1,500 jobs. The strongest growth continues to be in the health care, construction, and retail trade industries. Total employment growth has slowed somewhat due to the loss of 800 government jobs from May 2003 to May 2004 and ongoing losses in the natural resources and mining sector.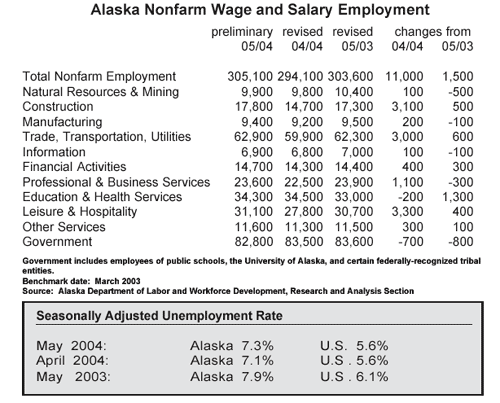 Source of News & Charts:
Alaska Department of Labor & Workforce Development
Web Site


E-mail your news & photos to editor@sitnews.org


Post a Comment View Comments
Submit an Opinion - Letter

Sitnews
Stories In The News
Ketchikan, Alaska