Latest news & features from hundreds of sources:
Updated throughout the day - every day!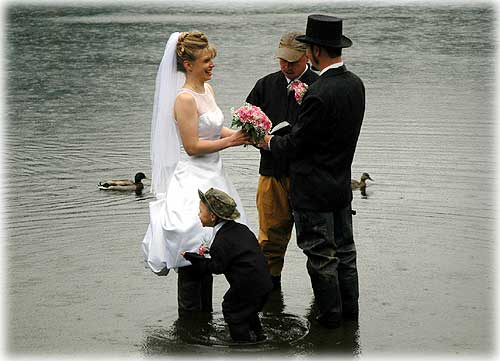 'Get Me To The Lake On Time...'
John Trugon and Kelly Kraszewski. along with their son Alex, made it to the lake on
time to exhange their wedding vows Friday. - More...
Front Page Photo by Carl Thompson
Viewpoints
Opinions/Letters

RE: An alternative tax by Hunter Davis - Ketchikan - 06/13/04


RE: Organ Donors & What A Week! by Lorraine Boucher - Augusta, ME - 06/13/04


An alternative tax worth looking at... by Patrick Jirschele - Ketchikan - 06/12/04


Organ Donors Hold Key to Gift of Life by Rep. Lesil McGuire - Anchorage - 06/12/04


Relocation Of White Cliff School by Samuel Bergeron - Ketchikan - 06/11/04


Relocation of White Cliff by Rhonda Erickson - Ketchikan - 06/11/04


So Sue Me by Don Hoff Jr. - TN - 06/11/04


Read More Viewpoints


Publish A Letter
June 2004
Click on the date to read the stories & to view photos published on that day...

| | | | | | | |
| --- | --- | --- | --- | --- | --- | --- |
| S | M | T | W | T | F | S |
| | 31 | 01 | 02 | 03 | 04 | 05 |
| 06 | 07 | 08 | 09 | 10 | 11 | 12 |
| 13 | 14 | 15 | 16 | 17 | 18 | 19 |
| 20 | 21 | 22 | 23 | 24 | 25 | 26 |
| 27 | 28 | 29 | 30 | | | |

Alaska: Are ravens responsible for wolf packs? - People who study animal behavior think they may have found out why wolves hunt in packs-because ravens are such good scavengers.
Scientists who have watched wolves on Isle Royale in Lake Superior came up with the raven-wolf pack theory after puzzling over a question-why do wolves hunt in large groups when a single wolf is able take down a moose on its own?
To find a possible answer, John Vucetich and Rolf Peterson of Michigan Tech and Thomas Waite of Ohio State University examined 27 years of wolf observations on Isle Royale in northern Michigan. Isle Royale, 45 miles long and up to nine miles wide, sits in the northwest lobe of Lake Superior. Designated a national park, the island supports a population of a few dozen wolves and hundreds of moose. Peterson has studied the wolves for more than 30 years, and the group of researchers used his observations and those of his coworkers in the present study.
Peterson's team has seen a single wolf kill a moose 11 times, which weakens the notion that wolves hunt in packs because of the difficulty of killing a moose without help. Vucetich, Peterson and Waite used the years of data from the Isle Royale wolf study to calculate that-in terms of energy burned and meat gained-wolves would do best hunting in pairs.
A 1,000-pound moose is much more than two wolves can eat right away, and that's where the ravens come in. In a study published in Animal Behaviour, the scientists detailed these facts about ravens found by others: individual ravens can eat and carry away up to 4 pounds of food per day from a large carcass and ravens removed half of a 660-pound moose carcass from a kill site in the Yukon Territory. - Read more...
Saturday - June 12, 2004
Ketchikan: Ketchikan Museums Acquires Terry Pyles Painting - new work by Ketchikan artist Terry Pyles was recently acquired for the permanent collection of the Ketchikan Museums, thanks to a generous grant from the Rasmuson Foundation. New Eddystone Rock, a 26x46-inch acrylic painting, was purchased through the Art Acquisition Initiative, a program of the Rasmuson Foundation. - Read more...
Friday - June 11, 2004

Alaska: Living in Bear Country - The Sitka Bear Working Group, Alaska Department of Fish and Game and U.S. Forest Service are teaming up to host a free seminar titled "Living in Bear Country," from 7 to 8 p.m. June 16th at Sheldon Jackson College's Rasmusson Student Center. The event to be held in Sitka, Alaska is free and open to the public. Mark Matheny, a bear attack survivor from Bozeman, Mont., will conduct the seminar which is designed to educate people about the realities, causes and prevention of bear attacks.
Saturday - June 12, 2004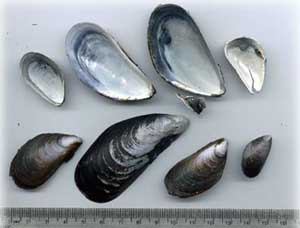 Blue mussels, known best by their long blue shells, have been washing ashore in the Arctic Ocean in recent decades. Photo courtesy Sonya Senkowsky
Alaska: Wandering Bivalves - Sometimes scientific exploration involves high-tech equipment and sophisticated techniques. Occasionally, it starts with a simple walk on the beach.
In the 1990s, David Norton was teaching at Ilisagvik College in Barrow, a mostly Eskimo community on Alaska's Arctic Ocean coast. There, he picked up a new hobby, Arctic beachcombing. Norton says the pickings were especially good after a storm.
David Norton said, "Every time there was a storm, particularly in the fall, we'd set out to replenish what had become scarce in the aquarium. We got fairly adept at predicting where the kelp and the mussels and other things would show up." - Read more...
Saturday - June 12, 2004
Fish or Cut Bait
Bob Ciminel: Low Country Crabbing - Being raised in the environs of the formerly "Smokey City" of Pittsburgh, Pennsylvania, I entered adulthood with a profound lack of knowledge about seafood. I thought "seafood" was a breaded and fried fillet of some generic fish served on a bun. For years, I thought I was eating Flounder, but later learned it was Whitefish or Turbot, those ubiquitous denizens of the deep hauled in by the millions off the Grand Banks. - Read more...
Saturday - June 12, 2004

Bob Ciminel: What a Week! - The weekend of June 5 was auspicious for several reasons; all of them linked to current or former Presidents of the United States. President George Bush was in France celebrating the 60th anniversary of D-Day. Former President Jimmy Carter was in Groton, Connecticut launching the U.S.S. Jimmy Carter, the nation's newest fast attack nuclear submarine. Former President George H.W. Bush was in Maine vacationing at the Bush family's summer "cottage." Former President Ronald Reagan was in California taking his last breath. - Read more...
Saturday - June 12, 2004
---
E-mail your news tips, stories, news releases & photos to:
editor@sitnews.org

E-mail large photo files to
photos@sitnews.org

Edited by Dick Kauffman:
editor@sitnews.org

E-mail the Webmaster:
webmaster@sitnews.org

Copyright Applies - Please obtain written permission before reproducing photographs, features, columns, etc. that are published on Sitnews.

Published online since
August 2000

Sitnews
Stories in the News
©1999 - 2004
Ketchikan, Alaska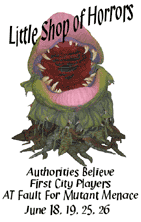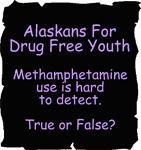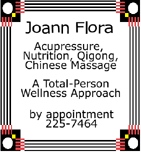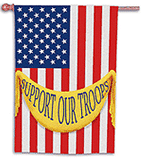 'Our Troops'
4th of July Parade

2004 Theme:
Home Is Where The Heart Is... Ketchikan Through The Generations
Presented by the Greater Ketchikan Chamber of Commerce

Download An Official Parade Entry Form - Deadline June 21st
Ad provided by Sitnews as a Public Service...