Friday
June 11, 2004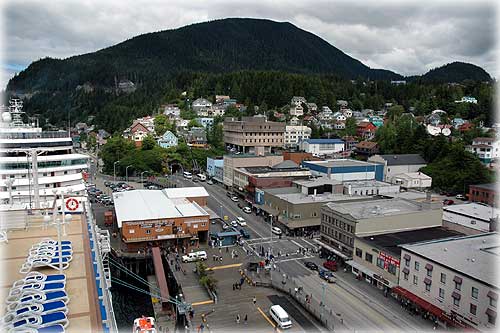 'Ketchikan'
Front Page Photo by Carl Thompson
Viewpoints
Opinions/Letters

Relocation Of White Cliff School by Samuel Bergeron - Ketchikan - 06/11/04


Relocation of White Cliff by Rhonda Erickson - Ketchikan - 06/11/04


So Sue Me by Don Hoff Jr. - TN - 06/11/04


Read More Viewpoints


Publish A Letter
June 2004
Click on the date to read the stories & to view photos published on that day...

| | | | | | | |
| --- | --- | --- | --- | --- | --- | --- |
| S | M | T | W | T | F | S |
| | 31 | 01 | 02 | 03 | 04 | 05 |
| 06 | 07 | 08 | 09 | 10 | 11 | 12 |
| 13 | 14 | 15 | 16 | 17 | 18 | 19 |
| 20 | 21 | 22 | 23 | 24 | 25 | 26 |
| 27 | 28 | 29 | 30 | | | |
Alaska: Governor Declares Friday A Day of Remembrance in Honor of President Ronald Reagan - In honor of former President Reagan, Alaska Governor Frank Murkowski has issued a proclamation declaring Friday a Day of Mourning and Remembrance for President Ronald Reagan. He has authorized executive branch offices in Alaska to be closed on Friday. The day, however, is not a legal holiday, and many governmental functions will continue to be delivered.
"President Reagan's funeral service will be held on Friday, June 11 in Washington's National Cathedral," Murkowski said. "I ask all Alaskans to observe a moment of silence at the time of the service, 11:30 a.m. eastern time, to reflect on all that President Reagan meant to Alaska.
Governor Murkowski said, "He was truly a good friend of our state, and enjoyed visiting it numerous times. He understood the importance of Alaska's strategic location at the top of the world and halfway between the nation's heartland and Asia. Accordingly, he supported the buildup and maintenance of Alaska's four major military bases, which has benefited the nation and the economy of our state significantly over the decades." - Read more...
Friday - June 11, 2004
Ketchikan: First City Players presents Little Shop of Horrors - A voice, not unlike God's, can be heard describing a deadly threat to humanity's existence. This terrifying enemy surfaces (as such enemies often do) in the most innocent and unlikely of places - a florist shop on Skid Row.
One of the longest running off-Broadway musical comedies of all time, this affectionate spoof of 1950's sci-fi movies has become a household name, thanks to a highly successful film version and a score by the song writing team of Howard Ashman and Alan Menken, who wrote the music for Disney's Little Mermaid and Beauty and the Beast. - Read more and view photos....
Friday - June 11, 2004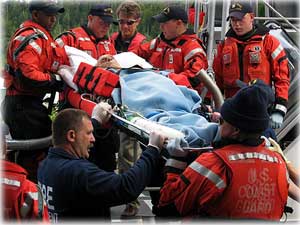 News In Photos
Official U.S. Coast Guard photo courtesy of USCG Station Ketchikan
Ketchikan: Coast Guard medevacs man from cruise ship - A patient from the cruise ship Radiance of the Sea is transferred to awaiting Ketchikan EMS from the Coast Guard station Ketchikan 47-foot motor lifeboat by the station's boat crew and Ketchikan Fire Department personnel. - More...
Friday - June 11, 2004
Ketchikan: Charter vessel's grounding and fire under investigation - Coast Guard Marine Safety Detachment (MSD) Ketchikan is investigating the grounding and fire of the charter vessel Captain Jack that occurred near an island south of Cosmos Pass outside of Davison Inlet Wednesday.
The 105-foot vessel, based in Ketchikan drifted and grounded with six people and a dog on board, prompting Coast Guard Air Station Sitka to launch the ready Jayhawk helicopter crew to the scene. Six Good Samaritans and the Craig Harbormaster also arrived on scene to assist.Captain Jack's crew declined an offer by the Coast Guard rescue crew to lower a pump to the ship. The helicopter then departed the scene to Ketchikan to refuel and embark MSD Ketchikan marine investigators. When it made an additional pass over the vessel on its return trip to Sitka, the aircrew saw the vessel fully engulfed in flames. The crew and passengers safely evacuated ashore in the remote village of Edna Bay
The cause of the fire was unknown. Alaska Commercial Divers will attempt to inspect the vessel Thursday, while MSD conducts interviews with the crew.
Friday - June 11, 2004
---
E-mail your news tips, stories, news releases & photos to:
editor@sitnews.org

E-mail large photo files to
photos@sitnews.org

Edited by Dick Kauffman:
editor@sitnews.org

E-mail the Webmaster:
webmaster@sitnews.org

Copyright Applies - Please obtain written permission before reproducing photographs, features, columns, etc. that are published on Sitnews.

Published online since
August 2000

Sitnews
Stories in the News
©1999 - 2004
Ketchikan, Alaska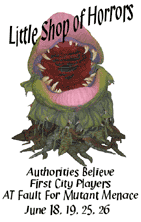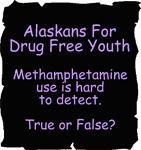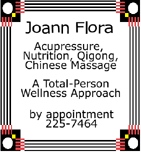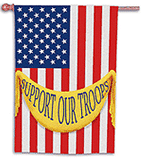 'Our Troops'
4th of July Parade

2004 Theme:
Home Is Where The Heart Is... Ketchikan Through The Generations
Presented by the Greater Ketchikan Chamber of Commerce

Download An Official Parade Entry Form - Deadline June 21st
Ad provided by Sitnews as a Public Service...