Charter vessel's grounding and fire under investigation
June 11, 2004
Friday

Ketchikan, Alaska - Coast Guard Marine Safety Detachment (MSD) Ketchikan is investigating the grounding and fire of the charter vessel Captain Jack that occurred near an island south of Cosmos Pass outside of Davison Inlet Wednesday.
The 105-foot vessel, based in Ketchikan drifted and grounded with six people and a dog on board, prompting Coast Guard Air Station Sitka to launch the ready Jayhawk helicopter crew to the scene. Six Good Samaritans and the Craig Harbormaster also arrived on scene to assist.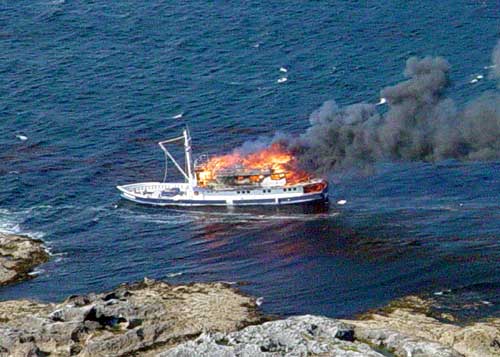 Fire ravages the 105-foot vessel Captain Jack after
the ship grounded in Southeast Alaska June 9
Official U.S. Coast Guard photos courtesy Air Station Sitka


Captain Jack's crew declined an offer by the Coast Guard rescue crew to lower a pump to the ship. The helicopter then departed the scene to Ketchikan to refuel and embark MSD Ketchikan marine investigators. When it made an additional pass over the vessel on its return trip to Sitka, the aircrew saw the vessel fully engulfed in flames. The crew and passengers safely evacuated ashore in the remote village of Edna Bay
The cause of the fire was unknown. Alaska Commercial Divers will attempt to inspect the vessel Thursday, while MSD conducts interviews with the crew.

According Greg Parsley, the vessel's operator, additional dewatering pumps from the Coast Guard would not have helped to control the flooding due to the extent of damage. Parsley, during a June 25th telephone conversation with the USCG, stated that onboard pumps in operation were also not keeping up with the amount of incoming water.
Source of News Release & Photograph:
United States Coast Guard
Web Site

E-mail your news & photos to editor@sitnews.org


Post a Comment View Comments
Submit an Opinion - Letter

Sitnews
Stories In The News
Ketchikan, Alaska