Wandering Bivalves
by Sonya Senkowsky
June 12, 2004
Saturday

Sometimes scientific exploration involves high-tech equipment and sophisticated techniques. Occasionally, it starts with a simple walk on the beach.
In the 1990s, David Norton was teaching at Ilisagvik College in Barrow, a mostly Eskimo community on Alaska's Arctic Ocean coast. There, he picked up a new hobby, Arctic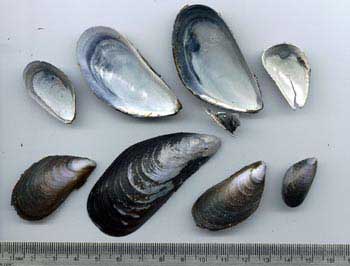 Blue mussels, known best by their long blue shells, have been washing ashore in the Arctic Ocean in recent decades. Some scientists say it's a signof a warming Arctic. Other scientists say the reason has more to do with the mussel's survival strategy than with climate. Photo courtesy Sonya Senkowsky

Listen to this story...

beachcombing. Norton says the pickings were especially good after a storm.

David Norton said, "Every time there was a storm, particularly in the fall, we'd set out to replenish what had become scarce in the aquarium. We got fairly adept at predicting where the kelp and the mussels and other things would show up."

One common find was blue mussels, bivalve mollusks that look something like dark-shelled, narrow clams. After storms, it wasn't unusual to find hundreds of them strewn along the beaches, clinging to plants ripped from the ocean floor.

Just one problem, these mussels, part of a group known by the Latin name Mytilus, weren't supposed to be there, as Norton found when he contacted Howard Feder, the last living biologist from a team that had surveyed the beaches in the late 1940s and early 1950s.

Norton said, "It wasn't until we really got to picking Howard's brain and getting him to pull out his field notebooks from forty years earlier that we realized this was quite different-now we've got a mystery on our hands."

Howard Feder and the team of biologists never did find live mussels along the Arctic coast, but it wasn't for lack of trying. Now a retired professor emeritus of marine science at the University of Alaska Fairbanks, Feder remembers what it was like taking samples from beneath the Arctic ice in 1949.

Feder said, "Everything we pulled up would freeze almost instantly. In fact, we had to use boiling water to put on the surface of the water of the hole to prevent it freezing right in front of us. And then as soon as we took the samples out we had to wrap it up and prevent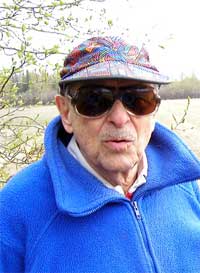 Marine science professor, Howard Feder, says the presence of blue mussels in the Arctic Ocean off Alaska isn't a good example of climate change impacts.
Photo courtesy Sonya Senkowsky

it from freezing."

Why were the mussels present in the 1990s, but not in the 1940s? The scientists set out to investigate. Their first suspect was climate change, explains Feder.

Professor Feder said, "There are a number of papers where Mytilus is considered thermophalous, or one that needs relatively warm temperatures. There is even a major project in Europe using Mytilus as an indicator of global warming, so if they occur further North, this implies that the water is warming up."

But fossil studies in the Canadian Arctic, as well as Feder's own studies of living mussels in Prince William Sound, suggested mussels did not, in fact, avoid the cold.

Feder said, "Mytilus does really well in the Arctic, and in fact, in the subarctic in Prince William Sound where they live intertidally, they're developing their reproductive structures in midwinter."

So why were they disappearing and reappearing?

Norton said, "We looked at various hypotheses. Were they coming from a great long distance? Could they be coming on the bottoms of ships like tour ships or Coast Guard icebreakers, just hitchhiking? It took us a while to notice that there was a possibility that they were living up in freshwater refuges like estuaries, lagoons, river mouths, just sort of scraping by, and then they'd recolonize in the high salinity oceanic waters or the seafloor."

The researchers began to piece together this story. The mussels were like weeds. They'd be wiped out of saltwater areas when conditions favored other plants or saltwater predators and they'd reestablish later from lower-salt estuaries where predators were absent. The mussels likely did come and go, but not necessarily because of climate changes.

Norton said, "The story becomes much more interesting and probably more accurate than just thinking of mussels as needing warm water."

The researchers published their theory recently in the journal Arctic. But for all the two learned about mussels, says Norton, his favorite lesson from the investigation was this.

Norton said, "It tickles me that here's probably one of the world's most widespread bivalves, and yet we're still learning a lot of interesting, quirky, stuff about its fossil record and its relation to climate change."

Story & photographs courtesy of Arctic Science Journeys - a production of the Alaska Sea Grant Program at the University of Alaska Fairbanks School of Fisheries and Ocean Sciences.
E-mail your news & photos to editor@sitnews.org


Post a Comment View Comments
Submit an Opinion - Letter

Sitnews
Stories In The News
Ketchikan, Alaska