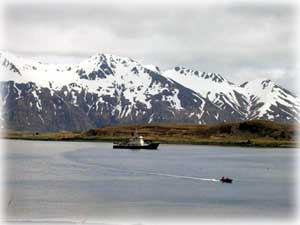 The Tiglax, a research ship for the Alaska Maritime National Wildlife Refuge, anchored off Attu island, the westernmost place in Alaska.
Photo by Ned Rozell
Alaska: Aleutian voyage for science on the Tiglax by Ned Rozell - Off Ulak Island, Alaska - I sit here in the belly of the Tiglax, the 120-foot research ship of the Alaska Maritime National Wildlife Refuge based in Homer. As I type this, four rain-soaked biologists are clinging to a misty hillside on Ulak Island a few hundred yards away, reaching into the burrows of storm-petrels to see if anyone is home.
A few days ago, we were building a small shelter cabin for biologists on Buldir Island where they are studying the millions of seabirds that nest on that relative speck in a giant ocean. The day before that, we counted nests of the once-endangered Aleutian Canada goose on Nizki island. - Read more...
Thursday - June 17, 2004
Columnists

Joann Flora: Fatitudes - Much controversy exists today about food, eating behavior, and our western, sedentary life style. The health risks associated with these things have created a whole set of health and medical considerations not known in in 1900. In 1900, the top ten causes of death were principally infectious disease. Today, the top ten are primarily life style disorders related to poor nutrition habits, lack of exercise, and stress. We all get tired of the doom lectures presented by health experts concerning our eating and exercise behavior. Here's a lighter view of the situation that makes the point just as well if not better than most of the lectures you'll hear. (Note: Any brand references are solely to illustrate the point, not to demonize a manufacturer.) - Read more...
Thursday - June 17, 2004

Michael Reagan: Thank You, America - The outpouring of love and respect for my dad the American people showed last week was astonishing. It was what really kept us going all week long.
Just to see the huge numbers of people who came out to join us in mourning dad, whether it was at the funeral home in Santa Monica where they broke out singing "God Bless America", or at the Reagan Library in Simi Valley where over 100,000 people came to pay their respects, or in Washington while dad lay in state at the Capitol and another 100,000 passed silently by his flag-draped coffin, it all left us breathless and filled with gratitude. - Read more...
Thursday - June 17, 2004