Dear Crabby
by Mrs. Crabcakes - Ketchikan, Alaska
Monday - June 28, 2004
This column is strictly for entertainment purposes only and
is not intended to be taken to heart as serious advice.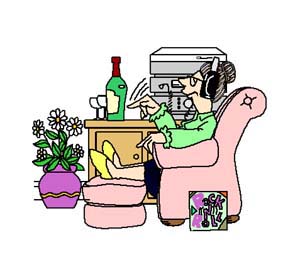 DEAR CRABBY,
Tonight I went to a party with my boyfriend and he all but ignored me all night. It was an awkward situation, because I didn't hardly know anybody, and he was talking to this other girl most the time. I just sat alone. Luckily, my cousin showed up so I had someone to talk to the last couple of hours. Even when they were serving food, my boyfriend went off to talk to that other girl in the living room, in plain sight of me and everyone else. It made me feel like I'm not interesting enough to be with.
On the way home, I told him he was rude, and should have thought about how I felt. He says he was not out of line, and I'm just insecure. Was I being too clingy?
SAD OFFENDED GIRLFRIEND
DEAR SOG,
Who is he to call you insecure? You would know better than he would. Maybe you are really boring, and not a lot of fun to be around. She may have been much more interesting, and a better conversationalist. That girl was probably better looking than you are too. And you do sound a little clingy. Look into it.

Web mail your questions to Dear Crabby... Click here
If you want to submit a question anonymously, use the Web Mail Form.
OR


crabcakes@sitnews.org
Post a Comment View Comments
Submit an Opinion - Letter
Sitnews
Stories In The News
Ketchikan, Alaska