Saturday
April 24, 2004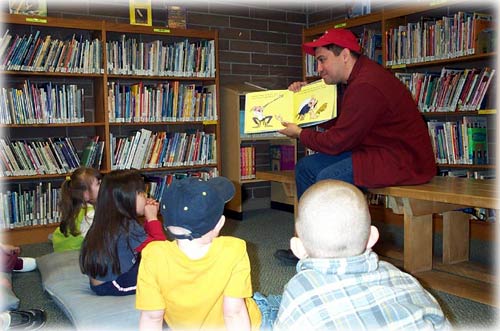 National Library Week Celebrated in Ketchikan
City Councilman Steve Williams was one of the headliner guests...
Photo by Children's Library Staff - Ketchikan Public Library

Ketchikan: National Library Week Celebrated in Ketchikan - The Ketchikan Public Library celebrated National Library Week with a great line-up of guest readers who delighted the young audience in the Children's Library. - View the photo gallery...
Saturday - April 24, 2004




Ketchikan: Listen to this story... A member of the Permanent Fund Board of Trustees spoke before a meeting of the Ketchikan Chapter of AARP Friday about the Percent-Of-Market-Value plan being pondered in the State Legislature. Deanna Garrison spoke with Trustee Bill Hudson about the measure, which he says will stabilize the $28 billion fund.
KRBD - Ketchikan Public Radio - linked Saturday - April 24, 2004
Alaska: Governor Murkowski Signs Six Bills - Alaska Governor Frank Murkowski on Friday signed into law six House and Senate bills relating to the Alaska Commission on Aging, health care providers, the limited entry commission, lawsuits over defective dwellings, research at the university, and reimbursements to the Department of Natural Resources. - Read more...
Saturday - April 24, 2004
Alaska: Governor Offers Assistance to Resolve Pogo Impasse - Alaska Governor Frank Murkowski sent a letter Friday to the board of directors of the Northern Alaska Environmental Center in Fairbanks, offering the assistance of top administration officials to resolve the impasse created by the Center's challenge of the NPDES permit for the Pogo mine. - Read more...
Saturday - April 24, 2004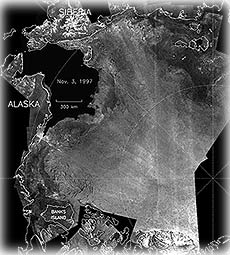 Map of Arctic Ocean. Large quantities of Arctic sea ice are shown in gray.
Map courtesy NASA
Alaska: Arctic Sea Ice Study May Stir Up Climate Models - Contrary to historical observations, sea ice in the high Arctic undergoes very small, back and forth movements twice a day, even in the dead of winter. It was once believed ice deformation at such a scale was almost non-existent.
According to a recent NASA-funded study, the finding is significant. Such movements may substantially increase the production of new ice and should be factored into Arctic climate models. The phenomenon of short-period Arctic sea ice motion was investigated in detail in 1967 and has been the subject of numerous research studies since.
A 1978 study found short-period ice motions disappeared almost entirely during the winter once the Arctic Ocean froze. A subsequent investigation in 2002, conducted using measurements from ocean buoys spaced hundreds of kilometers apart, found sea ice movement occurs during all seasons. - Read more...
Saturday - April 24, 2004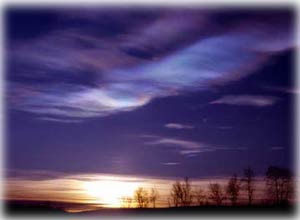 Arctic polar stratospheric clouds like these lead to ozone destruction. Photo by Ross Salawitch.
Arctic: Arctic Ozone Loss More Sensitive to Climate Change Than Thought - A cooperative study involving NASA scientists quantifies, for the first time, the relationship between Arctic ozone loss and changes in the temperature of Earth's stratosphere.
The results indicate the loss of Arctic ozone due to the presence of industrial chlorine and bromine in Earth's atmosphere may well be sensitive to subtle changes in stratospheric climate. Such ozone depletion leads to increased exposure to harmful, ultraviolet solar radiation at Earth's surface.
According to the study, the sensitivity of Arctic ozone to temperature is three times greater than predicted by atmospheric chemistry models. This leads to the possibility that decreases in stratospheric temperatures may have significantly larger impacts on future Arctic ozone concentrations than have been expected in the past. Dr. Markus Rex of the Alfred Wegener Institute for Polar and Marine Research, Potsdam, Germany, led the study. It also included scientists from NASA's Jet Propulsion Laboratory, Pasadena, Calif. - Read more...
Saturday - April 24, 2004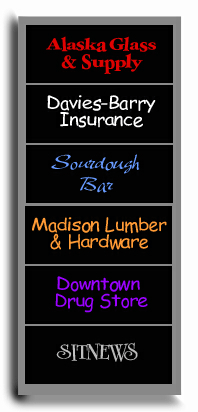 The June Allen Column
is made possible in part by these sponsors. Cick on each name to visit each web site.
June Allen Column

Ketchikan's Cruise Ship Industry; A light-hearted look at its origins - Tourists are nothing new to Ketchikan. These seasonal visitors have been spilling out onto the downtown docks for more than a century now. They share certain traits: They're thrilled to find themselves in distant, exotic Alaska; they find Ketchikan quaint and charming; and, they are wide-eyed and excited as they board charter fishing boats, or climb into sightseeing coaches to rumble off over the city's trestle streets. The basic awe most people feel when seeing our little town remains constant, even after a century. The things that have changed over the years are the much larger numbers of ships and visitors visiting each summer and the numbers of attractions available to them.
At the turn of the 20th century, brand new Ketchikan was even then being visited by tourists and journalists. In The Ladies World Magazine of March 1905, travel writer Myra Drake Moore described the Ketchikan she visited the summer of 1904: "[Ketchikan] is the port of entry into Alaska it and its sister towns of Juneau and Skagway are all very much alike in architecture, and seem to be 'happen-so's'. Ketchikan," she archly wrote, "has accumulated itself." - Read the rest of this story by June Allen...
Saturday - April 17, 2004

Ketchikan's First City Players; Did you hear that applause?

A biography of Alaska's herring: A little fish of huge importance...

Read more stories by June Allen...
---
E-mail your news tips, stories, news releases & photos to:
editor@sitnews.org

E-mail large photo files to
photos@sitnews.org

Edited by Dick Kauffman:
editor@sitnews.org

E-mail the Webmaster:
webmaster@sitnews.org

Copyright Applies - Please obtain written permission before reproducing photographs, features, columns, etc. that are published on Sitnews.

Published online since
August 2000

Sitnews
Stories in the News
©1999 - 2004
Ketchikan, Alaska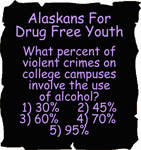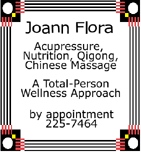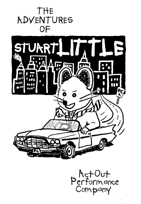 Ketchikan: Listen to this story... Members of First City Players Act Out Performance Company have been busy putting the finishing touches on their production of "The Adventures of Stuart Little". As Maria Dudzak reports, the show is slated to open this weekend at the Kayhi auditorium.
KRBD - Ketchikan Public Radio - linked Friday - April 23, 2004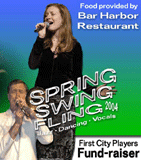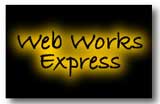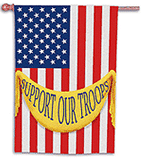 'Our Troops'
Publish Your Ad On Sitnews
For more information about how to publish your ad on the front page of Sitnews, call 247-8590
or e-mail the editor@sitnews.org