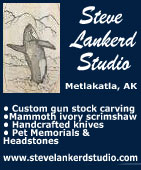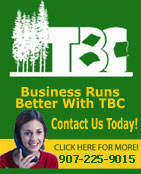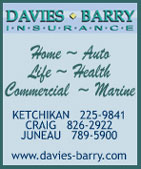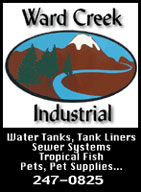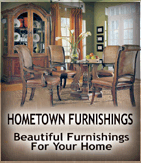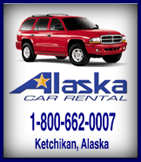 Contact


Webmail Letters


News Tips


Search Sitnews


Copyright Info


Archives
Today's News


Alaska


Ketchikan


Top Stories


U.S. News


U.S. Politics


Stock Watch


Personal Finance


Science News


US Education News


Parenting News


Seniors News


Medical News


Health News


Fitness


Offbeat News


Online Auction News


Today In History


Product Recalls


Obituaries
Quick News Search


Alaska


Ketchikan


SE Alaska


Alaska News Links
Columns - Articles


Dave Kiffer


Fish Factor


Career Success Stories


Parnassus Reviews


Chemical Eye On...


George Pasley


More Columnists
Ketchikan


Our Troops
Historical Ketchikan


June Allen


Dave Kiffer


Louise B. Harrington
Recognition


Match of the Month


Asset Builders
Ketchikan Arts & Events


Ketchikan Museums


KTN Public Library


Parks & Recreation


Chamber
Lifestyles


Home & Garden


Food & Drink


Arts & Culture


Book Reviews


Movie Reviews


Celebrity Gossip
On the Web


Cool Sites


Webmaster Tips


Virus Warnings
Sports


Ketchikan Links


Top Sports News
Public Records


FAA Accident Reports


NTSB Accident Reports


Court Calendar


Court Records Search


Wanted: Absconders


Sex Offender Reg.


Public Notices
Weather, Webcams


Today's Forecast


KTN Weather Data


AK Weather Map


Ketchikan Webcam


SE AK Webcams


Alaska Webcams


AK Earthquakes


Earthquakes
TV Guide


Ketchikan
Ketchikan Phone Book


Yellow Pages


White Pages
Employment


Employment
Government Links


Local Government


State & National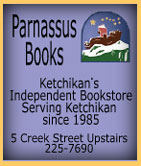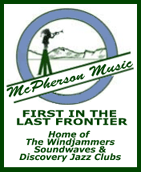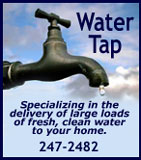 Monday
November 10, 2008



Boreal Owl
The boreal owl (Aegolius funereus) is a common but rarely seen bird of the boreal forest in Alaska according to information provided by the ADFG website. It occurs throughout the forested areas of the Interior, upper Kobuk valley, Kodiak Island, and western Southcentral, including Prince William Sound out to the Alaska Peninsula as far as King Salmon. It is also occasionally found in Southeast Alaska. This one was photographed 14-miles north of Ketchikan. The Boreal Owl is one of three small owls in Alaska, about 8-9 inches long with a wing spread of 21-24 inches. The other small owls are the Saw-whet owl which lives in southcentral coastal and southeastern areas and the pygmy owl which only lives in southeastern Alaska.
Front Page Photo By CARL THOMPSON

Ketchikan: Alaska's Local Leaders Gather in Ketchikan to Discuss 2009 Legislative Priorities - Transportation and affordable energy are on the minds of more than 250 local elected officials and municipal employees who gather this week in Ketchikan for the Alaska Municipal League's 58th Annual Local Government Conference.

"This is a really interesting time in Alaska politics. Alaska's municipalities need to continue to work together to create clear and concise decisions for the Legislature to work upon," says AML President Tim Beck, Fairbanks North Star Borough Assemblyman.

Many municipalities across the state share similar burdens at the local government level. Of these concerns affordable energy discussions will be in the forefront this week.

At least two resolutions addressing statewide energy concerns are expected to be voted on during the AML Annual Business Meeting Friday, November 14. These resolutions will address renewable energy resources, energy efficiency, energy conservation and the expansion of the Power Cost Equalization Program to help offset high fuels costs in rural communities.

The status of future transportation projects across Alaska is also a top priority.

Where will the funding come from? What projects are the State's priorities? How can we equally meet basic transportation service levels across Alaska? And, how we ensure that future modes of transportation will be safe and consistent? These are all questions that Alaska's local leaders will address this week and develop consensus to bring to the State Legislature in January.

"This conference is the best opportunity for our State's elected municipal officials to address their community's problems on a statewide level. The decisions made during this conference help shape Alaska's future," said Beck.

Several workshops throughout the conference will give delegates an opportunity to discuss and educate themselves further about both subjects.

Jeff Ottesen, Director, Division of Program Development ADOT, and Frank Richards, Deputy Commissioner of Highways and Public Facilities, will present a joint workshop about Alaska's transportation funding. Discussion of federal funding, and a possible Alaska Transportation Fund is sure to draw a large crowd on Wednesday, November 12. - More...
Monday AM - November 10, 2008

Ketchikan: KETCHIKAN CORRECTIONAL CENTER SUPERINTENDENT NAMED - Diane Gregory has been named Superintendent of Ketchikan Correctional Center (KCC), replacing Alan Bailey. Bailey's retirement was announced in June 2008. Gregory has been acting superintendent of KCC since Bailey's retirement.

"Superintendent Gregory began her career with the department in 1987, and has served in a wide variety of functions and assignments during her long tenure at KCC," said Garland Armstrong, director of the Division of Institutions. "We are very pleased that she has accepted this position." - More...
Monday - November 10, 2008

Ketchikan: Kids Pick the President at the Ketchikan Public Library By CHARLOTTE L. GLOVER - In early October, children from all over Ketchikan began pouring into the public library to vote for President of the United States. The "Kids Pick the President" campaign was the brainchild of annex staff members Vera Freeman and Debbie Gravel. They put hours of work into coming up with a concept, creating a display, making ballots and picking out the special prize for all the participants.

"Kids Pick the President" at the library.
An unidentified child casting her ballot.
Photograph by Charlotte L. Glover

The voting was open to children ages eighteen and under who could write their first and last name. We wanted the kids to be old enough to understand what they were doing and to recognize that they are learning about our democracy and how elections work.

Press releases went out to all the schools, radio stations and the local newspaper about the program. The children's librarian also made a catchy audio public service announcement for the public radio station which aired frequently.

When children arrived in at the library, they signed in at the library desk in a heavy notebook adorned with numbered spaces and sparkly star stickers on each numbered line.

Once they signed in, the kids were given a ballot made of heavy paper. There was a place on the ballot where children could write in a candidate. The write in's included Ralph Nader, Bob Barr, Joe Jonas, Elmer Fudd and Sarah Palin. Junior High teacher Mr. Pennino also got a shout out which was appropriate since he personally walked 45 kids to the library one rainy day so they could vote. - More...
Monday AM - November 10, 2008

Fish Factor: TV Search Underway For Sea Star By LAINE WELCH - Do you have what it takes to be the next seagoing reality TV star?

The search is on for a host for a new cable television show that takes viewers out to sea.

"There are so many extreme boats with incredible stories. From fishing boats to icebreakers and tugboats ... cargo and cruise ships to aircraft carriers -- there is an endless list of stories floating out on the water," said Fred Grinstein, director of development for Tiger Aspect Productions in New York City. "There also are offshore rigs and building of underwater tunnels and pipelines. The show will feature everything it takes to live and work on the water," he said.

The show will be modeled after the History Channel's "Extreme Trains" series. The ideal host will be a male in his early 30s to 40s who has "insider" experience and a "kid in a candy store" kind of excitement about life at sea, Grinstein said. He pointed to Geo Beach of Homer, host of the "Tougher in Alaska" series, as a character who is "brimming over with personality that people can really connect with."

"It's a weird formula as far as finding these real characters, who also have credibility and can do the job. We're not just asking them to sit down and be a talking head or just stand by and watch. We're asking them to take us somewhere and engage the people they are interacting with and the viewers," Grinstein said.

Tiger Aspect Productions will be doing casting calls at Pacific Marine Expo this month in Seattle.

"We can do a casting session right there. People can be on camera and do some interviews," Grinstein said.

He encourages anyone who is the "real deal" to send a recent photo and short bio to fred.grinstein@tigeraspectusa.com or call 212-774-8798.

EXPO AT 40

Pacific Marine Expo, now in its 40th year, is an annual trek to Seattle for anyone involved in the fishing industry. Today, when a click and credit card can get you anything you want via the Internet, Expo continues to attract plenty of vendors and visitors.

"We're often asked that question," said Expo director Bob Callahan. "The facts are people come to trade shows to see and touch new products while they're talking to a company representative. These are things you can't experience on the Internet. They also come to learn the latest trends, catch up with old friends and network with new ones. So over the years our attendance has been strong and we are not seeing any decline."

Callahan said nearly 600 exhibitor booths will be on the show floor. Seminars and workshops are targeted toward safety, work boats, commercial fisheries and charter operators.

"We expect to close with about 10,000 attendees," Callahan said. - More...
Monday AM - November 10, 2008




Ketchikan

Police Report
AK Troopers Daily Dispatch
Today's Forecast
Satellite
Today's Weather Images
Marine Forecasts
Ketchikan Weather Data
Current AK Weather Map

CLASSIFIEDS

Publish ad
Please select the proper category before posting.




CLASSIFIEDS' CATEGORIES

Announcements and
Help Wanted
For Sale / Free Stuff
Garage Sales
Homes / Apts/ Property
Pets
Wanted
Lost & Found
Local Services
Publish your ad

More Front Page Archives

Viewpoints
Opinions/Letters
Basic Rules

Dogs on North Point Higgins Road By Carrie Allen - First I want to preface this with: I am a dog lover. I would love to have one of my own, but can't right now. I even house-sit occasionally for folks with dogs and leave loving their pet as if it were my own. - More...
Monday AM - November 10, 2008

Initiate a one penny tax for school activities fund By Charles Edwardson - I am first of all encouraged by this past season of borough funding for our schools, with that said I am still disappointed in how hard our students have to work to represent (us) the city of Ketchikan. The activities fund is always on the bottom on the list and it should be at the top of the list. The benefits of extra curricular activities are obvious. - More...
Monday AM - November 10, 2008

Tongass School By Christy Showalter - I have two children who attended TSAS and are now in middle school. I am very appreciative of the education that they received there. The critical thinking skills will serve them their whole lives. The way the life skills and lifelong guidelines were integrated into the classroom to provide for a positive learning and social environment enhanced their education and has helped them to be good citizens. - More...
Monday AM - November 10, 2008

Lou Gehrig's Disease: Veterans with ALS By Linda Teal Kreider - This Veterans Day, we will pay tribute to our heroes who have served in the military. It will be marked by marching bands and parades, flags flying high atop city buildings and over neighborhood front porches. And as you remember what our veterans have done for us, ask yourself what we can do for them. - More...
Monday AM - November 10, 2008

Ella Bensen's Maple tree is gone By MJ Cadle - Sadly, the lights have been permanently darkened on Ella Bensen's maple tree. - More...
Monday AM - November 10, 2008

RE: GOD IS NOT A REPUBLICAN By Geoff Brandt - Dave Hanger nailed it. Quite well, too. - More...
Monday AM - November 10, 2008

Palin By Rob Glenn - I have to wonder had Palin been from another state would she have helped out the McCain ticket more? - More...
Monday AM - November 10, 2008

Sarah Palin By Gerard Kelder - Govenor Palin's most recent run for Vice President of the United States was Historic. - More...
Monday AM - November 10, 2008

Gas prices: You are to blame By James Dornblaser - Any day you look, 9 out of 10 rigs in the Ketchikan caravan (the steady stream of vehicles going to town at 7/9 Am & returning 4/5 Pm) is a full size SUV or pickup & with only one occupant. Any time you are near any of the schools, note the steady stream of big rigs delivering one cherub. (Why they are not riding the bus, who knows!) - More...
Monday AM - November 10, 2008

Defending the Unitarian Universalists By Stacey Hallmark-Morales - I just wanted to question Mr. David Hangar's letter regarding the inclusion of Unitarians in his thoughts about the belief in a God that is full of damnation and divisiveness. I assure you the Unitarian UNIVERSALISTS have little to NOTHING to do with perpetuating a God that has an "us or them" mentality. - More...
Monday AM - November 10, 2008

Religion & politics By Jerilyn Lester - Mr. Hanger, as an American you have the right to your opinion but I also have the right to tell you that I disagree with you 100%. God is an all loving father of all and, believe it or not, he even loves you. He doesn't want you to have that image of him but you have the right to do so. - More...
Monday AM - November 10, 2008

RE: Electoral count must go By Kris Hansen - Nicely put Mike Isaac. If Obama wants to make the American people feel American again and actually feel like they have chosen the best candidate he needs to add a few Republicans, not one or two, but many to his cabinet. - More...
Monday AM - November 10, 2008

Wondering By Tami Linne I agree, God will have nothing to do with that. But what I do know is how is it this woman from Idaho that has pretty much laughed out loud about our Bridge to Somewhere, and wore a shirt that brought us shame can ever come back here. And I will always say Palin is a wantabee. Kill all the moose you want Governor Palin, you're still not a native Alaskan. - More...
Monday AM - November 10, 2008

More Letters/Viewpoints
Webmail your letter or
Email Your Letter To: editor@sitnews.us

---

Articles & photographs that appear in SitNews may be protected by copyright and may not be reprinted or redistributed without written permission from and payment of required fees to the proper sources.