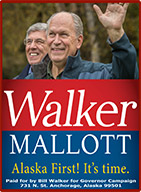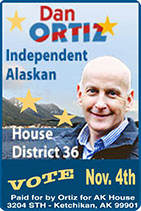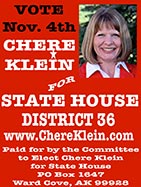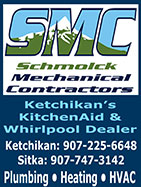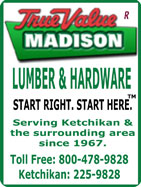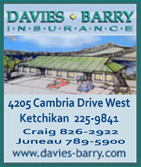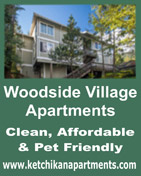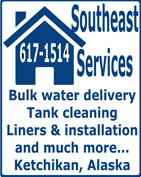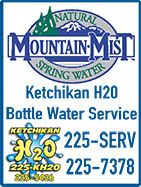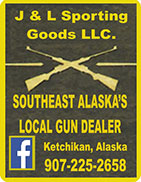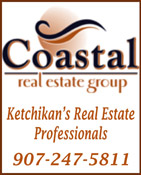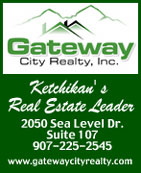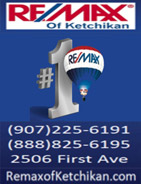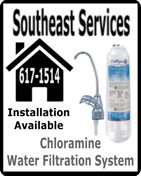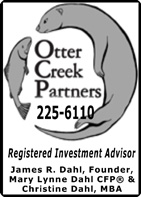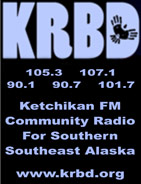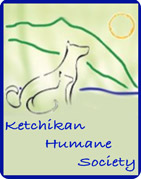 Contact


Call 617-9696


Webmail Letters


News Tips


Copyright Info


Archives
Quick News Search


Alaska


Ketchikan


SE Alaska


Alaska News Links
Columns - Articles


Dave Kiffer


Fish Factor


Money Matters
Historical Ketchikan


June Allen


Dave Kiffer


Louise B. Harrington
Ketchikan Arts & Events


Ketchikan Arts


Ketchikan Museums


KTN Public Library
Sports


Ketchikan Links
Public Records


FAA Accident Reports


NTSB Accident Reports


Court Calendar


Court Records Search


Wanted: Absconders


Sex Offender Reg.


Public Notices
Weather, Webcams


Today's Forecast


KTN Weather Data


AK Weather Map


AK Weathercams


AK Earthquakes

TV Guide


Ketchikan
Ketchikan Phone Book


Yellow Pages


White Pages
Government Links


Local Government


State & National

Bubble Feeding
Saturday, two Humpback whales were photographed while bubble feeding in Knudson Cove. North Pacific Humpback Whales leave the icy waters of Alaska during the fall, swimming practically non-stop for nearly 6 to 8 weeks before reaching their Hawaiian winter home, where they mate, give birth, and nurture their calves. Their annual migration of about 6,000 miles is one of the longest of any mammal.
Front Page Photograph By JIM LEWIS ©2014
(Please respect the rights of photographers, never republish or copy
without permission and/or payment of required fees.)


Southeast Alaska: Archives Facility to be Named After Tlingit Hero William L. Paul, Sr. - The archives facility at the new Walter Soboleff building located in Juneau will be named for Tlingit Native rights hero William L. Paul, Sr., who was a major force in Alaska history and is recognized as the father of the Alaska Native land claims.

William Lewis Paul, Sr., 1936
Photograph courtesy of Ben Paul

The William L. Paul, Sr., Archives houses 3,100 linear feet of archival and historical manuscripts and papers, photographs, and audio and visual recordings, including historical documents, manuscripts, and papers of individuals of importance to both the indigenous people of the region and Alaska history, and over 60,000 historic photographs. The Archives currently houses more than 5,000 historical and contemporary audio and audiovisual recordings documenting the Tlingit, Haida, and Tsimshian language, culture and history. Most of these recordings are wholly unique and cannot be found in other libraries, archives, or repositories.

William L. Paul was a gifted orator, Alaska's first Native attorney, the state's first Native legislator and a formidable warrior who fought on the front line of many legal and political battles of his time. Yet his achievements are not as well known outside of Alaska Native circles, said SHI President Rosita Worl. SHI's Board of Trustees named the archives after him to honor his accomplishments and to publicly recognize him for his life's work, she said.

"William L. Paul, Sr., set the course for the resolution of Alaska Native aboriginal land claims and worked tirelessly throughout his lifetime to protect the ownership of Haa Áani (Our Land)," Worl said. "He is a hero to past, present and future Alaska Natives, and we are forever indebted to him," Worl said.

William L. Paul, Sr., was born on May 7, 1885, at Tongass Village. His Tlingit name was Shquindy and he was Raven of the Teeyhíttaan Clan. He earned a baccalaureate from Whitworth College and a law degree through La Salle University before returning to Alaska.

He helped build the Alaska Native Brotherhood (ANB), which holds the distinction of being the nation's first Native American civil rights organization, into a potent political voice, and in 1923, he launched the newspaper Alaska Fisherman to advance the ANB agenda.

William L. Paul, Sr., attacked school segregation, won citizenship rights for Natives, secured the right to vote and fought to protect salmon fishing—victories that were accomplished before the 1924 Indian Citizenship Act and during a period in American history when Native Americans openly were subjugated and their basic aboriginal and civil rights denied. - More...
Monday PM - October 20, 2014

Southeast Alaska: Angoon trail crew links generations, cultures By TRAVIS MASON BUSHMAN - Deep inside Admiralty Island National Monument, the distinctive sound of hand tools at work reverberates off the ancient forest. There, on a boggy section of single-track trail outside the tribal community of Angoon, two men are building a bridge that does much more than simply cross 10 yards of boot-eating muck. This unassuming wooden span is connecting generations, cultures and governments, showing a shared path forward for the Tongass National Forest and Southeast Alaska communities.

(Left to Right) Tribal Liaison Donald Frank, Trail Crew Leader Aaron McCluskey, Youth Conservation Corps member Roger Williams and Admiralty Island National Monument Ranger Chad VanOrmer pause work to celebrate the agency's successful Youth Conservation Corps partnership with the Angoon Tribe.
Photo by Travis MasonBushman

The bridge and trail are a vital link in the Cross Admiralty Canoe Route, a 32-mile series of lakes and trail portages that allows backcountry canoeists, kayakers and others to traverse the island. But while the modern route was established by the Civilian Conservation Corps in the 1930s, the path it follows was not news to the island's residents, as Donald Frank, tribal liaison for the national monument, explains.

"The history of this trail doesn't go back to the CCC, it goes back to the time when our people crossed the lakes to hunt and fish and trap for furs to sell. We didn't build this trail, no. This is a trail that the bears chose. Its story goes back much farther than we know," Frank said.

Now, Roger Williams and Aaron McCluskey, members of the Angoon tribe which has lived on the island for thousands of years, are carrying on that tradition of stewardship. They're the tribe's trail crew, which works for the Tongass through a Youth Conservation Corps partnership; providing employment for local residents while giving back to the land. It's hard, dirty work and there are no hot showers and warm beds awaiting them at the end of the day, only a campfire and perpetually-soggy tents at a remote "spike camp" several miles away. But, that's what they signed up for, and neither is complaining.

"We're camped out here in the cold and wet. It's either cold and wet or hot and buggy, take your pick. I'm pretty much living in raingear. Honestly, I wouldn't have it any other way," McCluskey said.

In his second season as crew leader, McCluskey is a world away from his former military specialty as a vehicle mechanic. Inside the monument's wilderness, no power tools or motor vehicles can be used. "Out here, you can't deal with gas," he said laconically. So, to get the materials for the bridge, the crew turned to old-fashioned muscle power, hauling locally-sourced wood from tidewater to the job site on their backs, four planks at a time. - More...
Monday PM - October 20, 2014

Alaska: Gulf of Alaska Waters Warmer Than Normal By SHARICE WALKER - Warmer than normal waters in the Gulf of Alaska surprised scientists who have studied the waters over the shelf south of Seward for the past 17 years. During a September cruise, the team found the upper 300 feet to be 1 to 5 degrees warmer than the September averages of 55-57°F. They also found warm-water species of plankton, a vital food for fish and other marine life, farther north than usual.

Researchers pull in a CTD — an instrument that collects high resolution temperature and salinity data throughout the water column.
Photo courtesy of Russ Hopcroft, UAF.

"It was like working in a bath tub out there," said chief scientist Russell Hopcroft, a professor at the University of Alaska Fairbanks School of Fisheries and Ocean Sciences, "except for the high winds and 12-foot swell. This year was more than 1°F warmer than any other year we have studied."

According to Hopcroft, warmer temperatures along the transect — known as the Seward Line — are partly a result of an unusual winter that left the Gulf's offshore waters warmer than normal. A warm-water anomaly in the tropical Pacific Ocean may have added to the rise in temperatures.

Other research teams in Alaska this summer have found warmer waters from Southeast Alaska through the Bering Sea, according to Hopcroft. - More...
Monday PM - October 20, 2014

Fish Factor: Long Term Future of Crab Fishery By ELAINE O'BRIEN - The Bering Sea crab fleet now stands at 77 vessels, a far cry from the nearly 250 boats before the fishery downsized to catch shares in 2005. Fewer boats means less hands on deck, and as with so many others, the Bering Sea crabbers are 'graying' and need to recruit young entrants to sustain the iconic fisheries. To do so, the shareholders have devised a way to give captains and crews a first crack at available crab.

"The long term future of the fishery is dependent on bringing young people in. That's not unique to crab, we are seeing it all over Alaska and fisheries in the US," said Mark Gleason, executive director of Alaska Bering Sea Crabbers (ABSC), a harvester group. "There just isn't that pipeline of young people coming up through the ranks, and a Right of First Offer (ROFO) program is one of the ways we hope to change that."

It has long been a goal of fishery managers to make sure that active participants have access to crab quota shares. Gleason said in numerous workshops in recent years, ABSC got feedback from captains and crew members on road blocks to buying in, such as not knowing when quota was up for grabs and the need for smaller portions to buy. That helped shape the ROFO program.

"Basically, it carves out at a minimum ten percent of a (catch share) transaction, and that is then offered on a Right of First Offer basis to active participants. So there is prior notification when quota becomes available, it takes large blocks and chops it up into smaller chunks, and it increases transparency." - More...
Monday PM - October 20, 2014



Alaska: State asserts land claims at ANWR boundary - Governor Sean Parnell announced Friday the State is seeking priority conveyance of nearly 20,000 acres of land at the western boundary of the Arctic National Wildlife Refuge (ANWR). He made the announcement to the Alaska Support Industry Alliance conference in Fairbanks.

"The federal government, through the U.S. Fish and Wildlife Service, has been improperly drawing the western boundary of ANWR for some time. We will not sit back while they do this," said Gov. Parnell.

"The Alaska Department of Natural Resources has confirmed the State's position with a detailed on-the-ground analysis. Priority conveyance of this land that is rightfully ours will bring 20,000 acres under State control on the eastern North Slope for oil and gas exploration. A few miles away from this area, we are seeing billions of dollars of investment at the Point Thomson Field." - More...
Monday PM - October 20, 2014

Alaska: U.S. Supreme Court rejected Alaska's request to delay equal marriage - Friday, the Supreme Court of the United States denied a request by the state of Alaska to stay U.S. District Court Judge Timothy Burgess' ruling striking down Alaska's same-sex marriage ban as unconstitutional. This is the third time the Supreme Court has cleared the way for marriage equality to move forward.

"Requesting a stay in Alaska was nothing more than a petty, last-ditch effort to stop equality," said Sarah Warbelow, Human Rights Campaign's Legal Director. "Continued delay would have only prolonged harm to Americans who simply want to protect and provide for their families. Court after court has affirmed that the U.S. Constitution does not allow states to discriminate against committed and loving gay and lesbian couples, and this decline to extend the stay suggests the Supreme Court clearly agrees."

First Time: On Monday, October 6th, the nine justices of the Supreme Court announced they had declined to hear any of the five cases pending before them challenging state bans on marriage for same-sex couples in Utah, Oklahoma, Virginia, Wisconsin, and Indiana. This allowed the circuit court decisions striking down the bans to stand and marriage equality to move forward. - More...
Monday PM - October 20, 2014

Political Cartoon: Midterm Mania
By Nate Beeler ©2014, The Columbus Dispatch
Distributed to subscribers for publication by Cagle Cartoons, Inc.




Real Time U.S. Debt Clock
http://www.usdebtclock.org/

U.S. Inflation Calculator
Easily calculate the buying power of the US dollar & inflation rate from 1913-2014

U.S. Energy Info. Admin.
Heating Oil & Propane Update

Public Service Announcements
Public Meetings & Info

KGB Animal Protection

Ketchikan Borough Assembly

Live video stream of current meeting
Archived videos
Agenda and Information Packets
Assembly Meeting Minutes
Borough Records
Calendar

Ketchikan Planning Commission

Live video stream of current meeting
Agenda, Information Packets & Minutes

Ketchikan City Council

View a Video of Meeting
Agenda & Information Packets

Ketchikan School Board

Live video stream of current meeting
Agenda & Information Packets


Gravina Access Project SEIS Alternatives Development

Gravina Access Website

Police Blotters

AK Troopers Daily Dispatch
Ketchikan Police Reports
Juneau Police Reports

Ketchikan

Jobs
Today's Forecast
Satellite
Today's Weather Images
Marine Forecasts
AK Weathercams
Ketchikan Weather Data
Current AK Weather Map




CLASSIFIEDS' CATEGORIES

Announcements
Help Wanted
For Sale / Free Stuff
Garage Sales
Homes / Apts/ Property
Pets
Wanted
Lost & Found
Happy Birthday, etc.
Publish Your Ad

Front Page Archives
Letter Archives
July - Sept. 2014

| | | | | | | |
| --- | --- | --- | --- | --- | --- | --- |
| S | M | T | W | T | F | S |
| | | 01 | 02 | 03 | 04 | 05 |
| 06 | 07 | 08 | 09 | 10 | 11 | 12 |
| 13 | 14 | 15 | 16 | 17 | 18 | 19 |
| 20 | 21 | 22 | 23 | 24 | 25 | 26 |
| 27 | 28 | 29 | 30 | 31 | 01 | 02 |
| 03 | 04 | 05 | 06 | 07 | 08 | 09 |
| 10 | 11 | 12 | 13 | 14 | 15 | 16 |
| 17 | 18 | 19 | 20 | 21 | 22 | 23 |
| 24 | 25 | 26 | 27 | 28 | 29 | 30 |
| 31 | 01 | 02 | 03 | 04 | 05 | 06 |
| 07 | 08 | 09 | 10 | 11 | 12 | 13 |
| 14 | 15 | 16 | 17 | 18 | 19 | 20 |
| 21 | 22 | 23 | 24 | 25 | 26 | 27 |
| 28 | 29 | 30 | 01 | 02 | 03 | 04 |
| 05 | 06 | 07 | 08 | 09 | 10 | 11 |
| 12 | 13 | 14 | 15 | 16 | 17 | 18 |

More Front Page Archives & Letters


Viewpoints
Commentary
Opinions/Letters
Basic Rules &
Freedom of Speech

Questions, please contact the editor at editor@sitnews.us or call 617-9696
Sitnews reserves the right to edit.

SMS "Songs for your Supper" By Judith Green - What a beautiful group of young people were seen tonight / and not a few. They were all 'right in step' and hardly was any adult supervision seen nor needed - they just knew what to do and when and how, and did! All dressed up in their 'finery', happy to be a part of such a wonderful evening of sharing with the community their many talents and skills. From the opening of the SMS entrance doors to the final 'farewell, thank you for coming' it was an experience showcasing wonderful young teenagers. - More...
Monday PM - October 20, 2014

Let's not cook the goose that lays the golden eggs By Malena Marvin - According to Southeast Conference, Southeast Alaska's economy is increasingly stable, diverse, and strong. Bolstered by the powerful twin engines of fishing and tourism – drawing $1 billion each to the region annually – the Tongass is not unlike the proverbial goose that is laying golden eggs. - More...
Monday PM - October 20, 2014

Vote to Re-Elect Sen. Mark Begich By Bill Williams - As a Republican and ex-Legislator representing Ketchikan and Saxman, I'm voting for Senator Mark Begich. - More....
Monday PM - October 20, 2014

Don't be buffaloed! By Bill Walker - Alaskans, don't be buffaloed! Every day the opposition comes up with a different attack ad, a misleading poll, a misquote. They send their people to our events to record us, take copious notes and watch our every move. When I first announced my run for governor in 2009, they sent an investigator to Valdez to go through all my actions as mayor in the 70's. Parnell has spent more time making public records requests of my involvement with local government when most Alaskans would prefer he properly respond to the ones that have been presented to him on important issues. - More...
Monday PM - October 20, 2014

Vote Yes on 2 By Hunter Smith - I wish to respond to Substance Screening business owner Renee Schofield. I also wish to encourage Ketchikan citizens to vote Yes on 2. - More...
Monday PM - October 20, 2014

Scientists Who Know Say 'No' By U.S. Senator Lisa Murkowski - On November 4, Alaskans will consider Ballot Measure #2, an initiative to legalize the sale and use of marijuana for recreational purposes. And those who support that commercial trade are investing heavily in hoping you will vote yes. Make no mistake about it, marijuana – like tobacco and alcohol – is big business. Like alcohol and tobacco, the costs of marijuana to public health, public safety, our youth, and lost productivity are similarly high. - More...
Monday PM - October 20, 2014

Vote Walker/Mallot & Ortiz on Nov. 4th By Franklin H. James, Sr. - Our Alaskan people finally have the opportunity to vote for two Alaskans, Bill Walker and Byron Mallott who were born and raised in Alaska. We are not against big money being invested in Alaska, as long as it does not hurt our environment, animals and our seafoods. Please look at who was hired to work in our fisheries; he worked for the Pebble Mine; hiring someone like that is like getting a coyote to take care of your chickens. - More...
Monday PM - October 20, 2014

Ebola By Charlie Freeman - I've been hearing a lot in the last few days, how the real fear is not Ebola, it's the flu and I wonder just how many fools are out there thinking that makes a deference. Both can kill. Is hanging better than being shot? Ask the dead guy. - More...
Monday PM - October 20, 2014

Ebola Czar appointment By A. M. Johnson - Following the appointment of a non-medical, political crony to the head of Czar on Ebola a news article was posted. In response to that article under "comments" the following was posted: - More...
Monday PM - October 20, 2014

Sullivan's False Claim By Eric Muench - On Wednesday, October 15, we received a political flyer promoting candidate Dan Sullivan which claimed him to be "the only Senate candidate with an 'A' rating from the NRA" (National Rifle Association). The NRA rates political candidates with an 'A' to 'F' grade depending on their support or opposition to 2nd Amendment gun ownership rights. As a matter of fact both Mark Begich and Dan Sullivan received 'A' grades but Sullivan's was appended with a 'Q' to indicate that he had as yet no voting record on 2nd Amendment issues. Neither candidate was given an endorsement. - More...
Monday PM - October 20, 2014

Re-elect Mark Begich By Peggy Monaghan- I appreciate the fact that Mark Begich supports adding Arts to STEM education, making it STEAM. I've heard him talk about how his son dreaded piano practice until he applied his math skills to the piano. All the sudden the piano made sense to him and he started to actually look forward to practicing. As a voice teacher and a musician myself, I see the benefit of overlap disciplines all the time and how learning music and art can help students learn other subjects better and build their confidence. Arts education increases integrated brain function and a well rounded education prepares kids so much better to excel after they graduate. I am happy to see our Senator understands that as well. - More...
Monday PM - October 20, 2014

Begich made huge strides for Alaska energy, jobs By Evan Beedle - I've been seeing U.S. Senate candidate Dan Sullivan's ad on TV, trying to claim Sen. Mark Begich hasn't done anything to help Alaska s energy production and I had to ask myself, where has this guy been? - More...
Monday PM - October 20, 2014

Let's vote for Dan Sullivan By Alan R. (Rudy) McGillvray - I for one am going to vote for Dan Sullivan, because I feel that he would be the best for Alaska. Primarily because we are both Republicans or conservatives. - More...
Monday PM - October 20, 2014

Re-elect Begich By Robin Smith - If Alaska loses Begich in the Senate, how do we regain his influential position on the Appropriations Committee? Alaska is incredibly fortunate that both Begich and Murkowski serve on that powerful committee. It puts our small state in an extraordinary position. But that only happened because they are from opposing parties. Sullivan can't replace Begich. - More...
Monday PM - October 20, 2014

Sullivan's Absence at High School Senate Forum By Willie Hall - While Tuesday's Senatorial Forum at West Anchorage High School provided a platform for Mark Begich to display, once again, his superior poise and presentation to an audience, the lack of legitimate competition among the present candidates was obvious and disappointing. Even Mark Fish who was hardly able to articulate out his responses made a more compelling case for his candidacy than an absent Sullivan. Meanwhile Ted Gianoutsos could barely restrain himself from spewing wildly inappropriate answers (detailing sexual encounters with his wife seated in the front row), vaguely racist jabs, and far flung promises (a vote for Gianoutsos is a vote for a $10,000 PFD?). - More...
Monday PM - October 20, 2014

Begich protects Social Security and Medicare By Pamela Rahn - I just can't get over Dan Sullivan and his Outside groups accusing Mark Begich of cutting Medicare. Do we know the same Mark Begich? - More...
Monday PM - October 20, 2014

NOW Applauds Begich's Plan to Preserve Social Security and Medicare By Barbara McDaniel - The Institute for Women's Policy Research (IWPR) found that "Nearly 9 in 10 men and women aged 65 or older receive Social Security benefits." Boosting and preserving those benefits is exceptionally critical for women's survival. Continued workplace and wage discrimination, our persistent cultural habit of leaving low or unpaid caregiving responsibilities to women, and poor accommodations for mothers' employment ultimately result in meager retirement options for women. IWPR indicates "three out of five women today work in sales, clerical, and retail jobs. Service, part-time and contingent jobs (that accommodate caregiver schedules) are low-waged and rarely provide benefits, such as pensions that women require to ensure a secure retirement." - More...
Monday PM - October 20, 2014

Mark Begich By Jody Serrano - Does Mark Begich ever sleep? He has been debating every chance he can from what I can tell, traveling around the state campaigning, on radio stations (liberal and conservative I might add) and doing town halls left and right (I know because I've been invited to a few). I've never seen anyone campaign like he does - he clearly really loves talking to people. God knows I'd be exhausted if I were him. - More...
Monday PM - October 20, 2014

Truth and Propaganda on Initiative 2 By Marie Zellmer- Ok, I had someone tell me today that they hoped the pot initiative would not pass because of "All those kids who died from overdose in Colorado." I was shocked! Someone had died from an overdose of marijuana? I would have thought that something like that would make national news, probably world news, if it was true and undeniable. I passed it off because I had not kept up with the latest info on it, guessing that if it was true then they must have eaten their parent's edibles. I went to Google and checked news reports, college research papers, and drug awareness and prevention groups. - More...
Monday PM - October 20, 2014

Reply to Dr. IRS and the FairTax By Stephen C. Eldridge - Yet again, this senior propagandist attempts to utilize the IRS as a tool to deceptively try to sell us the awful FairTax. - More...
Monday PM - October 20, 2014

Webmail your letter or
Email Your Letter To: editor@sitnews.us

---

Articles & photographs that appear in SitNews may be protected by copyright and may not be reprinted or redistributed without written permission from and payment of required fees to the proper sources.

E-mail your news & photos to editor@sitnews.us

Photographers choosing to submit photographs for publication to SitNews are in doing so, granting their permission for publication and for archiving. SitNews does not sell photographs. All requests for purchasing a photograph will be emailed to the photographer.

The Local Paper is now available online.
Click here for this week's printed edition.