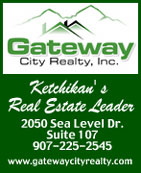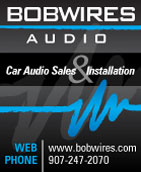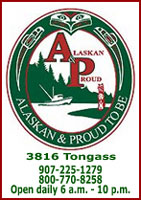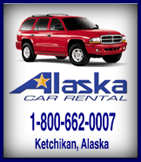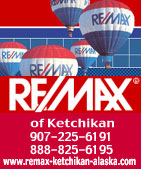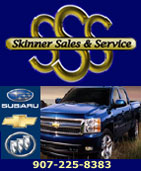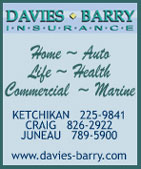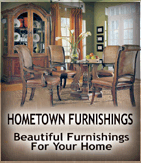 Contact


Call 617-9696


Webmail Letters


News Tips


Search Sitnews


Copyright Info


Archives
Today's News


Alaska


Ketchikan


Top Stories


U.S. News


U.S. Politics


Stock Watch


Personal Finance


Science News


US Education News


Parenting News


Seniors News


Medical News


Health News


Fitness


Offbeat News


Online Auction News


Today In History


Product Recalls


Obituaries
Quick News Search


Alaska


Ketchikan


SE Alaska


Alaska News Links
Columns - Articles


Dave Kiffer


Fish Factor


Chemical Eye On...


Parnassus Reviews


George Pasley


More Columnists
Historical Ketchikan


June Allen


Dave Kiffer


Louise B. Harrington
Ketchikan Arts & Events


Ketchikan Arts


Ketchikan Museums


KTN Public Library
Ketchikan Recognition


BBBS Matches
Lifestyles


Home & Garden


Food & Drink


Arts & Culture


Book Reviews


Movie Reviews


Celebrity Gossip
On the Web


Cool Sites


Webmaster Tips


Virus Warnings
Sports


Ketchikan Links


Top Sports News
Public Records


FAA Accident Reports


NTSB Accident Reports


Court Calendar


Court Records Search


Wanted: Absconders


Sex Offender Reg.


Public Notices
Weather, Webcams


Today's Forecast


KTN Weather Data


AK Weather Map


Ketchikan Webcam


SE AK Webcams


Alaska Webcams


AK Earthquakes


Earthquakes
TV Guide


Ketchikan
Ketchikan Phone Book


Yellow Pages


White Pages
Government Links


Local Government


State & National


Friday
November 06, 2009



"The Milky Way"
The Milky Way galaxy as viewed off the end of the pier at Saltery Lodge. It was pitch black out when this photo was taken. It was about a 60 second exposure. Note there are a few shooting stars captured as well.
Front Page Photo by SCOTT KEMP
See more of Scott Kemp's Night Photography


Ketchikan: House Fire: Troopers "Heroes" says Fire Chief - Chief Dave Hull of the North Tongass Volunteer Fire Department said fire caused about $50,000 to $75,000 damage to a house at 89 Jenck Road, belonging to Frank and Melissa Garrison and sent the woman and a trooper to Ketchikan General Hospital with smoke inhalation. A child in the house at the time of the fire was uninjured said Hull. Frank. Garrison was out of town. Units from North Tongass Volunteer Fire Department and Alaska State Troopers responded to the scene. The first arriving Alaska State Troopers were the heroes of incident said Hull.

Fire caused about $50,000 to $75,000 damage to a house
at 89 Jenck Road, belonging to Frank and Melissa Garrison.
Photograph courtesy NTVFD

The original call came in to Ketchikan Police Department Dispatch late Thursday evening as an open line 911 call that was immediately transferred over to Alaska State Troopers dispatch. First arriving Alaska State Troopers, Zach Huckstep and Jack LaBlanc, believed the call to be a possible domestic violence call due to the way the call came in said Chief Hull. After discovering the true nature of the call the officers immediately asked for fire and EMS response. Trooper Huckstep broke the door down and was able to pull the unconscious woman from the residence and then reentered the house to find and bring out the baby said Hull. NTVFD fire and EMS were toned out at 2320 to respond to the house fire and later (at 2324) was updated with the report of an unresponsive female said Hull.

Hull said the troopers began breathing for the woman with a bag-valve-mask device when NTVFD personnel, FF/EMT 2 Jessie Hook, arrived on scene. Hull said the baby was taken to a neighbor and put in their care. M-8 and E-8 arrived on scene and the woman was immediately put into M-8 and transported to Ketchikan General Hospital's Emergency Room. Trooper Huckstep was transported in stable condition to the ER by NTVFD personnel with smoke inhalation and increasing hoarseness and coughing said Hull.

Chief Hull said the woman regained conciseness at the Emergency Room and was able to explain how the fire started. She was burning trash in their fireplace insert when something flashed and caught pillows and bedding that was near the hearth on fire. The bedding was there to protect the baby from injury in case of a fall against the hearth. The woman took the baby back to the bedroom, put the baby in the crib and closed the door as she returned to the front room to attempt to extinguish the fire. She found the phone and dialed 911 but became overcome with smoke inhalation and fell to the floor unconscious before being able to give details of the emergency. She was found unconscious on the front room floor near the kitchen by Trooper Huckstep who crawled in under the smoke and heat to rescue her said Hull. - More...
Friday - November 06, 2009

Ketchikan: Alaskan Lighthouses Lit The Way; For Safer Southeast Maritime Travel By DAVE KIFFER - There are few places darker than the waters of Alaska on overcast nights. Over the centuries, hundreds of ships and thousands of mariners have come to grief on the rugged, unforgiving coast line.

Sentinel Island Lighthouse 1902
The first two lighthouses to be built were Five Fingers, at the confluence of Frederick Sound and Stephens Passage south of Juneau and Sentinel Island just north of Juneau in Lynn Canal.. Both lighthouses were "lit" on March 1, 1902.
Photograph courtesy United States Coast Guard

In some places, like Wrangell and Sergius narrows, dozens of blinking aids to navigation now light the way like Christmas bulbs strung to lead ships to safety. But in other areas, like the wide expanses of Clarence or Chatham straits, you can sail dozens of miles without seeing a single light.

Except for the lighthouses, the beacons of safety that the United States finally established in Alaska in the early 1900s, after the unregulated maritime chaos of the Klondike Gold Rush of 1897-99 led to hundreds of marine accidents in Alaska in a two-year period.

The first "lighthouse" in Alaska was in Sitka in 1834, according to Shannon Lowry in her excellent 1992 book, "Northern Lights: Tales of Alaska's Lighthouses and Their Keepers."

"The Russian American Company suffered terrible losses of ships and men on the perilous voyages from Siberia to its headquarters, eventually established at Sitka in Southeastern Alaska," Lowry wrote. "With the exception of a small whale-oil lantern placed in the cupola atop Baranof's Castle at Sitka around 1834, toward the end of Russian rule, no lights illuminated the brutal shores of Alaska."

Not much changed when American took control of the territory in 1867.

That year George Davidson of the United States Coastal Survey made an extensive survey of the Alaskan coast and recommended, in 1869, that two lighthouses be built in Sitka, two more near Kodiak, and two at Dutch Harbor in the Aleutians. In his report to President Andrew Johnson, he noted that hundreds of ships had gone aground in Alaskan waters. He also recommended that hundreds of other buoys, lights and other markers be deployed along the coast.

"Congress quietly shelved Davidson's report and took no action to reserve Alaskan lands for lighthouses," Lowry wrote. "At that point in American history, legislators and the eastern political establishment regarded the Alaska acquisition as pure folly." - More...
Friday - November 06, 2009

Viewpoints
Opinions/Letters
Basic Rules

Questions, please contact the editor at editor@sitnews.us or call 617-9696.

Ward Cove Comprehensive Plan By Mary Lynne Dahl - As an observer of what has been happening at Ward Dove this past 12 years, I agree wholeheartedly that before we sell Ward Cove piecemeal, we should develop a comprehensive, long term plan for that property. My 25 years as a financial planner have proven to me that planning produces much better results than shooting from the hip. The PIEER authors have some very good ideas for creating the kind of plan needed before any concrete actions are taken and their suggestions should be taken seriously. - More...
Wednesday - November 04, 2009

Heating and power generation By A.M.Johnson - Samuel Bergeron has it right, however I am not so sure that Petersburg and Wrangell, ahead of Ketchikan in this suggested heat form, has already been doing this to a high degree. It may be that the surplus power or the anticipated share of the Tyee power for Ketchikan is reduced up by these two town's recent and ongoing conversion activity to electrical heat. - More...
Wednesday - November 04, 2009

Democrats crushed By Tom Ferry - Obama was like an anchor around Corzines' neck. Now finally it is the beginning of the end of the Marxist Obama administrations complete gutting of America. with crushing defeats in key states the folks seem to finally be coming out of their trance. - More...
Wednesday - November 04, 2009

Loggerville By Rob Holston - On November 9, 2009 the KGB Assembly will be discussing Ward Cove, Loggerville and any other proposals that may be presented. - More...
Wednesday - November 04, 2009

Haloacetic Acid in the drinking water By Peggy Ayers - I am writing to let Dayle Amundson (and any other persons concerned with Haloacetic Acid in the water exceeding acceptable limits) know that according to the Minnesota Department of Health Haloacetic Acid can be removed from the drinking water using a Carbon Activated Filter. They can be installed as a whole house system or an under the sink system for use in drinking and cooking water. I do not know where these units can be purchased but I'm sure they can be found. - More...
Wednesday - November 04, 2009

Electric Heat By Samuel Bergeron - With the Swan-Tyee electrical intertie coming on line, it would be in all of our best interest as rate payers and owners of KPU and the Intertie, that we use it to its fullest extent. - More...
Monday PM - November 02, 2009

Health Care is in the Toilet! By Marie-Jeanne Cadle - I am still trying to get over the absurd implication by Mr. Peter Jensen a few months ago that un/underinsured people will somehow dirty his private toilet as he refers to his current health care. Mr. Jensen is also worried that access to health care by these apparently dirty individuals like myself, will somehow limit his access. I can assure Mr. Jensen that people such as myself; un/underinsured, will never have the opportunity to soil his precious private health care because 1) Mr. Jensen is Native American and has health care provided at tax payer expense that will never be available to the un/underinsured non-natives and 2) Mr. Jensen is military and has health care proved at tax payer expense that will never be available to un/underinsured non-military. - More...
Monday PM - November 02, 2009

Ward Cove by Rob Holston - I appreciate the information provided by the Ward Cove PIEER Group. Your idea of "..designting sections for appropriate uses." is in agreement with the Ward Cove Focus Group meeting Oct. 13, that called for the KGB to subdivide and offer for sale in a way compatible with community needs & economic development. I will be presenting the Loggerville Small Boat Harbor Business Plan at the next PLEADAC meeting the evening of Nov. 4, 2009. Anyone wanting to view plan details prior to the meeting, please email me. Plan Summary to follow: - More...
Monday PM - November 02, 2009




Public Meetings & Info

Ketchikan




CLASSIFIEDS' CATEGORIES

Announcements and
Help Wanted
For Sale / Free Stuff
Garage Sales
Homes / Apts/ Property
Pets
Wanted
Lost & Found
Publish Your Ad

---


Commercial Ads

Ward Cove By Don Borders - What's next in the on going saga of local government mismanagement? It's been eleven years ago that the Ward Cove Pulp Plant shut down and then average incomes for the area dropped extremely low. It's only been from outside help from the federal legislators and departments like Homeland Security that have influxed the local incomes to regenerate the revenue which fuels the two local governments through the taxation of the populous. (Walmart helped also, however it's the next to the smallest store they have.) Boys and Girls, it is time to quit playing games and get the property back on to the tax roles. - More...
Monday PM - November 02, 2009

Re: Congressional leadership By Jim Dornblaser - Mr. Stallings' letter is rather harsh in inferring Congress' lacking of leadership. He seems to prefer "Oligarchy" rule in handing policy/law making over to an un-elected body. - More...
Monday PM - November 02, 2009

Personal losses By Don Borders - I wish I had kept a list of all the Ketchikan Pulp Mill employees. In the past few months I knew three of the ex- pulp mills' employees who have died. The last one was Mike Diverty (see Coast Guard suspends search for Sitka Fisherman Monday, Oct. 26, 2009 ) Mike lost his home, his dignity and his family in losing his job due to the actions of the "Tree Huggers" forcing the closure of the Pulp Mill. - More...
Monday PM - November 02, 2009

Mike Smith's Photos By Peter Bolling - There is little I have enjoyed more in the past month or so than logging on to SitNews and finding a new photo by Mike Smith. Poetic. Thanks Mike. - More...
Monday PM - November 02, 2009

Haloacetic acid By Dayle Amundson - I also worry about what haloacetic acid does to humans. I just read Peggy Ayers letter. It is interesting that the KGB mails Mt. Point consumers of the water papers saying it has too much haloacetic acid in the water (over federal guidelines). I now BUY my drinking water. - More...
Monday - November 02, 2009

Tolerance, Good Grief By Charles Schilli - Ms Abajian, have you attended college? Those who believe they know best for every one are, in my experience, far more likely to be young and overly sure of themselves, and "Liberals". (They are not actually liberals, but totalitarians.) - More...
Monday - November 02, 2009

More Letters/Viewpoints
Webmail your letter or
Email Your Letter To: editor@sitnews.us

---

E-mail your news tips, news
releases & photos to:
editor@sitnews.us

SitNews
Stories in the News
©1999 - 2009
Ketchikan, Alaska

M.C. Kauffman, Webmaster/Editor,
Graphic Designer & Publisher
editor@sitnews.us
907 254 1948

In Memory of SitNews' first editor,
Richard (Dick) Kauffman
1932-2007

Locally owned & operated.
Online since 1999

Articles & photographs that appear in SitNews may be protected by copyright and may not be reprinted or redistributed without written permission from and payment of required fees to the proper sources.