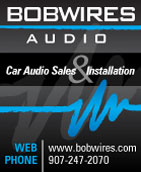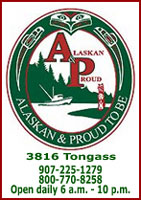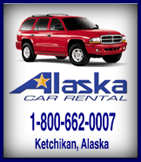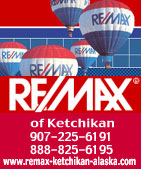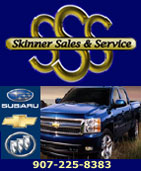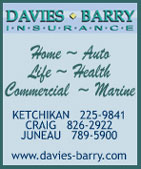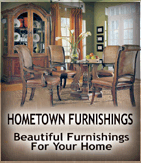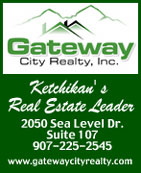 Contact


Call 254-1948


Webmail Letters


News Tips


Search Sitnews


Copyright Info


Archives
Today's News


Alaska


Ketchikan


Top Stories


U.S. News


U.S. Politics


Stock Watch


Personal Finance


Science News


US Education News


Parenting News


Seniors News


Medical News


Health News


Fitness


Offbeat News


Online Auction News


Today In History


Product Recalls


Obituaries
Quick News Search


Alaska


Ketchikan


SE Alaska


Alaska News Links
Columns - Articles


Dave Kiffer


Fish Factor


Chemical Eye On...


Parnassus Reviews


George Pasley


More Columnists
Historical Ketchikan


June Allen


Dave Kiffer


Louise B. Harrington
Ketchikan Arts & Events


Ketchikan Museums


KTN Public Library


Parks & Recreation


Chamber
Ketchikan Recognition

BBBS Match of the Month
Lifestyles


Home & Garden


Food & Drink


Arts & Culture


Book Reviews


Movie Reviews


Celebrity Gossip
On the Web


Cool Sites


Webmaster Tips


Virus Warnings
Sports


Ketchikan Links


Top Sports News
Public Records


FAA Accident Reports


NTSB Accident Reports


Court Calendar


Court Records Search


Wanted: Absconders


Sex Offender Reg.


Public Notices
Weather, Webcams


Today's Forecast


KTN Weather Data


AK Weather Map


Ketchikan Webcam


SE AK Webcams


Alaska Webcams


AK Earthquakes


Earthquakes
TV Guide


Ketchikan
Ketchikan Phone Book


Yellow Pages


White Pages
Government Links


Local Government


State & National


Tuesday
September 08, 2009



Blank Island Sunset
Front Page Photo by BILL MECK

Alaska: Researchers to pursue Alaskan octopus with divers, tags and pots - Researchers from NOAA's Alaska Fisheries Science Center are going to take a serious look at octopus starting in winter 2010.

Giant Pacific Octopus glaring at the photographer from its den off of Sunset Drive north of Ketchikan.
Photo by Mike Kurth, Ketchikan, AK ©2008

"Scientists haven't learned enough about octopus in Alaska to provide for an ecosystem approach to management," said Doug DeMaster, Director of the Alaska Fisheries Science Center. "The knowledge our researchers gain will be valuable on its own, but will be even more so if anyone wants to establish an octopus fishery here. We'd like to get ahead of that possibility with this North Pacific Research Board-funded project."

"We've seen earlier investigations into commercial octopus fishing in Alaska and global markets for octopus are leading to increased interest in retention and sale over the past few years," DeMaster added.

Octopus caught accidentally in groundfish fisheries in federal waters off Alaska may be sold, but there is no commercial octopus fishery in federal waters. In state waters (within 3 miles of the coastline), directed octopus fishing is allowed only with a special Commissioner's permit from Alaska Department of Fish and Game.

"If we're going to be ready to manage Alaskan octopus as a commercial species, we need know a lot more about them, starting with their reproductive seasons," said lead researcher Elizabeth Conners of the Alaska Fisheries Science Center.

The best guess now is that octopus in the Gulf of Alaska and the Bering Sea have distinct reproductive seasons, with mating in the late summer to early fall, spawning in the fall to winter months, and incubation throughout the winter and early spring. Researchers would like to find out whether octopus in Alaska have a seasonal migration pattern, as they do in northern Japan.

The main focus of the Alaska Fisheries Science Center study is on giant Pacific octopus (Enteroctopus dofleini), which are the largest in the world. While seven or eight species of octopus can be found in Alaskan waters, giant Pacific octopus are the largest and are most likely to be encountered by fishermen and divers. Giant octopus captured in crab or groundfish pots often weigh 50 lbs or more. - More...
Tuesday - September 08, 2009

Klawock: Partnerships Make A Difference By MARIANNE MILL - For over a decade, Senior Center Manager Roberta Foss dreamed of a new, larger senior center facility to serve elders in the Craig and Klawock area with a variety of services and activities. Roberta and her staff provide meals and transportation to elders and family caregiver support services out of the senior center facility owned by Tlingit and Haida Regional Housing Authority (THRHA). THRHA has graciously provided the space for a minimal charge to Southeast Senior Services (SESS) which has offered senior services to local elders since 1984. The facility also includes senior housing.

SEARHC Wellness Coordinator June May leads the
Sit & Be Fit Class at the Klawock Senior Center.
Photo by Beverlee Tyner

When the time came to renovate the senior housing complex, THRHA succeeded in obtaining funding from the Rasmuson Foundation, Denali Commission, the Klawock Cooperative Association, Housing and Urban Development (HUD), and Alaska Housing Finance Corporation in order to triple the square footage of the senior center. The renovation increased the number of housing units and included accessible units for people with disabilities, a new open and spacious lobby, a reading/activity room, an exercise room, installation of an elevator, an expanded lunch room with a breathtaking view, a commercial kitchen, and offices for the senior center manager and a new service coordinator.

While the building was being renovated, THRHA staff approached SESS to support a grant application to HUD to provide case management services to residents who are elderly or have disabilities. A third partner in the grant application was SEARHC (Southeast Alaska Regional Health Consortium), which agreed to offer health promotion opportunities as part of the project. The grant was awarded to THRHA and in September of 2008, THRHA contracted with SESS to provide case management/service coordination services.

Roberta's dream came true on November 18th, 2008 with the grand opening of the beautiful new Klawock Senior Center. Beverlee Tyner was hired by SESS as the Service Coordinator to help Klawock Senior Center residents and seniors on the island stay healthy and independent through access to resources and a variety of activities. - More...
Tuesday - September 08, 2009

Columns - Commentary

TOM PURCELL: Incivility's Origin - It's no wonder so many people are being less civil of late. I think it has to do with technology.

Civility in America dates back to George Washington's time. Washington authored a pamphlet, "Rules of Civility & Decent Behavior in Company and Conversation," to define and strongly advocate civil society in early America.

For years, American children were taught good manners by their parents, and adults defined themselves as ladies or gentlemen based on how well they practiced good etiquette.

But technology has chipped away at such efforts. It has provided multiple opportunities for people to be rude.

Consider the invention of the telephone.

Communicating on the telephone is less personal than talking face to face. People are more prone to say nasty things -- particularly to telemarketers who have a knack for calling just as you sit down for dinner.

The answering machine introduced additional opportunities for rudeness. Some felt it was rude to use the device to screen calls. Others felt it was rude not to leave a message when the machine picked up.

Telephone rudeness kicked into high gear when *69 was invented. By dialing *69, you could quickly identify the number of the person who had last phoned you.

I got home once to find someone had hung up on my answering machine. Agitated, I dialed *69 and phoned it back.

"Hello, this is Victoria. Bill and I aren't in right now," said the answering machine. I didn't recognize the person and hung up.

A few moments later, my phone rang. I picked it up.

"Hello," I said.

"Who is this?" said a woman.

"Who is this?"

"You called me and hung up!" she said. Ah, it was Victoria.

"You called me and hung up!" I said.

"Star 69 took me to you!" she said.

"Star 69 took me to you!" I said.

Victoria uttered several profanities, then hung up.

The cell phone soon made things worse. People, oblivious to their fellow human beings, prattle on in movie theaters, libraries and other public places.

The Internet, e-mail and blogging kicked rudeness into an even higher gear. A new era of anonymity was unleashed -- a new era of nastiness and mean-spiritedness, particularly where politics are concerned.

Which brings us to this summer's town hall debates. - More...
Tuesday - September 08, 2009




Public Meetings & Info

Ketchikan




CLASSIFIEDS' CATEGORIES

Announcements and
Help Wanted
For Sale / Free Stuff
Garage Sales
Homes / Apts/ Property
Pets
Wanted
Lost & Found
Publish Your Ad

---


Commercial Ads

Front Page Archives
September 2009

| | | | | | | |
| --- | --- | --- | --- | --- | --- | --- |
| S | M | T | W | T | F | S |
| | 31 | 01 | 02 | 03 | 04 | 05 |
| 06 | 07 | 08 | 09 | 10 | 11 | 12 |
| 13 | 14 | 15 | 16 | 17 | 18 | 19 |
| 20 | 21 | 22 | 23 | 24 | 25 | 26 |
| 27 | 28 | 29 | 30 | | | |

Viewpoints
Opinions/Letters
Basic Rules

If you submit a letter and it is not published, please contact editor@sitnews.us or call 254-1948.

Public nuisance By Harry Howard - I have lived in Ketchikan for a little over a year now. One thing I can say is that this town is full of unusual people, but I quickly felt at home and fit right in. I love the ability to walk everywhere, and do so many things outside while being close to home. I try to encompass my son in everything that I do, and while doing so I teach him good morals, ethics, and respect for himself and others. I am military and since joining I represent my service well at all times. I have lived in 3 major cities, and Ketchikan children stand out from any place I have lived in. - More...
Tuesday - September 08, 2009

Logjam: Give Peace a Chance By Lindsey Ketchel - The Tongass is the foundation of Southeast Alaska's culture, communities and economy, so we owe it to our fellow and future Southeast Alaskans to work together to keep all three thriving. - More...
Tuesday - September 08, 2009

Lost Priorities at UAS Ketchikan Campus By Robert Warner - The SITNEWS article of August 31, 2009 describing the hiring of a new college humanities faculty member sadly reflects the lost priorities of UAS Ketchikan Campus. With high unemployment and few opportunities for young people in our community, one would think that UAS Ketchikan would focus most funding and programs on training that helps students learn essential skills related to work and employment. Instead, the school seems to drift aimlessly into an arty dreamland called "the humanities." - More...
Tuesday - September 08, 2009

Memorial Fund By Deborah Harney - Every mother loves her son, and as far as I know, only one mother in history had a perfect, blameless one. That being said, I hope that any funds generated by the Jared Azure Memorial Fund will be donated to Kyle Palmer to help pay his medical bills as he recovers in intensive care with no insurance.
- More...
Tuesday - September 08, 2009

Don Ross: Correction By Doug Barry - I wrote a note about Don Ross last week where I inadvertently said I was a passenger of his on a harrowing flight when he flew for Webber Air. I meant Ketchikan Air Service, which he owned with Mike Salazar and others. - More...
Tuesday - September 08, 2009

Health Care Reform We Can All Live With By Alan Emmert - "All Americans should have a health insurance plan that they can afford, own, and keep - that government can never take over or take away. No American should be forced into a government-run system that limits their choices and rations their care." - Senator Jim DeMint - More...
Tuesday - September 08, 2009

Too many suicides and attempts By Mykayla Martin - I know grief can be hard and sometimes you need someone to blame for such a tragedy but the only person responsible for a suicide is the person hurting them self. I feel this is the easy way out. There is always another or better option. Our community is so close and knowing the impact some of these kids had on it, they should have more than enough people to turn to for help and guidance, before resulting in death. You can't blame anyone other than the one hurting themselves. - More...
Tuesday - September 08, 2009

Recreation Center By Inge Kummant - As the bad weather approaches, it is necessary once again for our young people to find safe and interesting indoor activities. - More...
Tuesday - September 08, 2009

Sea Otters By Jean Bland - The Fish and Game planted Sea Otters on the south end of Hydaburg, out where we got our Abalone, Crab, Clams and other shell fish. We always got enough shell fish for the winter's supply, Now you go out there and there are NO SHELL FISH left out there. - More...
Tuesday - September 08, 2009

Disappointed with Russia By Mark N. Katz - Russians, we know, have a long list of grievances against the West in general and America in particular. NATO expansion, intervention against Serbia, recognition of Kosovo, the plan to deploy an American ballistic missile defense system in Eastern Europe, and criticism of Russia for going to war with Georgia are just some of them. But has it ever occurred to Russians that Westerners - especially those who hoped for friendly relations with Russia after the Cold War - might be disappointed in Russia? Well, we are. And there are several reasons why. - More...
Tuesday - September 08, 2009

More Letters/Viewpoints
Webmail your letter or
Email Your Letter To: editor@sitnews.us

---

E-mail your news tips, news
releases & photos to:
editor@sitnews.us

SitNews
Stories in the News
©1999 - 2009
Ketchikan, Alaska

M.C. Kauffman, Webmaster/Editor,
Graphic Designer & Publisher
editor@sitnews.us
907 254 1948

In Memory of SitNews' first editor,
Richard (Dick) Kauffman
1932-2007

Locally owned & operated.
Online since 1999

Articles & photographs that appear in SitNews may be protected by copyright and may not be reprinted or redistributed without written permission from and payment of required fees to the proper sources.