Partnerships Make A Difference
By MARIANNE MILL
September 08, 2009
Tuesday

Klawock, Alaska - For over a decade, Senior Center Manager Roberta Foss dreamed of a new, larger senior center facility to serve elders in the Craig and Klawock area with a variety of services and activities. Roberta and her staff provide meals and transportation to elders and family caregiver support services out of the senior center facility owned by Tlingit and Haida Regional Housing Authority (THRHA). THRHA has graciously provided the space for a minimal charge to Southeast Senior Services (SESS) which has offered senior services to local elders since 1984. The facility also includes senior housing.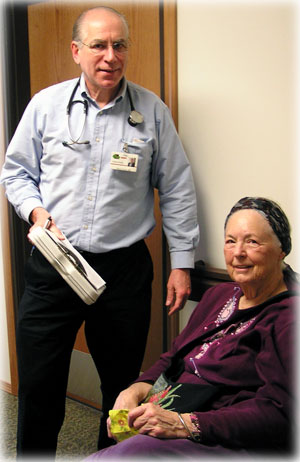 Alicia Roberts Clinic Medical Director Dr. Fribush assists senior housing resident Joy Weber at one of the Senior Center medical clinics.
Photo by Beverlee Tyner
When the time came to renovate the senior housing complex, THRHA succeeded in obtaining funding from the Rasmuson Foundation, Denali Commission, the Klawock Cooperative Association, Housing and Urban Development (HUD), and Alaska Housing Finance Corporation in order to triple the square footage of the senior center. The renovation increased the number of housing units and included accessible units for people with disabilities, a new open and spacious lobby, a reading/activity room, an exercise room, installation of an elevator, an expanded lunch room with a breathtaking view, a commercial kitchen, and offices for the senior center manager and a new service coordinator.
While the building was being renovated, THRHA staff approached SESS to support a grant application to HUD to provide case management services to residents who are elderly or have disabilities. A third partner in the grant application was SEARHC (Southeast Alaska Regional Health Consortium), which agreed to offer health promotion opportunities as part of the project. The grant was awarded to THRHA and in September of 2008, THRHA contracted with SESS to provide case management/service coordination services.
Roberta's dream came true on November 18th, 2008 with the grand opening of the beautiful new Klawock Senior Center. Beverlee Tyner was hired by SESS as the Service Coordinator to help Klawock Senior Center residents and seniors on the island stay healthy and independent through access to resources and a variety of activities.
Reviewing her first year in this role, Beverlee shares the highlights: The Sit and Be Fit Program offers a good aerobic work out and socialization, while promoting better balance and reducing the risk of falls. SEARHC Wellness Coordinator June May worked with Beverlee to lead the first 8-week session and then turned the reins over to Beverlee to continue the program. June will also facilitate a Strong Woman weight training class at the senior center in the spring.
SEARHC has provided exercise equipment, a free weight set, ankle weights, yoga mats, and stretch bands for use in the exercise room, as well as group and individual instruction on the use of these items. The Medical Director of SEARHC's Alicia Roberts Clinic, Dr. Myron Fribush, has initiated medical clinics at the Klawock Senior Center the 2nd and 4th Thursday of each month.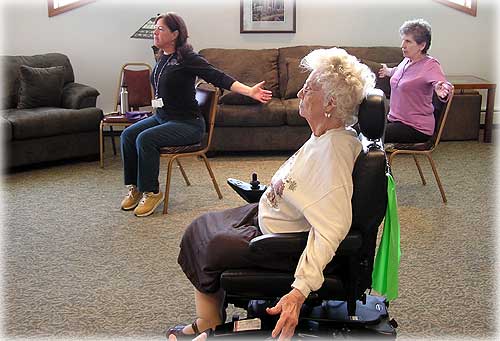 SEARHC Wellness Coordinator June May leads the
Sit & Be Fit Class at the Klawock Senior Center.
Photo by Beverlee Tyner

In June, SEARHC Diabetes Educator Julie Sturdevant and Beverlee attended the "Living Well Alaska" training in Anchorage, courtesy of the University of Alaska's Cooperative Extension Office. On September 29th, they will begin a six week series of 2- _ hour workshops on Tuesdays at the Klawock Senior Center. The series will teach participants how to self-manage chronic medical conditions, teach life skills, and develop action plans to pave the way to healthier lives. The two also collaborated to start a community garden project at the Klawock Senior Center.
"The partnership among Tlingit-Haida Regional Housing Authority, SEARHC, and Southeast Senior Services has opened up a world of opportunities for the elders on Prince of Wales Island," explains Beverlee. Alaska Legal Services, the Craig Library, and Klawock School's WAVE creative writing class have also made contributions toward the project's success. "So much more can be done when agencies support each other and work together as partners."

Marianne Mills, M.S.W., is the Program Director of Southeast Senior Services (SESS) which offers home and community-based services for older Alaskans throughout the Southeast region. SESS is a part of Catholic Community Service and assists all persons regardless of their faith.
On the Web:
SEARHC
www.searhc.org

Southeast Senior Services (SESS)
www.ccsjuneau.org/8,southeastseniorservices

Tlingit and Haida Regional Housing Authority (THRHA)
www.thrha.org

Source of News & Photographs:
Southeast Senior Services (SESS)
http://www.ccsjuneau.org/8,southeastseniorservices

E-mail your news & photos to editor@sitnews.us


Publish A Letter in SitNews Read Letters/Opinions
Contact the Editor
SitNews ©2009
Stories In The News
Ketchikan, Alaska