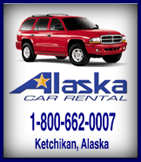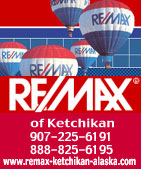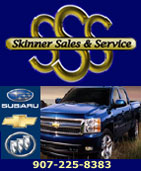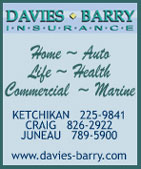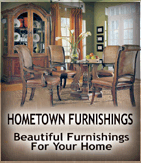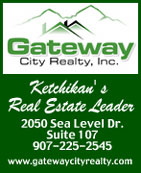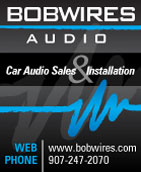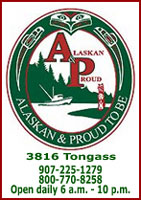 Contact


Call 617-9696


Webmail Letters


News Tips


Search Sitnews


Copyright Info


Archives
Today's News


Alaska


Ketchikan


Top Stories


U.S. News


U.S. Politics


Stock Watch


Personal Finance


Science News


US Education News


Parenting News


Seniors News


Medical News


Health News


Fitness


Offbeat News


Online Auction News


Today In History


Product Recalls


Obituaries
Quick News Search


Alaska


Ketchikan


SE Alaska


Alaska News Links
Columns - Articles


Dave Kiffer


Fish Factor


Chemical Eye On...


Parnassus Reviews


George Pasley


More Columnists
Historical Ketchikan


June Allen


Dave Kiffer


Louise B. Harrington
Ketchikan Arts & Events


Ketchikan Arts


Ketchikan Museums


KTN Public Library


Parks & Recreation
Ketchikan Recognition


BBBS Matches
Lifestyles


Home & Garden


Food & Drink


Arts & Culture


Book Reviews


Movie Reviews


Celebrity Gossip
On the Web


Cool Sites


Webmaster Tips


Virus Warnings
Sports


Ketchikan Links


Top Sports News
Public Records


FAA Accident Reports


NTSB Accident Reports


Court Calendar


Court Records Search


Wanted: Absconders


Sex Offender Reg.


Public Notices
Weather, Webcams


Today's Forecast


KTN Weather Data


AK Weather Map


Ketchikan Webcam


SE AK Webcams


Alaska Webcams


AK Earthquakes


Earthquakes
TV Guide


Ketchikan
Ketchikan Phone Book


Yellow Pages


White Pages
Government Links


Local Government


State & National


Saturday
October 17, 2009



Clover Pass: Humpbacks Feeding
Front Page Photo by JIM LEWIS© jlewis[at]kpunet.net

Ketchikan: Local Emergency Department Nurse Receives Award - Bev Crum, Nurse Manager for the Emergency Department of Ketchikan General Hospital in Ketchikan, Alaska, was the recipient of the Nurse Manager Award presented by the Emergency Nurses Association (ENA) at its annual conference on October 8 in Baltimore.

William T. Briggs, 2009 ENA President, presents Bev Crum, Nurse Manager for the Emergency Department of Ketchikan General Hospital ENA's Nurse Manager Award.
Photograph courtesy KGH

The award honors a nurse who has consistently demonstrated excellence in the profession of emergency nursing and who has made significant contributions to the profession through emergency nursing management. The recipient is an individual responsible for hiring, firing, corrective action, personnel evaluation, staffing and program development, who also demonstrates innovative program development, mentoring and leadership skills, and serves as a consultant on emergency nursing issues to other groups.

"We are fortunate and proud to have nursing leaders like Bev here in Ketchikan," said Kendall Sawa, VP of Patient Care at KGH. "Bev is a long time resident of Ketchikan and represents not only KGH, but also our community. It is not at all surprising that she would be recognized nationally like this." - More...
Saturday - October 17, 2009

Ketchikan: First Book Southeast Alaska Receives Grant; Now Accepting Applications - First Book Southeast Alaska Chair Charlotte Gloverd announced that First Book Southeast recently received a grant of $500 from the Juneau Community Foundation and the Machamer Charitable Fund to provide general support for book grants to community organizations in Southeast Alaska.

First Book-Southeast Alaska is part of First Book's national network of volunteer led Advisory Boards who provide new books to children in need in communities across the country. First Book-Southeast Alaska works to promote and facilitate the distribution of new books to literacy programs in our region.

Access to books is essential to reading development. However, 60 percent of low-income families have no books for children in their homes. By providing children from low-income homes books they can take home and keep, First Book targets the only variable that correlates significantly with reading scores- the number of books in the home. - More...
Saturday - October 17, 2009




Alaska: Alaska Native First Federally Recognized Female Sergeant Major - Military life is difficult; it's challenging and sometimes, it's just downright hard. Soldiers make sacrifices everyday to serve in the military and have the privilege of wearing the uniform.

Lillian Aukongak, an Inupiaq Alaska Native, is the first female Alaska Native to be federally recognized as a sergeant major, the highest enlisted rank in the Army, in the Alaska Army National Guard.
Photo by Capt. Guy Hayes, DMVA PAO

For one Soldier of the Alaska Army National Guard, those sacrifices and challenges have paid off. Lillian Aukongak, an Inupiaq Alaska Native, is the first female Alaska Native to be federally recognized as a sergeant major, the highest enlisted rank in the Army, in the Alaska Army National Guard. She was pinned Oct. 1 in a promotion ceremony held at the Alaska National Guard Armory. - More...
Saturday - October 17, 2009

Alaska: State Denying Some Disabled Veterans Their Legal Prescription Medicine Benefits; Legislators, Advocates Propose Fix - Friday three legislators, along with veterans advocates, presented a solution to a frustrating problem for military veterans living at Alaska's Pioneer Homes. Currently Alaska's Pioneer Homes do not allow some disabled veterans to receive the free prescription medicine benefits they are entitled to under federal law. Under federal law, disabled veterans are entitled to free prescription medicine if they have received a 51 percent or higher disability rating.

Rep. Les Gara (D-Anchorage), Rep. Nancy Dahlstrom (R-Eagle River) and Sen. Bill Wielechowski (D-Anchorage) joined to send a letter (attached) to the director of the Pioneer Homes to propose a solution to the prescription medicine problem. Wielechowski and Dahlstrom are co-chairs of the Joint Armed Services Committee.

"Veterans have earned this benefit and deserve it," said Beatrice Combs, who brought the problem to light. "Moving into a private home is expensive and why should we charge them more for prescription drugs? Even a few hundred dollars a month is a lot."

"To force veterans who get free medications from the VA to have to purchase them because of conflicting rules is so typical of the issues many veterans face," said Ric Davidge, Vietnam Veterans of Alaska's state council president. "Representative Gara, Representative Dahlstrom and Senator Wielechowksi have worked very hard to solve this bureaucratic conflict. We hope the State can find a solution within these suggestions," Davidge has also been seeking a solution. - More...
Saturday - October 17, 2009

Alaska Science: Mobile reindeer processing unit deployed to western Alaska By NED ROZELL - Like herds of northern cattle that lived on tundra plants, more than 600,000 reindeer ranged over Alaska less than a century ago. Today, reindeer numbers are down to about 10,000 or so, due to their tendency to elope with caribou, be eaten by wolves and bears, and other reasons.

At one time, more than 600,000 reindeer ranged over Alaska. Now there are about 10,000 in state.
Photo courtesy UAF Reindeer Research Program.

Managers with the University of Alaska Fairbanks Reindeer Research Program are trying to give a boost to the reindeer industry on the Seward Peninsula by providing a mobile slaughter facility along with an expert instructor who knows how to use it. - More...
Saturday - October 17, 2009

Alaska: Vigilance Against Identity Theft Urged - The Alaska Department of Law is observing national Protect Your Identity Week by urging consumers to be vigilant in protecting personal information.

The National Foundation for Credit Counseling and the Councils of Better Business Bureaus are launching the identify-theft initiative Saturday, and it runs through Oct. 24. Identity theft has topped the Federal Trade Commission's list of consumer fraud complaints since at least 2003. - More...
Saturday - October 17, 2009

Alaska: Alaska Federation of Natives Annual Convention Scheduled - The Alaska Federation of Natives will hold its 2009 Convention on Thursday, Friday and Saturday - October 22, 23 and 24, at the Dena'ina Civic and Convention Center in Anchorage.

The theme of this year's Convention is "Northern Dreams: Our Historic Journey Continues." Delegates from regional for-profit and non-profit corporations and from village tribes and corporations will attend. The Convention is open to the public at no charge, and everyone is invited to attend. - More...
Saturday - October 17, 2009

Alaska: Long Standing Drug Abuse Prevention Campaign Recognized - The United States Senate has passed a resolution, sponsored by U.S. Sen. Lisa Murkowski, R-Alaska, that commemorates the Annual Red Ribbon Campaign, the oldest and largest drug prevention program in the nation, reaching millions of youth through Red Ribbon Week events.

Murkowski's resolution, recognizing October 17-25, 2009, as Red Ribbon Week, passed the Senate by unanimous consent.

Red Ribbon Week is a national, week-long event commemorating the life of Drug Enforcement Administration Special Agent Enrique Camarena, who was killed in Mexico in the line of duty in 1985. Shortly after his death, his friends launched "Camarena Clubs" in his hometown of Calexico, California. In his honor, club members wore red ribbons and pledged to live drug-free lives. The campaign quickly gained national prominence and in 1988 Congress proclaimed the first National Red Ribbon Week. - More...
Saturday - October 17, 2009




Public Meetings & Info

Ketchikan




CLASSIFIEDS' CATEGORIES

Announcements and
Help Wanted
For Sale / Free Stuff
Garage Sales
Homes / Apts/ Property
Pets
Wanted
Lost & Found
Publish Your Ad

---


Commercial Ads

Front Page Archives
Sept. Oct. 2009

| | | | | | | |
| --- | --- | --- | --- | --- | --- | --- |
| S | M | T | W | T | F | S |
| | 31 | 01 | 02 | 03 | 04 | 05 |
| 06 | 07 | 08 | 09 | 10 | 11 | 12 |
| 13 | 14 | 15 | 16 | 17 | 18 | 19 |
| 20 | 21 | 22 | 23 | 24 | 25 | 26 |
| 27 | 28 | 29 | 30 | 01 | 02 | 03 |
| 04 | 05 | 06 | 07 | 08 | 09 | 10 |
| 11 | 12 | 13 | 14 | 15 | 16 | 17 |

Viewpoints
Opinions/Letters
Basic Rules

Questions, please contact the editor at editor@sitnews.us or call 617-9696.

KIC Election October 19th: No to Proposition 2 By Axel & Kathleen Svenson - Get out and vote at the KIC Special election at the Mall Monday, 8 - 8! This election is crucial for all tribal members. The silence surrounding the election, and particularly the silence on Proposition 2, should speak volumes to you. This silence is a big red flag waving to all concerned. - More...
Saturday - October 17, 2009

WARD COVE FOCUS GROUP By Rob Holston - A group of local interested citizens met for nearly 2 hours on Oct. 13, 2009 at the offices of R&M Engineering to discuss Ward Cove. Trevor Sande provided maps of the pulp mill side of the cove with subdivision and roadway boundaries indicated. The subdivision plan had been previously prepared for a past owner of Ward Cove. - More...
Saturday - October 17, 2009

Thank you all for a Successful Car Show By Laurel Bray - The Ketchikan Kruzers Car Club would like to extend a huge thank you to the Ketchikan Plaza for allowing us, along with the Ketchikan Harley Riders Association to have a car/bike show inside the Plaza on October 10th and 11th. To Judy and Dave Zenge and your Plaza staff, we can't thank you enough for helping us make this a successful show. Who would have thought 20 cars could fit inside the Plaza. We asked the public to vote for their favorite cars, by Saturday night we had a 3 way tie for all 3 places. We continued the voting on Sunday and the winners were: - More...
Saturday - October 17, 2009

Kids at bus stops By Karen Brown - Every morning I take my foster grandson to the bus stop. We sit and wait until the bus leaves for Fawn Mountain. In the last few mornings we have watched children from the Houghtling Bus Stop. We have watched them fighting with each other. One morning, one little boy was being sat on while others were "tickling" him, rocks are thrown at kids and at other people's property. There are a lot of children here and some are rather small and can't fight back. My daughter went over and rescued the little boy who was being sat on, the day before or sometime last week she spoke to them about throwing rocks at each other and property. - More...
Saturday - October 17, 2009

Drinking water By Kirk Amundson - This is to ask a few questions -- what cancers does haloacetic acids cause??? How many years does this take to cause cancer??? Why are we spending 4.2 million if we don't know if this is going to fix the problem??? - More...
Saturday - October 17, 2009

Focus on the positive By Ivy Rose - I have tried really hard not to write any opinions on Sitnews and to say what is on my mind, but after reading so many of the letters written -- and granted the letters are just opinions -- it made me think. What if when we get put into situations that we don't like or agree with, we look at the situation as a whole? - More...
Saturday - October 17, 2009

Afghanistan Debacle On The Horizon? By Donald A. Moskowitz - President Obama is trying to decide our military strategy in Afghanistan. He is mulling over input from his civilian and military advisers, and members of Congress, but he cannot make a timely decision because of his lack of military and national security experience. His community organizing background is not very helpful in this situation. - More...
Saturday - October 17, 2009

RE: LAWYERS AND MEANINGFUL HEALTH CARE REFORM By Chris Elliott - Great letter! Between tort reform and making insurance companies compete across state lines, we'd have a winner! - More...
Saturday - October 17, 2009

LAWYERS AND MEANINGFUL HEALTH CARE REFORM By Andy Rauwolf - Thirty years ago my family doctor explained to me that one of the biggest reasons he had to charge so much for his services was because of the high cost of his malpractice insurance. Since that time this problem has only gotten worse. - More...
Tuesday - October 13, 2009

Noise Complaint? By Terri Wenger - Well today was a rough one and it's not over yet. We have had a car alarm going off for over 4 hours, and still going. There has been more than one complaint to the police department. A car alarm is loud and very irritating. Migraine Headache Style. But our police department can't do anything about it, why? I have a scanner and believe me the petty tattle telling that goes on and our police have to respond to is terrible in this town. This isn't petty, why can't you file a noise complaint on car alarms? Why do people use car alarms in this small town? - More...
Tuesday - October 13, 2009

Ridiculous policies By Holly Finley - Oh Lordy don't get me started on how ridiculous KIC's policies are, perhaps they should take some notes from the Native hospital in Anchorage where I've had the pleasure of being taken care of completely by the doctors and staff. - More...
Tuesday - October 13, 2009

High Costs & Judgmental Medicine By Charles Moon - I am so sad that Mr. Parks feels the way he does about his medical care. The fact that he is alive and able to write his opinions means the system worked for him. I am sure Mr. Parks has a family and friends that love him. There is no price that can be put on a human life. I could have been his nurse at KGH or on the ambulance that saved his life. - More...
Tuesday - October 13, 2009

Littering By Dustin Hofeling - To the person(s) who sees fit to throw their McDonald's wrappers out their window on Ketchikan Lakes Road every single day - shame on you! How can you be so disrespectful of other people's property, the land, and our city? - More...
Tuesday - October 13, 2009

Customer Service By Holly Finley - Poor and negligent customer service is on the rise. I understand we all have our days and your energy affects those around you, having said that, I'm not getting paid to shop at your store, however you are getting paid to provide a service. That is your purpose. If you are going to do a job, do it well. A smile and good manners goes a LONG way. - More...
Tuesday - October 13, 2009

More Letters/Viewpoints
Webmail your letter or
Email Your Letter To: editor@sitnews.us

---

E-mail your news tips, news
releases & photos to:
editor@sitnews.us

SitNews
Stories in the News
©1999 - 2009
Ketchikan, Alaska

M.C. Kauffman, Webmaster/Editor,
Graphic Designer & Publisher
editor@sitnews.us
907 254 1948

In Memory of SitNews' first editor,
Richard (Dick) Kauffman
1932-2007

Locally owned & operated.
Online since 1999

Articles & photographs that appear in SitNews may be protected by copyright and may not be reprinted or redistributed without written permission from and payment of required fees to the proper sources.