'Lawyer's Wig'
Wild fungi offer unusual beauty during the fall. The shaggy mane, or lawyer's wig, can be easily found during October all around Ketchikan - not surprising as they are most abundant with fall rains. - More...
Front Page Photo By Chris Wilhelm
Ketchikan: Ketchikan Health Fair to feature the Colossal Colon - The Ketchikan Health Fair, Alaska's largest single site health fair, will take place on Saturday, November 5th, 8am to 1pm at the Plaza Mall. This year the Health Fair will feature the first Alaska visit of The Colossal Colon (nicknamed Coco). Coco's visit is sponsored by Ketchikan General Hospital, First City Council on Cancer, Ketchikan CHARR, and the City of Ketchikan.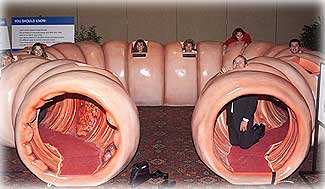 Coco, the Colossal Colon
Photograph by Bob Juechter
Photograph courtesy Ketchikan General Hospital
Cancer of the colon and/or rectum is diagnosed in more than 140,000 Americans yearly. "And this isn't a disease limited to the elderly," said Deborah Aaron, MD, Chair of the KGH Cancer Committee and one of the prime movers in bringing Coco to Ketchikan. "About one in nine cases affect people under age 50", Aaron stated.
At 20-feet long and four feet high, Coco is a replica of a colon that features polyps, cancer and even hemorrhoids. Coco has appeared around the nation at health fairs, state fairs, malls and sports stadiums to draw attention to this often-preventable disease. In addition to viewing Coco, visitors may pick up a variety of information on colon cancer, including colo-care kits. - More...
Tuesday - October 25, 2005
National: Death toll for U.S. soldiers in Iraq reaches 2,000 By MARA LEE - The 2,000th soldier to die in Operation Iraqi Freedom died Saturday, but the Pentagon just released his name Tuesday.
It was a grim milestone in the war that began a little more than two and a half years ago. - More...
Tuesday - October 25, 2005
National: GOP bitterly divided over federal spending By ZACHARY COILE - Republican efforts to cut billions of dollars of federal spending to pay for Hurricane Katrina relief are dividing the party and sparking feuds between fiscal hawks and members trying to protect programs that benefit their home states.
House GOP leaders had to postpone a vote last week on a plan to increase the proposed cuts from $35 billion to $50 billion after Majority Leader Roy Blunt, R-Mo., admitted he lacked the votes to pass it.
But it's not clear that House leaders will have the votes when the measure is brought to the floor again this week. Some Republicans are threatening to defect, saying the plan cuts too deeply into programs such as food stamps, student loans, and health care for the elderly and the poor. - More...
Tuesday - October 25, 2005
National: Bush's pick for Fed chief well-received By MARY DEIBEL - In choosing Ben Bernanke to head the Federal Reserve, President Bush has opted for a known quantity and straight-talking economist as Alan Greenspan's successor when the veteran Fed chief retires in January after steering monetary policy since 1987.
Bernanke, a 51-year-old Ivy League economist, is an inflation hawk who was also Wall Street's top choice to succeed Greenspan even though Republican supply-siders were pushing for a more ideological pick devoted to even steeper tax cuts to spur growth. - More...
Tuesday - October 25, 2005
National: U.S. death toll in Iraq nears 2,000 By EDWARD EPSTEIN - It's a grim milestone that no one wants to see come about, but the United States is nearing 2,000 military deaths in Iraq.
Thirty-two months after President Bush launched an invasion to oust Saddam Hussein, experts and advocates disagree on whether the looming benchmark will further erode public or congressional support for the war that the president promises to continue until a successful conclusion.
As of Monday, the official Defense Department tally of Americans killed in Iraq stood at 1,987, while the unofficial Web site Iraq Coalition Casualty Count put the total at 1,997. - More...
Tuesday - October 25, 2005
National: Support for war in Iraq wanes By THOMAS HARGROVE and GUIDO H. STEMPEL III - Public support for the U.S. military occupation of Iraq has dwindled significantly in recent months even as the fledgling government in Baghdad achieves important milestones toward democratic rule.
The public is now evenly divided over whether to begin an immediate troop withdrawal before the Iraqi government is stable, according to a survey of 1,005 adult residents of the United States conducted by the Scripps Survey Research Center at Ohio University. - More...
Tuesday - October 25, 2005
International: Frosty forecast for Syria's democratic 'Arab spring' By MARK MACKINNON - The man seen as the de facto leader of Syria's opposition took a few rapid puffs on a cigarette as he considered the question: Are the country's democrats ready to challenge President Bashar Assad's hold on power if international pressure succeeds in weakening it? - More...
Tuesday - October 25, 2005
National: Estimates vary on amount of flu vaccine By LEE BOWMAN - Even as federal health authorities lifted recommended restrictions on who should be in line for flu shots Monday, their estimates wavered for how much vaccine will be available this fall. - More...
Tuesday - October 25, 2005
National: California researchers seek help battling dog flu By EDIE LAU - California veterinary specialists are hustling to get a handle on a new form of flu that infects dogs, identified only a few weeks ago and which since has been found in pets from coast to coast. - More...
Tuesday - October 25, 2005