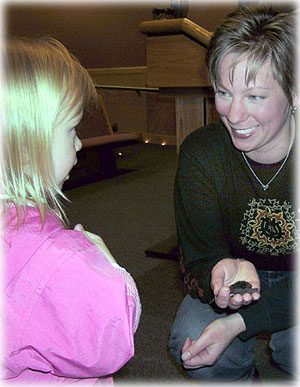 Bat Chat: A Night of Discovery
Bat aficionado Christal Ray Rose shows a young audience member, Emily, the 'Little Brown Myotis' that had found a home in Ketchikan.
Front Page Photo by Elizabeth Flom

Ketchikan: Bat Chat: A Night of Discovery By ELIZABETH FLOM - It was a night to chat about bats with bat aficionado Christal Ray Rose at the Southeast Alaska Discovery Center. With nearly 1,000 species of bats, there was plenty to chat about Friday - particularly the different species found in Ketchikan.
Rose, with a love for and an interest in bats for over ten years, is simply batty for bats. A Natural Resources expert, she has worked with the New Jersey Department of Fish and Game on various bat research projects.
In this hour-long Friday Night Insight program, Rose presented an informative and educational presentation, "Bat Chat", which included a slide show, accompanied with audio examples, on bats commonly found in Ketchikan. She also explained and dispelled the most common myths about bats. - More...
Wednesday AM - October 19, 2005
Ketchikan: Demolition at Ketchikan's Best Western Landing Hotel Leads to Asbestos Complaint - The U.S. Environmental Protection Agency (EPA) recently announced that a complaint for asbestos violations has been filed against Kay D. Sims and Terral F. Wanzer, owners of the Best Western Landing Hotel, and Bicknell, Inc., a demolition contractor.
According to the EPA, the alledged violations occurred during the demolition of two buildings at the Best Western Landing Hotel complex in Ketchikan, Alaska in January 2005. This complaint seeks $79,555 in civil penalties for violations of the federal Clean Air Act. - More...
Wednesday AM - October 19, 2005
National: Bush's tax panel poised to recommend reforms By MARY DEIBEL - It was one thing for President Bush to run for re-election last year by campaigning against the "mess" of an income tax code and for a "simpler, fairer" system.
It's another now that his blue-ribbon panel is poised to recommend two reform choices Nov. 1 that streamline taxes by eliminating most tax breaks and replacing them with new benefits.
Former Sen. Connie Mack, R-Fla., the panel chairman, predicts any successful reform will build on a simplified version of the current income tax.
But as former senator and panel co-chair John Breaux, D-La., notes, tax reform is, well, just plain taxing when "everything you give with one hand and take away with another makes for difficult politics." - More...
Wednesday AM - October 19, 2005
National: Republicans target Big Bird to pay for Katrina recovery By BILL STRAUB - If an influential group of House Republicans gets its way, Big Bird will have to pay his own way to Sesame Street, and Masterpiece Theater will begin searching for product placement opportunities - all to fund the Hurricane Katrina recovery.
The Republican Study Committee, a conservative group within the House GOP caucus, has launched Operation Offset to cut spending by $102.1 billion in this year's budget to help pay for rebuilding New Orleans and other devastated environs. Among the targets in the group's bull's-eye: The National Endowment for the Arts and the Corporation for Public Broadcasting. - More...
Wednesday AM - October 19, 2005
National: Credit card payments could double under new rules By JON ORTIZ - If you're one of the 7 million Americans who make minimum payments on their credit card bills each month, watch out.
The smallest amount that consumers can pay on bank-backed credit card debt could double under federal guidelines that take full effect on Jan. 1. Meanwhile, new bankruptcy rules that kicked in Monday will make it harder for debt-ridden consumers to wipe their financial slates clean. - More...
Wednesday AM - October 19, 2005
International: Saddam trial could turn into a circus By JAMES ROSEN - The trial of Saddam Hussein set to begin Wednesday likely will yield multiple convictions of the deposed dictator for acts of genocide against his own people and those of neighboring nations.
But in a sensational setting expected to be televised across the globe, the road to conviction is all but guaranteed to be a bumpy one for the United States, filled with embarrassing reminders of its past close ties with Saddam and strong challenges to current U.S. military operations against Iraqi insurgents. - More...
Wednesday AM - October 19, 2005
National: Number of weight-reduction surgeries soaring By LEE BOWMAN - As Americans struggle with obesity, nearly 10 times as many operations will be performed to allow patients to lose weight this year as there were just seven years ago, according to studies published Wednesday.
However, the procedures increase the odds that people will wind up back in the hospital and are particularly risky for Medicare patients, the studies found.
With the majority of adults in the country overweight or obese, the number of weight reduction surgeries - primarily gastric bypass procedures that shrink the stomach - has soared from 13,360 in 1998 to a projected 130,000 procedures this year, according to researchers from the University of Chicago and the University of California-Irvine. - More...
Wednesday AM - October 19, 2005
Alaska: Sea lion released back into the wild - Coast Guard aircrew from Kodiak transported a sea lion named Boardwalk from Anchorage to Juneau Monday afternoon. She was released back into the wild off Benjamin Island 20 miles north of Juneau.
Boardwalk was discovered in Haines, Alaska on June 22. She was hauled out on a dock looking emaciated and lethargic. An initial exam revealed she was underweight, severely dehydrated, had high parasite loads, conjunctivitis and a series of severe puncture wounds along her neck. - More...
Wednesday AM - October 19, 2005