Ketchikan Health Fair to feature the Colossal Colon
October 25, 2005
Tuesday

Ketchikan, Alaska - The Ketchikan Health Fair, Alaska's largest single site health fair, will take place on Saturday, November 5th, 8am to 1pm at the Plaza Mall. This year the Health Fair will feature the first Alaska visit of The Colossal Colon (nicknamed Coco). Coco's visit is sponsored by Ketchikan General Hospital, First City Council on Cancer, Ketchikan CHARR, and the City of Ketchikan.
Cancer of the colon and/or rectum is diagnosed in more than 140,000 Americans yearly. "And this isn't a disease limited to the elderly," said Deborah Aaron, MD, Chair of the KGH Cancer Committee and one of the prime movers in bringing Coco to Ketchikan. "About one in nine cases affect people under age 50", Aaron stated.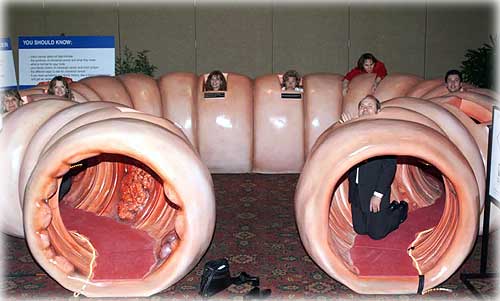 Coco, the Colossal Colon
Photograph by Bob Juechter
Photograph courtesy Ketchikan General Hospital

At 20-feet long and four feet high, Coco is a replica of a colon that features polyps, cancer and even hemorrhoids. Coco has appeared around the nation at health fairs, state fairs, malls and sports stadiums to draw attention to this often-preventable disease. In addition to viewing Coco, visitors may pick up a variety of information on colon cancer, including colo-care kits.
"The Colossal Colon®" is the creation of Molly McMaster, a colon cancer survivor who was diagnosed on her 23rd birthday, with help and support from Glens Falls Hospital in Glens Falls, NY. The Colossal Colon® is a project of the Colon Club and is dedicated to the memory of Molly's friend, Amanda Sherwood Roberts, who lost her battle with colon cancer at age 27.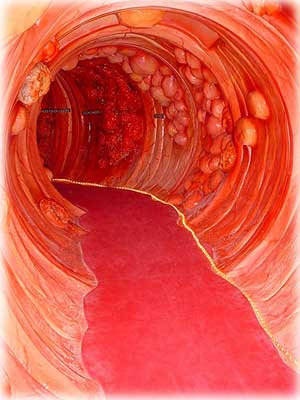 Coco, the Colossal Colon
Photograph courtesy Ketchikan General Hospital
The Colossal Colon® was designed and built by Adirondack Scenic, Inc., a custom design and fabrication company. For more information about Molly or about the Colossal Colon® visit www.colossalcolon.com.
Along with the Colossal Colon, the Health Fair will provide free and low-cost screenings, and a new feature this year is the ability to pay via credit card.
Screenings include general blood chemistry for $35. To qualify for this blood test, you must fast for 12 hours, though you SHOULD take your medications and drink plenty of water. A thyroid blood test is available for $30, and for men-a prostate blood test for $25.
Flu shots will be administered to persons over age 14 by staff from the Ketchikan Public Health Center. The cost is $7; or you may show your Medicare Card. The Health Center will also distribute tetanus/diphtheria immunization coupons.
Free screenings include blood pressure, vision, height & weight, and Body Mass Index (BMI).
Health professionals will offer free talks again this year:
9am: Exercise for the Rainy Season, presented by physical therapists Betty Schill, Robert McElroy and Holly Dennis

10am: Colon Cancer, presented by Hannah Vogler, nationally known speaker and co-founder of the Colon Club (Hannah is traveling to Ketchikan with Coco.)

11am: A Cancer Prevention Diet, presented by JoAnn Pearson, Registered Dietitian

12 noon: Living Wills, presented by Anne Margaret Shuham, Social Worker, and Rebecca Bolling, RN

Two Infant CPR Classes will be presented, the first from 9 to 11am, and the second from 11am - 1pm. These are geared for people age 14 and up, and cost only $5.
As in past years, community agencies and health-related businesses host booths, located in the lower level of the mall, displaying a wide variety of free information, door prizes, and demonstrations. Assistance and health materials are provided as well by Alaska health Fairs, Inc.
There will be no pre-registration offered, however participants may pick up their Health Fair packets the week prior to the fair at Ketchikan General Hospital's front desk, The Ketchikan Public Health Center, or the Plaza Mall's second floor administrative office.

Source of News & Photographs:
Ketchikan General Hospital
http://www.peacehealth.org/SoutheastAlaska/
E-mail your news & photos to editor@sitnews.us


Publish A Letter on SitNews Read Letters/Opinions
Submit A Letter to the Editor
SitNews
Stories In The News
Ketchikan, Alaska