Front Page Photo
Lawyer's Wig
Photograph By Chris Wilhelm
Text by M.C. Kauffman
October 25, 2005
Tuesday

Ketchikan, Alaska - Wild fungi offer unusual beauty during the fall. The shaggy mane, or lawyer's wig, can be easily found during October all around Ketchikan - not surprising as they are most abundant with fall rains.
These mushrooms grow scattered, grouped, or in dense clusters on disturbed ground or grassy areas. The shaggy mane mushroom (Coprinus comatus) can appear in unbelievable quantities with hundreds of mushrooms arising and disintegrating over a period of weeks every year.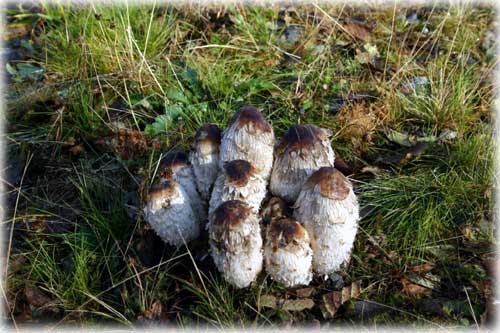 Shaggy Manes

According to mushroom expert Michael Kuo, the shaggy mane is well known and edible, but probably not one for beginners, since it can bear a superficial resemblance to several poisonous mushrooms.
If you're going to eat wild mushrooms remember... there's no room for lack of knowledge or carelessness. Good old-fashioned common sense is very critical.
Even though this writer relishes wild species of mushrooms, I am quite satisfied to dine on the "store-bought" varieties.
Chris Wilhelm ©2005


Publish A Letter on SitNews Read Letters/Opinions
Submit A Letter to the Editor
SitNews
Stories In The News
Ketchikan, Alaska