'Thomas Basin Reflections'
Front Page Photo by Chris Wilhelm
Ketchikan: Ban on all outside burning in borough announced - Due to the continuing dry conditions Borough Manager Roy Eckert, in cooperation with Fire Chief Mark Malone of the South Tongass Volunteer Fire Department and Fire Chief David Hull of the North Tongass Volunteer Fire Department, is calling for a ban on all outside burning in the Ketchikan Gateway Borough until such time as the weather conditions are more favorable. Recent fire events in both the City and in the Borough have highlighted the very real danger of the drought like conditions locally. - More...
Tuesday - June 21, 2005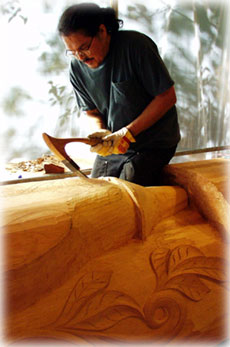 Tlingit master carver Israel Shotridge as he carves on the Ketchikan Indian Community 40-foot Totem.
Courtesy photo by Sue Shotridge.

Ketchikan: Tlingit Master Carver Creates Totem for "Hall of Tribal Nations" exhibit - The U.S. Forest Service recently commissioned a Tlingit master carver to create a 12-foot totem pole to be prominently displayed at the agency's new "Hall of Tribal Nations" exhibit in the nation's capital.
Israel Shotridge, a member of the Teikweidee Taantwaan Bear Clan of the Tongass Tribe, is creating the piece of art, which will depict the Forest Service and the history of Southeast Alaska Natives. Its theme will be the 1939 to 1953 Civilian Conservation Corps Totem Restoration Project, for which the CCC paid more than 200 Alaska Native carvers and laborers to restore and replicate totems in Southeast Alaska.
"This commissioned artwork recognizes the dynamic partnership which began with the establishment of the Totem Pole Restoration Program in 1937," said John Autrey, Tongass National Forest tribal government relations specialist.
"The foresight of the Totem Pole Restoration Program is evident today. The totems and the partnership between the Forest Service and the Native Communities of Southeast Alaska continue to stimulate an enormous international interest and growth of heritage tourism, which in turn is providing an impetus for the development of new economic opportunities." - More...
Tuesday - June 21, 2005
National: Speculation mounts on Rehnquist retirement By MARY DEIBEL - With the Supreme Court term set to end next week, the most anticipated decision isn't a case on the docket but whether Chief Justice William Rehnquist or another justice will step down.
These nine justices have served together 11 terms, the longest stretch in high-court history. That record, along with Rehnquist's treatment for thyroid cancer since October, have fueled speculation that the 80-year-old jurist will retire at the conclusion of the term after 33 years on the court, a tenure that ranks second only to Justice William O. Douglas' 36 years. - More...
Tuesday - June 21, 2005
National: Hostettler accuses Dems of waging 'War on Christianity' By M.E. SPRENGELMEYER - An Indiana congressman accused Democrats of waging a "war on Christianity" Monday, as a debate over religious tolerance at the U.S. Air Force Academy erupted in shouts and finger-pointing.
Work in the House of Representatives ground to a halt for 30 tense minutes after Rep. John Hostettler, R-Ind., blasted Democrats for trying to use a $409 billion defense spending bill to take a stand against "coercive and abusive" proselytizing at the academy's Colorado Springs, Colo., campus.
Academy officials have acknowledged dozens of complaints about incidents of religious intolerance in recent years, prompting an ongoing investigation. But Hostettler said legislation condemning the situation was part of a "long war on Christianity" being waged by "the usual suspects, Democrats." - More...
Tuesday - June 21, 2005
National: Senate Democrats again block Bolton nomination By LAWRENCE M. O'ROURKE - Rejecting President Bush's demand for a vote "now," Senate Democrats refused to allow a confirmation vote Monday on John Bolton as ambassador to the United Nations.
The vote to continue a Democratic filibuster against Bolton and thus to deny him a confirmation vote came after the White House hinted that the president might brush aside the Senate process and put Bolton in the diplomatic post through a rare recess appointment.
Some 54 senators voted to grant Bolton a confirmation vote, while 38 opposed it. Eight senators did not vote. The tally fell six short of the 60 yes votes needed if all senators were voting to shut down the filibuster Democrats launched a month ago. - More...
Tuesday - June 21, 2005
National: Identity theft is crossing state lines By CHRIS WELSCH - Leraitta Patton and her 14-year-old daughter Tanisha Long had just spent several pleasant, warm days at a wedding in Jamaica. They landed in Miami and were waiting in the customs line, tired but ready for the flight home to Minneapolis.
That's when the Customs and Border Patrol officer ran her name through the computer and broke the bad news. "You're going to need to come with me," he said.
In a holding room, customs officers told Patton she was wanted for larceny in Ohio. "I said I'd never even been to Ohio," Patton recalled. - More...
Tuesday - June 21, 2005