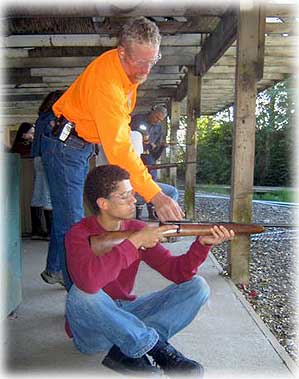 Boyd Porter gives Joel Galli shooting pointers...
Photo courtesy Ed Toribio
Ketchikan: New & Seasoned Hunters Participate In Hunters' Safety Course by M.C. Kauffman - A hunters' safety course sponsored by the Alaska Department of Fish and Game (ADFG) was recently held at the Ketchikan Rod & Gun Club. Boyd Porter and Mike Younker of ADFG presented the class for approximately a dozen hunters, both young and old.
The two day class began with four hours of indoor course review work. Porter and Younker covered subjects ranging from firearm safety to wildlife conservation, first aid and survival skills. - More...
Wednesday - June 15, 2005
Alaska: Tongass Approves Kensington Plan of Operations - The Tongass National Forest announced approval today of the plan of operations for the Kensington Gold Project.
The Kensington Gold Project is an underground gold mine approximately 45 miles north-northwest of Juneau. Development of its proposed facilities by Coeur Alaska, Inc., will fall on both private lands and National Forest System lands.
Tongass National Forest Supervisor Forrest Cole directed the Juneau Ranger District to proceed with implementation of Coeur Alaska, Inc.'s modified Plan of Operations. Coeur Alaska submitted the modified plan of operations to take into account the decisions reached in the Record of Decision for the Kensington Gold Project in December 2004.- More...
Wednesday - June 15, 2005
National: Bush renews call for action on energy By BILL STRAUB - With crude oil prices inching toward $56 a barrel and the Senate debating national energy policy, President Bush urged immediate action Wednesday, warning that America needs "an affordable, reliable supply of energy" to fuel economic growth.
Appearing before the 16th Annual Energy Efficiency Forum, Bush acknowledged that the United States has been slow in responding to its energy needs and asserted that quick steps are necessary "for the sake of national security and for the sake of economic security." - More...
Wednesday - June 15, 2005
National: Young eyes chairmanship of homeland security panel By LIZ RUSKIN - Alaska Rep. Don Young, once a prominent critic of the House Homeland Security Committee, would love to take over as its chairman.
"We would more than gladly be excited about assuming that chairmanship," his spokesman, Grant Thompson, said.
The permanent committee, born just this year, oversees the far-reaching Homeland Security Department and its budget of about $50 billion. - More...
Wednesday - June 15, 2005
National: Bipartisan group of senators targets manufacturing losses By MARGARET TALEV - Is America's vanishing manufacturing sector a big and bipartisan enough concern to bring together two politicians with very different politics and a nasty history over a little something called impeachment?
Sen. Hillary Clinton of New York, who has topped polls among potential Democratic presidential candidates for 2008 although she has not said she will run, and Sen. Lindsey Graham of South Carolina, a conservative Republican who in the House of Representatives helped manage the impeachment proceedings against Clinton's husband when he was president, think so. - More...
Wednesday - June 15, 2005
International: Benedict XVI less conservative, more pastoral than expected By ANN RODGERS - Two months into the papacy of Pope Benedict XVI, crowds are pouring into St. Peter's Square in near record numbers to see and hear him.
"The pope is here!" a man shouted in Italian one morning last week. Cheers rose from 35,000 as Benedict appeared, standing in a white Jeep-like popemobile. It circled the square, moving slowly as the 78-year-old pope, whose mane of white hair matched his vestments, waved to the faithful.
Bishop Donald Wuerl of Pittsburgh, who attended a recent audience, was astonished to see the aged pope reach down from the moving vehicle to touch pilgrims' hands and pat the heads of children. He had always admired the former Cardinal Joseph Ratzinger, but knew him to be reserved and self-effacing. - More...
Wednesday - June 15, 2005