Viewpoints
Trash in Sylvan Slums
By MIke Sallee
June 15, 2005
Wednesday

I was amused and intrigued by Mr. Cegelske's exotic species photo in his June 7 Sitnews piece titled "Pretty Flowers".
Here's another species I'd classify more as a mushroom rather than a flower blossom. These specimens appear to be the one-liter subspecies, though half- and 1.5-liter varieties are also common. I picked these two from around the roots of this snow-covered cedar stump and placed them on top for the photo.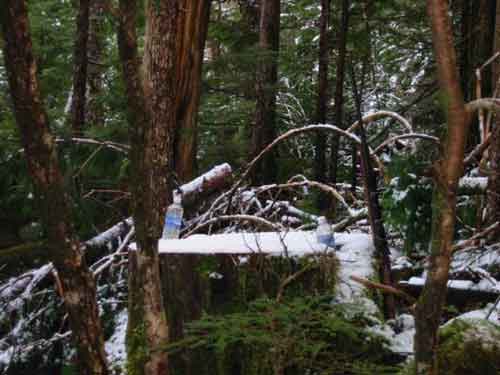 I'd never seen these "mushrooms" before in this somewhat remote part of Gravina Island. They appeared about the time Alcan developed its Sylvan Slums on Mental Health land over there this past winter.



Here's a typical sylvan slum created this past winter on Gravina where one might spot similar exotics. I found a smaller variety called "Red Bull" and a rare larger variety called "Bar and Chain Oil" in habitats just like this.

These "mushrooms" are evidently anthropogenic and quite cosmopolitan, common in roadside ditches, or floating in open water of lakes, bays and oceans, or along high water berms like this one left along the banks of the Potomac in Washington, DC, which was flooded by hurricane Isabel in 2003.

Seems like a container deposit law is long overdue. Several cottage industries could develop out of redemption funds they could collect from gathering up discarded glass, aluminum and plastic containers.

Mike Sallee
Ketchikan, AK - USA


Related Viewpoint:
Pretty Flowers By Jerry Cegelske - Ketchikan, AK - USA
Note: Comments published on Viewpoints are the opinions of the writer
and do not necessarily reflect the opinions of Sitnews.
Write a Letter -------Read Letters

E-mail the Editor

Sitnews
Stories In The News
Ketchikan, Alaska